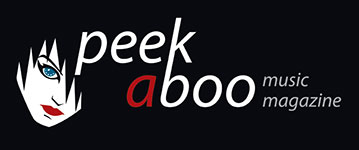 like this concert review
---
AMPHI FESTIVAL 2014, DAY 2
Thunder in Cologne: Lacrimosa, Die Krupps, London After Midnight, Mono Inc., Corde Oblique...
Concert
[95/100]

31/07/2014, Xavier KRUTH
---
My biological clock did not see the point of sleeping out this morning. So I'm up early and make it a quiet morning. I go to the festival in order to do some purchases and I'm at the stage early on for the occurrence of Torul, who play a pleasant tranquil blend of electronics and guitar.
I'm glad to hear some more guitars today, after all the electronic violence yesterday. Unzucht mixes loud guitars with electro influences, just like Mono Inc. and ASP do. They usually sing in German, but they switch to Spanish for a cover of the fantastic 'Entre dos tierras' from Heroes Del Silencio. The singer with his beard, long hair and makeup looks a bit like a Gothic Conchita. The guitars are hard, but there are also a lot of ballads in between. So we surrender completely and speak out our approval for this music.
There he is, ladies! The pin-up boy that makes all German gothic girls go wild. His cute little face, his pleasant hairdo, his slender elegance, his deep and soft voice... Solar Fake is the electronic project of Sven Friedrich, who has earned his stripes with the goth rockers of The Dreadful Shadows and with indierockers Zeraphine. It's all a bit slippery and licked, but the melodies are catchy and the atmosphere is good. So he has our approval too.
Then we can see how huge timpani are installed on the stage. When the first bombastic orchestral sounds start blaring from the speakers, we know that the Brits of In The Nursery are at work. The combination of heavy percussion, electronic orchestrations and female vocals is pleasant, especially since you can sit quietly in the shade while enjoying it. After a while they also add bass and guitar to the mix and everything sounds punkier.
Corde Oblique in the theater is an appointment that we didn't want to miss for all the money in the world. The classical guitarist Riccardo Prencipe makes beautiful neoclassical compositions based on the nature and history of his native city of Naples. They're only with five onstage, but each musician masters his instrument so well that he can astonish the audience on its own. Obviously there is Riccardo Prencipe and his guitar. In addition, the great singer and pianist Annalisa Madonna is at the center. She is so good that Principle has omitted to add even one song on which he sings himself in the set. Add to that violin, bass and drums, and you have heavenly music that suggests that everything in the world is in perfect harmony. I advocate more of these performances on gothic festivals.
Back in the open air. We noticed that Mono Inc. is wildly popular here immediately when entering the festival grounds. No band is so well represented on the t-shirts of the spectators. It helps that the group has already scored many hits in Germany and that the numbers are easy to sing along. Mono Inc. therefore know how to convert the audience effortlessly to their will.
There was a time when London After Midnight promoted itself as 'The No. 1 goth band in the world'. That was a long time ago, but with their first two albums, the group had made ​​quite an impression. There was still a band during those first two CDs, but then it seemed to become quiet around London After Midnight. Around 2007, singer Sean Brennan decided to revive the band, his band. He produced new work, but I have never heard it so far. The group suffers from technical problems from the first notes of the concert on. When they can start again after a few minutes, Sean Brennan makes no effort to disguise his bad mood. He only comes on stage when he has to sing pieces and then rushes back, sometimes to rage out against employees of Amphi. Fortunately, his band manages to reduce the damage. Thanks to them, because without them it would have been a complete fiasco.
Die Krupps were there from the beginning in Germany. In 1981, they published the remarkable Stahlwerksynfonie, an album of metal percussion combined with stretched improvisations on traditional instruments like bass, guitar and drums. They would quickly focus on making solid electro, and later they would add loud guitars to their industrial violence, thus being pioneers for bands as Rammstein. The group has a large following in Germany. Unfortunately, they also face technical problems. Jürgen Engler takes the matter with a little more humor, but that does not prevent the concert to be delayed with more than 20 minutes. Once the problems have been solved, however, they hit it hard. Die Krupps prove that they are in top form. It's raining hits and drum bursts. But we have to make do with a truncated set. Luckily, I already have my card for the show in Antwerp on the 9th of August, and hope they can play their entire set there without problems, because this is too good to be amputated.
The festival draws to an end, but there is still one band to go. And that is one of my favorite bands: Lacrimosa! It is the first time they play at Amphi, especially for the tenth anniversary. The rival guitar solos on opener 'Ich bin der brennende Komet' are simply powerful. Tilo Wolff sings very expressively, as usual. 'Stolzes Herz' comes fairly early in the set, while this number is often withheld until the end. But no lack of hits, so that's alright. 'Morning Glory - from the last ep 'Heute Nacht' - is performed for the first time on the two festivals Lacrimosa is doing this summer. Lacrimosa doesn't simply perform the new live CD 'Live in Mexico City'. Only at the end of the show they make a reference to the new CD... 'Rote Sinfonie', 'If The World Stood Still A Day' and 'Irgendein Arsch ist immer unterwegs' are three songs that come from the excellent last studio album 'Revolution' and are featured on the new CD too. The band then leave the stage, but fortunately not for long. 'Weil du Hilfe brachst' and 'Feuer' are fairly recent songs, but with 'Alles Lüge', we leap to 1993, the oldest song tonight. A grandiose version of 'Lichtgestalt' draws a definitive line under the 10th anniversary of the Amphi Festival.
Lacrimosa was a sublime end for a sublime festival. We wish a happy jubileum to Amphi and hope that they remain for many more years to come. I walk to the exit and once I'm outside, I sit down to contemplate the stream of black figures flowing by. Everyone looks happy, and I hope they can hold on to that feeling for some more time. See you next year, Amphi.
Pictures: Marquis(pi)X
Lacrimosa Setlist: Intro / Ich bin der brennende Komet / Alleine zu zwei / Die Kelch der Liebe / Stolzes Herz / Apartment / Morning Glory / Schakal / Rote Sinfonie / If The World Stood Still A Day / irgendein Arsch ist immer unterwegs
Bis: Weil du Hilfe brauchst / Feuer / All Lüge / Lichtgestalt
Click here to read our review of Day 1 of Amphi 2014
Read our recent interview with Tilo Wolff of Lacrimosa
Read here the Dutch version on Dark Entries.
Xavier KRUTH
31/07/2014
---
---