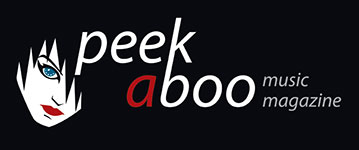 like this concert review
---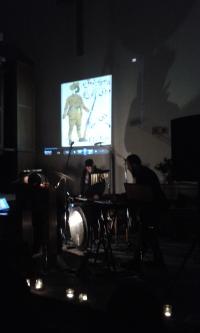 ANDREW KING
The First World War: For God And Country?
Concert
[80/100]

22/03/2015, Xavier KRUTH
---
The commemoration of 100 years of World War I (from 2014 to 2018), will not go unnoticed, and even the black scene will have to deal with it. It will not surprise anyone that the history buffs of the neofolk scene are at the forefront here, and that the biggest freak of them all - the Briton Andrew King - would be an accomplice was written in the stars. He previously recorded several songs that are connected with the theme, and has now built up a set on the topic as part of a concept album with the working title 'The Proud Tower'.
Andrew King is an archivist and he has dedicated himself to reviving traditional music, albeit with an experimental edge. We noticed his arduous labour on his CDs, which come with detailed explanations on the origin of the songs, including footnotes and bibliography. He is also a painter. He painted record sleeves for projects like Current 93, Ernte and especially Sol Invictus, a group he played in for a while. Tonight, he is accompanied by percussionist John Murphy (known of Whitehouse, Death In June, SPK, Foresta di Ferro and countless other projects) and keyboardist Hunter Barr (of Neavus and KnifeLadder, both with John Murphy, and many more bands).
But the honour of opening the evening went to Radio Klebnikov, a project that combines poetry and sound art. On a background of sound collages, samples and live music, they bring pieces of Paul Celan - the jewish-Romanian poet, who described his experiences in World War II in the world famous 'Todesfuge' - and Guennadi Gor, a Russian who described the siege of Leningrad in alienating images. In between we got versions of Bob Dylan's 'Masters of War', and 'All Things Are Quite Silent', a traditional song about a man who is forced into the army, mainly known in the version of Steeleye Span. The musical background ranges from ambient to folk and noise, and ends with a piece of 'Lament', Einstürzende Neubauten's fantastic work on the First World War. A very successful performance.
Then Andrew King first appears on stage with his traditional set. 'My traditional set is most often the most depressive part of the evening, but given the theme of the second part tonight, it is pretty light-hearted', he says. King gives us a selection of murder and other ballads that originate from his two main CDs 'The Amfortas Wound' (1999) and 'Deus Ignotus' (2011). He begins a cappella with 'Edward'. Then the two musicians accompany him - in a sober manner, destined to underline his rendition - on well-known songs like 'The Week Before Easter' and 'The Wife of Usher's Hill', but also on a rarely performed one as 'The Knight Templar's Dream'.
Between King's two performances, there is a screening of 'The Sack of Leuven', a documentary about one of the many war crimes that occurred during the war. When the Germans invaded Belgium - violating the perpetual neutrality imposed by the great powers at its creation in 1830 - they faced more resistance than expected. The Germans replied with extremely brutal reprisals. To avoid this, Leuven - at the approach of the German army - was announced to be an 'Open City', which meant that the city would not resist the invader. The German soldiers, however, were severely abetted by their military propaganda and rumours about snipers, most of which turned out to be delusions.
On 25 August 1914, a fire fight occured between two German companies resulting in several dead. Officers were quick to blame the population of Leuven. Everything degenerated into extrajudicial killings, looting and arson. Gradually and systematically, the whole city centre was burned. The Germans even threatened with a bombing of Leuven. After three days, the arsons finally stopped. The city remained in ruins. 209 citizens were killed. 1081 homes and buildings were destroyed, including the St. Peter's Church, the Lakenhal and the university library, containing tens of thousands of books, including medieval manuscripts and the parchments edition of Vesalius 'De corporis fabrica humanibus'.
Andrew King then begins with the most important part of the evening: his set about the First World War. With a picture of Sarajevo - where a Serbian nationalist kicked off the war - in the background, a menacing sound collage unravels: 'The Queen Of The Woods'. Opener 'Lamps' refers to the famous statement of the British Foreign Minister Edward Grey - 'The lamps are going out all over Europe, we shall not see them lit again in our life-time' - a remark to a friend at the outbreak of the war while the streetlights were lit at nightfall. Grey has had its share in forging the alliances that gave this war a global dimension and in the imperialist struggle between the superpowers that was an important motive for the massacre. And unlike many of his more naive compatriots, he did not believe that the war would be over soon. After King's quote, another captivating collage resounds with extracts of songs, marches and posters from different countries, calling on their citizens to participate in the war.
'The Lads in Their Hundreds' tells about the departure of young Englishmen to war, and is rendered a capella by King. It is a poem by A. E. Housman, just as its successor 'Epitaph For An Army Of Mercenaries', that sings the praise of the British Expeditionary Force, a small standing army of mercenaries who went to war as a result of the invasion of Belgium. Although the invasion of the eternally neutral 'Brave Little Belgium' was the official cause for the entry of the UK into the war, we would like to point out that the British government put more haste after the conquest of German colonial territories in Africa than in the sending troops to allies like Belgium or France. These are obviously things that you will not read in the poetry of Housman, who stands for a blind glorification of army and soldiers. Neither will you hear it in the set of King today.
'The First World War is no longer living history, in the sense that no one who has experienced it is still alive', King tells us. But it is still alive in us, because the 20th century was created by it, and also through our ancestors, such as King's grandfather Henry. Andrew King chooses to view the war from a British point of view - the official British position, I would add - but also performs a number of site-specific songs. The first of those songs is 'The Stripping Of The Altars', a sacrament that is performed at the desecrating of a chapel or a church and that is often accompanied by the 22nd Psalm, which is recited here. The images in the background show the burning of Leuven in 1914.
'Have You News Of My Boy Jack' has been a part of King's repertoire for some time now. Here, however, it is brought a cappella. It is based on a poem by Rudyard Kipling, written after his son was killed in a battle at Ypres. Things get are a little more problematic here. Kipling may well be a Nobel Prize winner and author of the relatively innocent jungle book - still a favourite among our children - he was also a staunch supporter of colonialism and imperialism. George Orwell, and he is an author we really like to quote, called him a 'prophet of British imperialism'. Christopher Hitchens wrote sharply about the poem: 'nobody is on hand to represent the words of the victim. That is what happened to young John Kipling when he was posted "missing" at the end of one of the fiercest early battles of the First World War. His father Rudyard, upset that the boy was disqualified for the military because of his poor eyesight, had in effect smuggled him through customs so as to pass the minimal regulations. His agony, therefore, as to having effectively cheated his boy into vanishing in the trenches, can only be dimly guessed at.'
With 'Azazel', King ventures into the musical adaptation of a piece of David Jones' great poem 'In Parenthesis'. Although Jones was sometimes also said to be emphasizing the heroic side of war, there is a general consensus on the enormous literary value of his poem, which incidentally comes from someone who actually has known the trenches.
Furthermore, King performs 'Gethsemane', a touching poem about a soldier who dies in a gas attack. The text has been Rudyard Kipling's, and the music by Peter Bellamy, a British folk-singer who put music to several of Kipling's poems. 'Here Dead We Lie' is again a poem by the aforementioned Housman. Very moving, but again a glorification of the 'heroic death' of the fallen.
Here dead we lie
Because we did not choose
To live and shame the country
From-which we sprung.
Finally comes the climax of the evening: 'Leuven Recessional'. It is the second site-specific composition, in which musical extracts have been processed from the region in which it is played. In this case, Pierre de la Rue's Requiem and various pieces of Flemish polyphonic music have been incorporated. In the background we see pictures of Leuven and the Belgian army in the First World War. During the song, an endless list of names of the fallen in Leuven are read, which is of course time-consuming, but also leads to an emotional eruption as the orchestrated song begins again.
And yet I do not know if I should be enthusiastic or troubled. 'Leuven Recessional' is again based on a poem by Rudyard Kipling, originally written for the diamond jubilee of Queen Victoria in 1897. After World War I, it became a classic in commemorations of the 'unknown soldier'. (What was a human life worth then, that so many people killed simply remained 'unknown'). It is a shameless glorification of British imperialism, justified by numerous references to christianity (I wonder if all those who referred to christianity in order to justify the war were aware that the opposite side also consisted of christians.)
King opts mainly for authors who were passionate supporters of the war (although Kipling has often accused the military leadership of being reckless with young lives). However, there is a very different approach. That of unimaginable carnage in which millions of young people were driven into death, often by unscrupulous officers, sometimes just to keep the troops busy or to conquer hundred meters of land on an enemy who would do the same a few days afterwards. An approach to a war in which especially people of the lower classes died for the imperialist delusions of the upper classes. And a huge waste of human life in which there is absolutely nothing heroic to be sought.
Why not quote from Siegfried Sassoon and Wilfred Owen, two poets who have set a more realistic account of the hell of the trenches? Why not Robert Graves, whose novel 'Good-Bye To All That' is still considered a classic about the war? The list is long: Ronald Skirth, Edwin Campion Vaughan, Vera Brittain, Edmun Blunden... Or should we just be happy that we have escaped references to Ernst Jünger and Julius Evola, two burnt figures who are highly appreciated in the neofolk scene?
It may be that this is not very uplifting for the countless young men who were killed in the war - and for which I have the utmost respect - but what remains of their 'heroism' a 100 years later? What remains of the reasons why they went to war? Why should we pretend that it was right to kill Germans, French, British or people of other nationalities now that we live in a united Europe? What remains of the colonial empires for which they died? These are things that we better be aware of. Before we know it, new people will come to call us to die for god and country.
But let me end on a positive note. King's performance was a very intense one, and of a great intellectual and musical quality. He wanted to pay homage to both the dead and the survivors of the war, and that he did. Moreover, he has announced that he does not intend to play this set many more times. 'Traditional songs about bludgeoning your girlfriend to death or stabbing babies are a picnic compared to this material'. It is no surprise that I prefer a commemoration of World War I of which I don't fully subscribe the assumptions, than that we sink further into superficiality and forget about our history.
Addendum: We are extremely happy and proud that Andrew King has gone through the pain of reading our article and to replicate on it to clarify his initial concept. We hereby publish his response:
In answer to one of the questions that your review raises, the reason why I didn't bother to include work by poets like Sassoon, Owen, Graves, etc., is mainly because growing up in the 60s and 70s, they represented very much the "official canon" of the War poets. And whilst I have nothing against such things in principle, I couldn't help but notice how very different their attitude was to the War when compared to that of my grandfather (still alive in the 70s) and his fellow veterans. I don't mean this in just a class sense (as nearly all of the "official canon" poets were officers), but also in the way that his matter-of-fact attitude, and that of his friends to what they had been through seemed totally at variance to the poetry that we as schoolchildren were presented with as representing the Great War, whereas that of Kipling and Butterworth was much closer to how he would have perceived things.
I am of course aware of an irony in this, as neither poet ever fired a shot in anger and it is questionable as to whether they should even be considered as "War" poets. Furthermore, Housman was an uptight, manic-depressive, repressed homosexual and classicist, and Kipling was at one and the same time a poet of empire and multiculturalist, so both as far away from the average "Tommy" as one could imagine. BUT the verse of both is based on traditional models and has the "common touch" that came closer to explaining the conflict in terms that my grandfather would have used than the more recognised canon.
Of course, David Jones is another case entirely, an ultra modernist (who Henry certainly wouldn't have had any time for) but also a conservative. And he was "other-ranks" and I believe that there is – if one can decipher it – a closer experience of the infantryman's experience in his poem than in many of the better known War poets. Furthermore, there is the crucial way in which his mythologizing and religious beliefs made – for him – the unbearable bearable and even gave meaning to his experiences (yes, the nearest equivalent there would be Jünger). That, for me, is something fascinating.
In making my choices I'm not necessarily condemning any of the other voices, but I wanted to tell things from some of the more neglected ones, and in language and attitudes closer to that than the veterans that I knew would have used, if that makes sense?
Andrew King (facebook)
Setlist:
First set: Traditional: Edward / The Week Before Easter / The Prentice Boy / The Wife of Usher's Well / The Wild Wild Berry / The Knight Templar's Dream
Second set: The Proud Tower: The Queen of the Woods (intro / The Lamps / The Lads in their Hundreds / Epitaph for an Army of Mercenaries / The Stripping of the Alters / Have You News Of My Boy Jack? / Azazel / Gethsemane / Here Dead We Lie / Leuven Recessional
This article originally appeared in Dutch on Dark Entries.
Xavier KRUTH
22/03/2015
---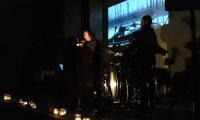 ---