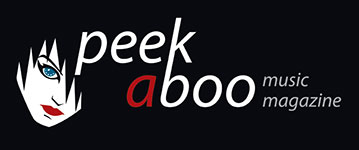 like this movie review
---
ANDY & LANA WACHOWSKI
Bound
Movie
Crime
•
Film Noir
[84/100]

Arrow
11/08/2014, Didier BECU
---
When Bound came out in the mid 90's, it wasn't exactly a success. The big problem was that the two main protagonists had a lesbian affaire and Tinseltown wasn't prepared as it hadn't seen Boys Don't Cry by then. The men behind the camera were quite unknown as well. Their name? Andy and Larry Wachowski who later would bomb Hollywood with The Matrix. Today it's a common fact that two women kiss each other in front of a camera and Bound has also become a real cultclassic that is released this week on Blu-ray by Arrow.
The crime movie was made with a tiny budget and is today respected as one of the groundbreaking titles from the modern noir-style from the 90's. They might indeed have no money, but the duo has thought about every camera-angle and that's what makes Bound irresistible.
The less you know about the story the better for the tension! This crime movie can be best compared with a classic Brian De Palma-thriller in where the director drops you from one surprise to the other. The story about the two femme fatales (Gina Gershon and Jennifer Tilly) is full of suspense and is added with a violence that situates itself between Lynch and The Sopranos. The Wachowski-brothers achieved this with a minimum of things as the whole movie is almost set in one apartment. Due to the brilliant performances and the exciting script, Bound has become a movie you watch in one breath. Apart from the female beauties, you also have to look out for the excellent Joe Pantoliano. Once you've seen Bound you'll think twice before you enter a room with thin walls and you also will start getting creepy if someone whispers to you that he will ask a question only ten times!
Just like always this Blu-ray on Arrow has an excellent transfer and there are plenty of great bonuses included. There is an audio commentary with the Wachowskis, Jennifer Tilly, Gina Gershon, Joe Pantoliano and editor Zach Staenberg. There are also interviews with Gina Gershon, Jennifer Tilly, Joe Pantoliano and Christopher Meloni included.
In the 30 minutes long Modern Noir: The Sights & Sounds of Bound several people explain why this movie deserves to be called a classic!
Bound is now out on Arrow Video on Blu-ray.
Didier BECU
11/08/2014
---
Toen in het midden van de jaren 90 Bound verscheen was de film verre van een succes. Het struikelblok was (hou je vast!) de lesbische relatie tussen de twee protagonisten. Hollywood had Boys Don't Cry nog niet de revue zien passeren en de twee mannen achter de camera waren toen nog nobele onbekenden. Hun naam? Andy en Larry Wachowski, het duo dat later Tinseltown met The Matrix op zijn grondvesten liet daveren. Ondertussen zijn we het al lang gewoon dat twee vrouwen elkaar voor de camera kussen en is Bound ook een rasechte cultklassieker geworden die deze week via Arrow op Blu-ray wordt uitgebracht.
De film die voor een habbekrats ineen werd geknutseld staat vandaag bekend als één van de toonaangevende modern noir-films uit de jaren 90. Er was misschien inderdaad geen geld voor handen, wel is er over iedere camerabeweging grondig nagedacht en dat maakt Bound zo onweerstaanbaar.
Hoe minder je van het verhaal weet des te beter. Deze misdaadprent is immers eentje die best met een klassieke Brian De Palma-thriller te vergelijken valt waarin de kijker van de ene verrassing naar de andere wordt gekatapulteerd. Het script van de twee femme fatales (Gina Gershon en Jennifer Tilly) is niet alleen onweerstaanbaar spannend, maar bezit ook een hoge dosis geweld dat zich ergens tussen Lynch en The Sopranos situeert. Veel hadden de Wachowski broertjes daar niet voor niet nodig, want bijna de gehele film speelt zich in een appartementsgebouw af, maar dankzij de intrigerende acteerprestaties en het formidabele script kijk je deze misdaadprent in één adem uit. Naast het vrouwelijk schoon zie je ook Joe Pantoliano schitteren. Eens je Bound hebt gezien zal je wellicht twee keer nadenken vooraleer je een woning met flinterdunne muren betreedt en ook de verwittiging dat iemand je maar tien keer dezelfde vraag zal stellen heeft na afloop een bijzondere sinistere bijklank.
De versie van Arrow heeft niet alleen een sublieme transfer, ook staat de uitgave (zoals steeds op dit label) boordevol prachtig bonusmateriaal. Er is een audiocommentaar met de Wachowskis, Jennifer Tilly, Gina Gershon, Joe Pantoliano en editor Zach Staenberg. Tevens vind je ook interviews met Gina Gershon, Jennifer Tilly, Joe Pantoliano en Christopher Meloni.
In de bijna half uur durende extra Modern Noir: The Sights & Sounds of Bound leggen diverse mensen je uit waarom de film het verdient om een klassieker te zijn.
Bound is nu uit op Arrow Video.
Didier BECU
11/08/2014
---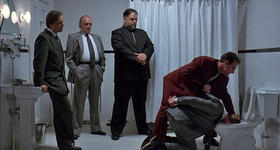 ---