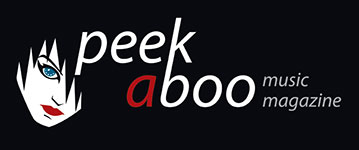 like this concert review
---
ANNA VON HAUSSWOLFF (+ CHANTAL ACDA)
(Gent, Sint-Jacobskerk, 13/05/2016)
Concert
Rock
[75/100]

10/12/2016, William LIÉNARD
---
A bit of a strange concert at St. Jacobskerk in Ghent with two female artists and two very different audiences, whereby barely 60 percent of the public returned after the break for the concert of Anna von Hausswolff. You may wonder whether it was the intention of concert organizer Handelsbeurs. But it is also significant, because it means that the Dutch musician Chantal Acda has a very specific audience and that she was not just the support of the main act of the evening.
Handelsbeurs had proposed to Chantal Acda to work with a choir. On paper it seemed a good idea and so she stood on stage with the nine men of Arc Sonore, a men's choir with a broad interest, from Gregorian chant to contemporary music. Chantal's audience seemed to appreciate the combination, but if you listened closely, you noticed that the added value was limited due to lack of inspired arrangements of the choral passages. Chantal Acda has a very beautiful voice and strong songs and she sounded great when she played with her trusted colleagues: an often astonishing Niels van Heertum on tenor tuba and electronics, and a sometimes funny Eric Thieleman on percussion and electronics. Her only acoustic song was the highlight of the concert and afterwards she did nice things on electric guitar too. The choir usually did not go beyond simple background noise. When you realize what these guys are capable of, then this was a very unequal partnership. Band member Niels van Heertum delivered the most impressive performance on his tenor tuba, of which the tone can be compared to a baritone singer. Simply impressive.
Let us say that this was a good attempt. But let us also be honest: we had rather seen and heard Chantal Acda with her band, because the cooperation with Arc Sonore was a bit of a setback. (65/100)
Half an hour later, Anna von Hausswolff and her band were on stage. Meanwhile, the older part of the crowd was gone and younger people took the vacated seats. Those who thought that the St. Jacobskerk was flooded for the only Belgian concert of the Swedish musician, were wrong. And those who had hoped that Anna von Hausswolff would play on the organ of St. Jacobskerk, were wrong too, because the organ sounds came from an electronic instrument. That was no problem, because it sounded like there was a real church organ on stage, but for some it was definitely getting used to.
Since late last year, Anna von Hausswolff is on tour to promote her latest album The Miraculous. After Ceremony (2013), the sound of the Swedish musician has become rougher and harder, while the vocals and the ethereal atmosphere are reduced. For The Miraculous, Anna von Hausswolff went to the northern Swedish town of Piteå, to play on one of the largest organs in the world: the Acusticum Organ with 9,000 pipes. Because of the very noisy percussion and two electric guitars, the effect of the organ was often limited. In Ghent, Anna von Hausswolff sounded like a very loud rock band. When leaving the room, a young woman complained that it sounded like hard rock. In terms of volume, she was right, but we heard a lot of (unnecessary) Pink Floyd sounds too.
Afterwards, Anna von Hausswolff did not need to play an encore. The applause was rather bland and brief. It was clear that many people had come for a different kind of concert. The performance: 65/100, the visual look: 10/100 - Total: 75/100.
William LIÉNARD
10/12/2016
---
Een beetje een vreemde concert in de Sint-Jacobskerk in Gent met twee vrouwelijke artiesten die een totaal verschillend publiek trokken waardoor er na de pauze nauwelijks 60 procent overbleef voor Anna von Hausswolff. Je mag je terecht afvragen of dat de bedoeling was van concertorganisator Handelsbeurs. Maar het is ook veelzeggend, want het betekent dat de Eindhovense Chantal Acda wel degelijk een eigen publiek heeft en niet zo maar het voorprogramma was van de hoofdact.
Handelsbeurs had Chantal Acda voorgesteld om samen te werken met een koor. Op papier leek dat een goed idee en dus stond ze op het podium met de negen mannen van Arc Sonore, een mannenkoor met een ruime interesse, van Gregoriaans tot hedendaagse muziek. Chantals publiek leek de combinatie te appreciëren, maar wie goed luisterde, die hoorde meteen dat de toevoeging van het koor de originele composities geen meerwaarde bood. Chantal Acda heeft een heel erg mooie stem en stevig songmateriaal en dat klonk uitstekend op het moment dat ze dat met haar vertrouwde collega's – een verbluffende Niels van Heertum op tenortuba en elektronica, en een bij momenten grappige Eric Thieleman op percussie en elektronica – ten gehore bracht. Haar op akoestische gitaar begeleide liedje was het hoogtepunt van het meer dan een uur durende concert en ook op elektrische gitaar deed ze mooie dingen. Het koor kwam meestal niet verder dan wat ondersteunende lalala's en hahaha's. Als je beseft waartoe deze heren in staat zijn, dan was dit een teleurstellende samenwerking. Niels van Heertum leverde naar ons gevoel de meest indrukwekkende prestatie op zijn tenortuba, waarvan de toon te vergelijken is met een baritonzanger. Wat die man met dat instrument doet, het is on-voor-stel-baar.
Laat het er ons bij houden dat dit een goede poging was. Maar laat ons ook eerlijk zijn: we hadden Chantal Acda liever met haar twee begeleiders gezien en gehoord, want de samenwerking met Arc Sonore was een beetje een slag in het water. (65/100)
Na een ombouwsessie van een halfuur was Anna von Hauswolff er helemaal klaar voor. Op de stoeltjes van de late dertigers en veertigers had ondertussen jonger volk plaatsgenomen en ook tijdens het concert verdwenen er nog links en rechts grijze of kale kopjes. Wie dacht dat de Sint-Jacobskerk uitsluitend was volgelopen voor het enige Belgische concert van de Zweedse muzikante, had het dus mis. En wie had gehoopt dat Anna van Hausswolff op het orgel van de Sint-Jacobskerk zou spelen, zat er eveneens naast, want de orgelklanken kwamen uit een elektronisch instrument. Dat was op zich geen probleem, want het klonk alsof er een echt kerkorgel op het podium stond, maar het was voor sommigen beslist even wennen.
Anne van Hausswolff is sinds eind vorig jaar op tournee ter promotie van haar recente album The Miraculous. Wie goed naar die plaat heeft geluisterd, die weet dat het geluid van de Zweedse rauwer is geworden, harder, en dat de vocalen aan belang hebben ingeboet ten opzicht van wat we haar beste album tot nog toe mogen noemen: Ceremony (2013). Voor The Miraculous trok Von Hausswolff naar de Noord-Zweedse stad Piteå, waar zich één van de grootste orgels ter wereld bevindt: het Acusticum Orgel met 9000 pijpen. Met op het podium een zeer luidruchtige percussie en twee elektrische gitaren, bleef van het effect van het orgel vaak niet veel over. In Gent klonk Anna von Hausswolff nl. veel meer als een snoeiharde rockband. Bij het verlaten van de zaal hoorde ik een jonge vrouw klagen dat het als hardrock klonk. Qua geluidsvolume was dat geen onterechte opmerking, maar wij hoorden vooral ook veel (overbodig) Pink Floyd-geluid.
Een encore hoefde Anna von Hausswolff achteraf niet meer te spelen. Het applaus was eerder flauw en vooral kort. Er waren duidelijk meer mensen die een ander soort concert verwacht hadden. We houden het bij 65/100 voor Anna von Hausswolff en 10/100 voor de visuele look van het optreden. Totaal: 75/100.
William LIÉNARD
10/12/2016
---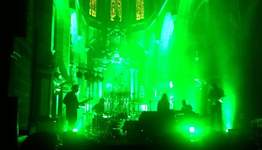 ---