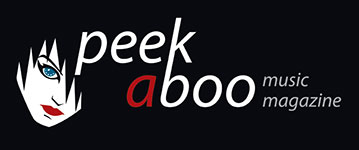 like this cult movies review
---
ANNABEL JANKEL & ROCKY MORTON
Super Mario Bros.
Movie
•
Cult movies
Action
•
Comedy
[62/100]

Second Sight
04/11/2014, Didier BECU
---
In some interview late Bob Hoskins said that his participation in the film adaptation of the video game Super Mario Bros. was the biggest blunder of his film career. Once you've seen the movie, you start wondering who was stupid enough to give green light for this vehicle.
Twenty years later the film has become cult, nevertheless Super Mario Bros. remains one of the worst Hollywood productions ever, made with a quite huge budget (one of the producers was in fact the renowned director Roland Joffé !).
For various reasons the film gained a cult status, one of them is a villain who destroys the Twin Towers.
Anyone who has ever played the famous Ninetendo-game knows that Mario (Bob Hoskins) is a plumber. Together with his stupid brother Luigi (John Leguizamo) he arrives in a strange world where prehistoric monsters roam and King Koopa (Dennis Hopper) is king. Their mission is to rescue the beautiful Daisy (Samantha Mathis), because she owns a stone that can give power to Koopa.
A fairly moronic story, but did you expect anything else? Strangely enough it is Bob Hoskins who saves this film. He is ashamed about his role, but no one could do it better! The rest of the cast is laughable, not in the least Dennis Hopper (including stupid hair!). Never seen such bad acting ! Anyway, there is a market for everything. This farce is available in Europe for the first time on Blu-ray by Second Sight Films (including English subtitles). For those who can't get enough of this crap, there is even a one hour documentary called This Is not No Video Game added in which some crew members explain why Super Mario Bros. was such a catastrophe.
Technical specifications:
Starring: Bob Hoskins, John Leguizamo , Dennis Hopper, Samantha Mathis , Fiona Shaw
Directors : Annabel Jankel , Rocky Morton
Subtitles : English for the hearing impaired
Region: Region B / 2
Studio: Second Sight
Length: 104 minutes
Didier BECU
04/11/2014
---
In een of ander interview zou wijlen Bob Hoskins ooit hebben gezegd dat zijn medewerking aan de verfilming van de videogame Super Mario Bros. de grootste blunder uit zijn filmcarrière is. Eens je de actieprent hebt gezien vraag je je sowieso af wie zo dom was om ooit groen licht voor dit vehikel te geven.
Twintig jaar na datum wordt deze film door zijn domheid door jan en alleman als cult van het zuiverste water beschouwd, desalniettemin blijft Super Mario Bros. één van de slechtste Hollywoodproducties ooit waar toch heel wat geld is tegen aangegooid (één van de producers was trouwens de gerenommeerde regisseur Roland Joffé!). De film kreeg om allerlei redenen een cultstatus, één daarvan is dat op het einde van de film de snoodaard van dienst besluit om de Twin Towers van de kaart te vegen. Misschien waren Rocky Morton en Annabel Jankel helderzienden, van regisseerwerk hebben ze in ieder geval geen kaas gegeten!
Wie ooit het wereldberoemde Ninetendo-spel speelde, die weet dat Mario (Bob Hoskins) een loodgieter is. Samen met zijn oliedomme broer Luigi (John Leguizamo) komt hij in een vreemde wereld terecht waar prehistorische monsters rondlopen en King Koopa (Dennis Hopper) de scepter zwaait. Hun opdracht bestaat erin om de mooie Daisy (Samantha Mathis) uit de klauwen van de dictator te redden, want zij bezit een steen die hem tevens heerser van de aarde kan maken.
Een vrij debiel verhaaltje dus, maar had je wat anders verwacht? Vreemd genoeg is het wel Bob Hoskins die deze film enigszins redt. Hij schaamt zich wel voor zijn rol, maar eigenlijk kon men geen betere acteur vinden voor dit pientere loodgietertje! De rest van de cast speelt zo ondermaats dat het lachwekkend wordt, waarschijnlijk heb je Dennis Hopper (inclusief debiele haartooi!) nog nooit zo slecht zien acteren! Maar goed, er bestaat een markt voor alles. Voor het eerst wordt deze klucht in Europa op Blu-ray uitgebracht door Second Sight Films (inclusief Engelse ondertiteling). Voor wie niet genoeg van deze ongein kan krijgen is er zelfs de één uur durende documentaire This Ain't No Video Game toegevoegd waarin zo wat iedereen die nog iets met de film wil te maken hebben uitlegt waarom Super Mario Bros. een catastrofe werd.
Technische gegevens:
Acteurs : Bob Hoskins , John Leguizamo , Dennis Hopper , Samantha Mathis , Fiona Shaw
Regisseurs : Annabel Jankel , Rocky Morton
Ondertitels: Engels voor slechthorenden
Regio : Regio B / 2
Studio: Second Sight
Lengte : 104 minuten
Didier BECU
04/11/2014
---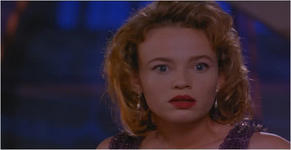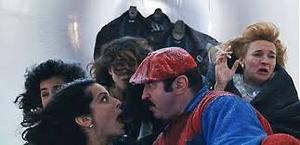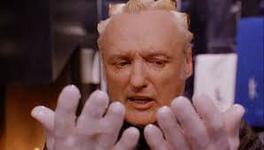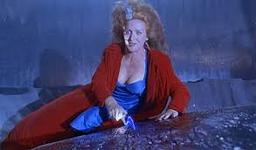 ---