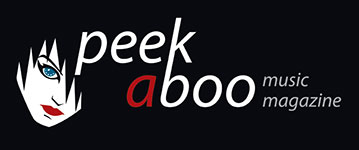 like this vinyl review
---
ANNE CLARK AND HERRB
Fairytales From The Underground
Music
•
Vinyl
New wave
[85/100]

Emmo.biz
12/01/2014, Ward DE PRINS
---
In 2013 Anne Clark released this jewel as a limited mini-cd. In 2014, this one is extended with several remixes andbrought to you as a picture disc by Emmo.biz. (And in 2014 Anne Clark & HerrB will be performing live together !)
Anne Clark always more narrates than that she sings. But her beautiful timbre and English accent draw you instantly in her stories and poetry. And just the same happened a few months back, when I bought the mini-cd. Opener "Darkest Hour" is driven by a poppy electronic riff, enhanced by multiple sound effects & of course Anne, dreaming about the walls of her room coming closer, drowning in an ocean of fear, welcoming us to her darkest hour. "Eye Of A Wolf" lets her wander further, sharing her thoughts against the backdrop of an intriguing tapestry of sound (is that a trumpet?). And last song "When You Think Your Time Has Come" follows the same paths, a bit more up-tempo, giving us a third beautiful song.
This is not a new or spectacular release, but the compositions are quite strong and the combination of HerrB & Anne Clark works wonderful, giving some really relaxing and enjoyable moments with a gloomy, melancholy kind of atmosphere bordering on weltschmerz.. Looking forward to hear and see this live !
The picture disc from 2014 contains 4 additional remixes by "MRDTC", "Angst Pop & Technomancer" , "B Infinite" and "Stadt aus Draht".
Ward DE PRINS
12/01/2014
---
In 2013 werd "Fairytales From The Underground" uigebracht als een gelimiteerde mini-cd. Nu, in 2014, verschijnt deze opnieuw via Emmo.biz, doch ditmaal uitgebreid met diverse remixen, en als gelimiteerde picture disc.
Anne Clark heeft altijd meer een verhalende stijl gehad dan dat ze effectief zingt. Maar haar warm timbre en heerlijk Engelse accent sleuren je ogenblikkelijk mee in haar verhalen en poëzie. En zo gebeurde het ook enkele maanden geleden toen ik deze mini-cd kocht.
Opener "Darkest Hour" wordt gedreven door een poppy electronische riff, met daarbij meerlagige geluidseffecten (bij elke beluistering ontdek ik weer nieuwe geluidjes) en uiteraard ook Anne's stem, dromend en verhalend over de muren van haar kamer die op haar afkomen, het verdrinken in een oceaan van angsten en ons verwelkomend in haar meest duistere uur. Mooi ! Ook "Eye Of A Wolf" laat haar verder mijmeren en haar poëtische gedachten delen tegen een intrigerend klanktapijt (is dat repititieve vettige geluid nu een trompet ?). Afsluiter "When You Think Your Time Has Come" volgt hetzelfde pad, iets meer up-tempo, doch resulterend in een derde mooie song.
Dit is geen nieuwe spectaculaire release, maar de nummers zijn behoorlijk sterk en de combinatie van HerrB en Anne Clark werkt, hetgeen enkele heerlijk relaxerende en entertainende momenten oplevert. Aangezien in 2014 Anne Clark ook samen met HerrB zal optreden is het dus uitkijken naar de live-uitvoering van deze nummers. Ik ben alvast benieuwd !
De 2014 editie, als picture disc, bevat ook nog 4 additionele remixen, door "MRDTC", "Angst Pop & Technomancer" , "B Infinite" and "Stadt aus Draht".
Ward DE PRINS
12/01/2014
---