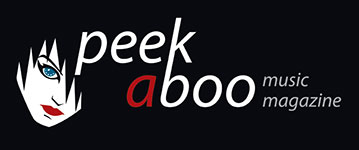 like this concert review
---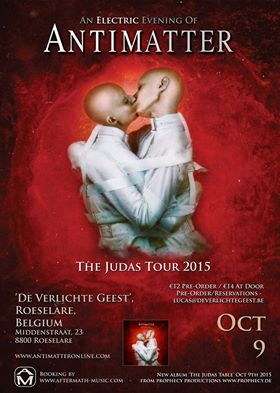 ANTIMATTER
Roeselare, De Verlichte Geest (09/10/2015)
Concert
12/10/2015, Ruben SAEY
---
On October 9th, 2015 Antimatter released the new album The Judas Table. This date also was the start of their new tour, The Judas Tour. The first concert was at De Verlichte Geest in Roeselare, Belgium. A nice music club which is mostly known in the area for its metal-oriented gigs. It is a beautiful location for a gig in an intimate atmosphere.

The support act was the Belgian acoustic duo A Bundle Of Joy that created a dark intimate atmosphere with its music. After a short break, the lights dimmed and the stage was shrouded in a mist, while the room filled with an enthusiastic audience.

It was immediately clear that Antimatter was in for it and that improved the atmosphere. The room was filled with the typical guitar sound of Antimatter, added of course with the delicate voice of singer Mick Moss. The reaction of the audience was great, the concert was okay and fabulous. When I looked around, I only saw faces that were enjoying the music.

Just like the new album, the playlist was a collection of older and new song. It was the first time that the fans heard the live versions of new songs such as Black Eyed Man, which they obviously already had discovered through the digital superhighway YouTube. The response of the public was fantastic and the applause afterwards was great and well deserved.
It was also wonderful to see how singer Mick lost himself in his music. He closed his eyes several times during the set and he allowed himself to drift away on the atmosphere that was created by the merging of the band and the audience. The music was explosive, but on the other side delicate and fragile too, and that is what makes a concert of Antimatter always so interesting.
It is not just a band that is playing music, it's an overall concept in which the band and the audience become one unity, and in a way you forget about time and space, so you can thoroughly enjoy this special unique moment. The band gave the audience what it wanted: melodic rock with brilliant guitar solos and drums, and of course the magnificent voice of Mick.
It's hard to pick out the highlights of the evening, but I mention tracks like Paranova, Black Eyed Man, Over Your Shoulder, Leaving Eden... you'll understand what I mean. After 80 minutes, the set ended with the very beautiful Stillborn Empires. Mick and his band members thanked the audience for their loyalty and because they had been part of this special evening. The crowd at the merchandising booth after the concert is always a good indication. This great gig was simply the successful start of what can (and will) be a good tour.
Ruben SAEY
12/10/2015
---