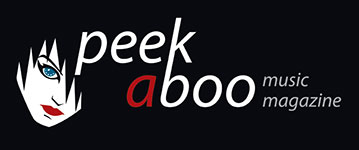 like this concert review
---
ARBEID ADELT!
Seaside Revisited 3 (16/04/2016)
Concert
09/12/2016, Ruben SAEY
---
Seaside is the legendary alternative festival of the 80s in De Panne (Belgium) that was organized during the heyday of new wave. The old posters still appeal to the imagination of many and such a festival would be sold out in no time now. Of course, many of the bands no longer exist and are forever banished to the realm of nostalgia. One band that refuses to do is Arbeid Adelt!, just like Seaside. Moreover, with a young and dynamic team, the legendary festival has been recreated under the name Seaside Revisited 3.

After 30 years, Marcel Vanthilt, Jan Van Roelen and Luc Van Acker are back on this stage. A happy reunion,obviously. Already when arriving we heard nostalgic new wave songs and saw a compilation of images from the rich archive on a large screen. DJ Myron De Sade played a mix of new wave and post-punk that brought the audience in the right mood. The first act of the evening was Curtis, a Joy Division tribute band from Ghent that already played in London, Madrid, Barcelona and ​​Berlin.
It is not just a cover band, but one that respects the original without being a copy. From the very first song, the bass lines revived the typical Joy Division sound. Whoever thought that Curtis would do a greatest hits set with well-known classics like Love Will Tear Us Apart, was wrong. The band was more focused on the post-punk songs from the early years, its most black period, which perfectly fits the ideology of Seaside. A star role was played by singer Peter L. who was completely absorbed by the atmosphere that his musicians created. Apart from a few minor hitches, this was a fine concert and a worthy appetizer for what came next. During the inevitable break between the two bands, the air was filled with a Live On Stage DJ-set by DJ Myron De Sade.
After half an hour it was time for a special moment. As said, 30 years ago, Arbeid Adelt! played here, and now the band was back on this special place. Marcel Vanthilt wore a glitter jacket and was a sort of moderator, Jan Van Roelen with a bow tie looked like a true master of the hall, flanked by Luc Van Acker with his Chinese suit and hat who served as the animator. This image clearly showed that the evening would include a lot of humor, cynicism and perspective.
This is also where Arbeid Adelt! stands for since years: solid minimal electro on the border of madness and at times very subtle chaos. The set began with the chaotic Astra Astra from the new album Slik. It was clear that Arbeid Adelt! meant it. After a brief greeting from Marcel, the set continued with a few songs from the latest album: Popcornmario, Apparaat, Navardauskas, named after the cyclist of whom Marcel once thought that he would be a new racing God. After these relatively unknown songs, the audience heard classics like Ik Sta Scherp, De Dag Dat Het Zonlicht Niet Meer Scheen, Lekker Westers and a perfect version of Death Disco.
After the song 65+, an English visitor asked if it was possible to translate the lyrics into English, as he enjoyed the music but did not understand the text. In his best English, Marcel translated ithe lyrics of 65+ (for those who do not know them, I recommend to take a look). The English visitor immediately understood the mood of the song.
The atmosphere of the heyday was not really recreated in my opinion. There is of course the passage of time, and also the fact that the new tracks are lesser known. But it is a fact that the band is outstanding on stage. The musical electronic chaos of their latest album reminded me of the equally absurd electronic chaos of Alien Sex Fiend. It was clear that the three men enjoyed themselves on stage and occasionally they managed to lure the audience on the dancefloor for a few dance steps.
The set ended after twenty songs with the very danceable and touching final song Bedankt En Tot Ziens. With these words, Seaside Revisited 3 closed its doors. But there was still time for an after party by DJ Myron De Sade, which drove us through the night.
Ruben SAEY
09/12/2016
---
Seaside: het legendarische alternatieve festival van de jaren 80 in De Panne, het festival van de hoogdagen van de new wave met affiches die vandaag nog steeds tot de verbeelding spreken en dat in een mum van tijd zouden zijn uitverkocht, ware het niet dat vele bands er al een tijdje het bijltje bij neer hebben gelegd en voor eeuwig naar het rijk der herinnering zijn verbannen. Eentje weigert zich daar echter bij neer te leggen, namelijk Arbeid Adelt! En net zoals Arbeid Adelt!, weigert ook Seaside dat te doen. Meer nog, met een jong en dynamisch team werd het legendarische festival opnieuw tot leven gewekt onder de naam Seaside Revisited 3.

30 jaar na hun legendarische passage in 1985, stonden Marcel Vanthilt, Jan Van Roelen en Luc Van Acker weer op het Seaside-podium. Een blij weerzien, dat was wel duidelijk. Bij de aankomst in de zaal weerklonken nostalgische new wave nummers en werd een compilatie van beelden uit het rijke archief op een groot scherm geprojecteerd. DJ Myron De Sade zorgde er met zijn mix van new wave en postpunk voor dat het publiek in de juiste stemming kwam om de eerste act van de avond te verwelkomen. Curtis, een Joy Division-tributeband uit Gent die al heel wat op zijn palmares heeft staan. Hun passages in London, Madrid, Barcelona of Berlijn spreken voor zich.
We hebben het hier niet zomaar over een coverband, maar een gedreven groep, met respect voor het origineel zonder er een kopie van te willen zijn. Al van bij het eerste nummer en de eerste baslijnen kwam de typische Joy Division-klank tot leven. Wie dacht dat Curtis zo maar een best-of-setje zou doen met de bekende klassiekers zoals Love Will Tear Us Apart, was eraan voor de moeite. Er werd gekozen voor de meer postpunkgerichte songs uit de beginjaren, zowat hun meest zwarte periode, die perfect in de ideologie van het Seaside Festival past. Een glansrol was trouwens weggelegd voor zanger Peter L. die zich compleet liet opslorpen door de sfeer die zijn muzikanten creëerden. Op een paar kleine haperingen na was dit een fijn concert en een waardige opwarmer voor wat komen zou. Leuk was ook het feit dat de onvermijdelijke pauze tussen beide bands opgevuld werd met een Live On Stage DJ, want vaak wordt in zo'n geval muziek gedraaid door de mensen van de PA, maar hier werd net zoals in het begin van de avond een beroep gedaan op de vaardigheden van DJ Myron De Sade.

Na zowat een half uur was het tijd voor een speciaal moment. Zoals gezegd besteeg 30 jaar na datum Arbeid Adelt! opnieuw het Seaside-podium: Marcel Vanthilt met glitterjasje als een soort moderator, Jan Van Roelen mooi in hemd met strikje als een echte zaalmeester, geflankeerd door Luc Van Acker die in zijn Chinees mandarijnenpakje met dito pet en lange vlechten als animator fungeerde. Dit beeld toonde duidelijk aan dat dit een avond met een heel vette knipoog was, inclusief de nodige overdosis humor, cynisme en zelfrelativering.
Dit is ook waar Arbeid Adelt! al jaren voor tekent, stevig minimalistische elektro met een aan waanzin grenzende en bij momenten heel subtiele chaos. De set begon met het al even chaotische Astra Astra uit het nieuwe album Slik. Dat was dan ook wat vele aanwezigen deden: slikken, toen er trompetten uit een oude Romeinse film werden gemixt van minimalistische popcorn en Duitse marsmuziek. Een combinatie waarbij het toch even duurt vooraleer je beseft wat er gaande is. Het was meteen duidelijk dat Arbeid Adelt! het meende. Na een korte begroeting van Marcel ging de set verder met enkele nummers uit hun recentste album Slik. Popcorn Mario, Apparaat, Navardauskas genoemd naar de gelijknamige renner waarvan Marcel ooit dacht dat hij de nieuwe wielergod zou worden. Na deze voor het publiek nog vrij onbekende nummers was het tijd voor wat klassiekers zoals Ik Sta Scherp wat uit de mond van Luc Van Acker echt wel een jeugdherinnering leek. De nummers van weleer : De Dag Dat Het Zonlicht Niet Meer Scheen, Lekker Westers en een wat mij betreft heel mooie versie van Death Disco passeerden de revue.

Na het nummer 65+ vroeg een Engelstalige toeschouwer of het mogelijk was om de teksten in het Engels te vertalen, hij genoot van de muziek maar hij begreep geen bal van de teksten. Marcel vertaalde toen in zijn beste Engels de tekst van 65+ (voor wie de tekst niet kent raad ik aan die eens op te zoeken), dit tot groot jolijt van de Engelse bezoeker die op die manier ook meteen begreep in welke sfeer de rest van de avond zich zou situeren. Met een afwisseling van oude en nieuwe songs, doorspekt met anekdotes en kritische noten, was dit een Arbeid Adelt! zoals je het heden ten dage kan verwachten. De sfeer van de hoogdagen laten heropleven is volgens mij niet echt gelukt. Daar zal het tijdsbeeld, de geringe bekendheid van de groep en het nog vrij recente, dus ook minder bekende nieuwe album veel mee te maken hebben. Wat wel als een paal boven water staat is het feit dat de band er live nog steeds staat en dat de nieuwe nummers het live uitstekend doen.

De muzikale elektronische chaos zoals op het recentste album deed me bij momenten denken aan de even absurde elektronische chaos die Alien Sex Fiend op de wereld losliet. Het was duidelijk dat de drie heren zich op het podium amuseerden en af en toe slaagden ze er ook in om het publiek in beweging te krijgen en tot enkele danspassen te verleiden.

Na ongeveer twintig nummers werd de set afgesloten met een welgemeend en zeer dansbaar slotnummer: Bedankt En Tot Ziens. Met deze woorden werd dit deel van Seaside Revisited 3 afgesloten. Daarna was er nog tijd en plaats voor een afterparty die opnieuw muzikaal ingevuld werd door DJ Myron De Sade, die de aanwezigen op gepast wijze door de nacht en over de dansvloer loodste. De organisatie en de vele vrijwilligers hadden niets aan het toeval overgelaten en alles tot in de puntjes voorbereid zodat deze avond vlot en vlekkeloos verliep. Het enige wat de aanwezigen mochten doen was genieten en dat hebben we dan ook met volle teugen gedaan.
Ruben SAEY
09/12/2016
---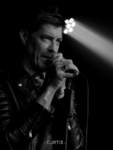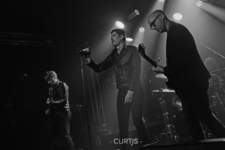 ---