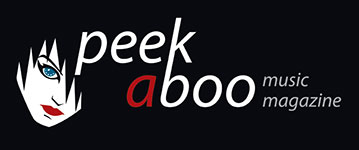 like this cd review
---
AUTOPSIE D'UNE OMBRE
"Premier EP Éponyme"
Music
•
CD
Cold Wave
•
Dark Wave
•
Industrial
•
Synth Wave
[80/100]

Self-released
21/07/2015, William LIÉNARD
---
Behind the French one-man project Autopsy d'une Ombre hides Sébastien Espi. On his first EP, he brings us five compositions which, according to himself in the leaflet, 'were inspired by Depeche Mode, Joy Division and Kas Product", but it is especially Ian Curtis who shuffles through his minimalist, dark and industrial music. Espi situates the style of his cool, gloomy and industrial compositions between cold wave, synth wave and post-industrial and that is not so far from the truth.
Deaf begins with what sounds like electronic hand-clapping, with humming synths and strange trumpet-like sounds, topped by a Curtis-like voice, all in the style of the British band, but without guitars and at the pace of a drum machine: dark and gloomy and at the same time melodic and upbeat. The text is obviously sung in English, and you can hardly imagine that this comes from the south of France. For the final, the artist adds whistling synths and industrial noise. In Alone the drums sound dark and emphatically with layered synths, humming in the background and the distorted and echoing voice of Autopsy d'une Ombre: dark as a sublunary Satan in search of prey. The pace is slow and oppressive and the synths descend to the deepest depths of a black soul.
Fate starts with thick layers of trumpet-like and humming synths, emphatic drums and equally emphatic vocals: imploring and threatening, Depeche Mode meets Joy Division, but in one way or another yet very different and recognizable. More English a French band could never sound! Hatred is the most industrial track on this EP: metallic banging, grinding and machine-like synths, exploding drum machines and a voice that sounds like the darkest dark, icy cold, with apocalyptic sirens and screams of fear and horror: no hope and no future, pure hatred.
Feel Inside finally start with ping-pong-like synths, backed by deep buzzing synths and again a voice that comes close to the sound of Ian Curtis: toneless and numb, a depression in full swing. The master could not do better.
Not exactly music for a fun cocktail party, but despite the obvious influences, yet original and promising. And despite the dark tone, there floats a positive atmosphere through these five compositions. It's hard to explain, but the material does not necessarily draw you over the edge of the abyss. Autopsie d'une Ombre, we want to hear more!
Tracklisting:
1. Deaf
2. Alone
3. Fate
4. Hatred
5. Feel Inside

https://www.youtube.com/watch?v=yyrs8U6dC40
http://autopsieduneombre.tumblr.com
https://autopsieduneombre.bandcamp.com
https://www.facebook.com/autopsieduneombre

William LIÉNARD
21/07/2015
---
Achter het Franse eensmansproject Autopsie d'une Ombre gaat de uit Narbonne afkomstige muzikant Sébastien Espi schuil. Op z'n eerste ep brengt hij vijf composities waarvan hij zelf in de bijsluiter zegt dat ze geïnspireerd zijn door Depeche Mode, Joy Division en Kas Product, maar het is vooral Ian Curtis die door z'n minimalistische, donkere en industriële muziek schuifelt. Espi benoemt z'n stijl als coldwave,, synthwave en post-industrial en zo klinken z'n koele, sombere en met industriële klanken omzwachtelde composities inderdaad ook.
Deaf begint met wat op handgeklap lijkt, zoemende synths en vreemde trompetachtige geluidjes waartussen zich een Curtisachtige stem nestelt, helemaal in de stijl van de Britse band, maar zonder gitaren en op het tempo van een drummachine: donker en somber, maar tegelijk ook welluidend en voorzien van een interessant maat. De tekst wordt uiteraard in het Engels gezongen en je kan je nauwelijks voorstellen dat dit uit het zuiden van Frankrijk komt. Voor de finale voegt de artiest fluitend synths toe en een industriële brom. In Alone klinken de drums donker en nadrukkelijk, gelaagde synths zoemen op de achtergrond en vanuit de diepte weerklinkt het distorted stemgeluid van Autopsie d'une Ombre: duister, als een ondermaanse satan op zoek naar prooi. Het tempo is traag en drukkend en de synths dalen af naar de aller diepste krochten van een zwarte ziel.
Fate begint met dikke lagen van trompetachtige en zoemende synths, nadrukkelijke drums en een al even nadrukkelijke zangpartij: bezwerend en dreigend, Depeche Mode meets Joy Division, maar op de een of andere manier toch weer heel anders en tegelijk herkenbaar. Engelser heb je een Franse band nooit horen klinken. Hatred is de meest industriële track op deze ep: metaalachtig gebonk, schurende en machineachtige synths, ontploffende drummachines en een stem die klinkt als het donkerste donker, ijselijk koud, met apocalyptische sirenes als kreten van angst en afschuw: geen hoop meer en geen toekomst, louter haat.
Feel Inside ten slotte begint met goed klinkende ping-pongachtige synths, gesteund door diepe zoemende synths en opnieuw een stem die in de buurt komt van het geluid van Ian Curtis: toon- en gevoelloos, een depressie in volle gang. De meester zou het niet beter kunnen.
Niet meteen muziek voor een leuke cocktailparty, maar ondanks de genoemde invloeden, toch origineel en veelbelovend. En in weerwil van de donkere toon zweeft er een positieve sfeer door deze vijf composities. Het is moeilijk om uit te leggen, maar het materiaal trekt je niet noodzakelijk over de rand van de afgrond. Van Autopsie d'une Ombre willen we meer horen!
William LIÉNARD
21/07/2015
---