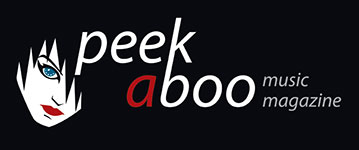 like this documentary review
---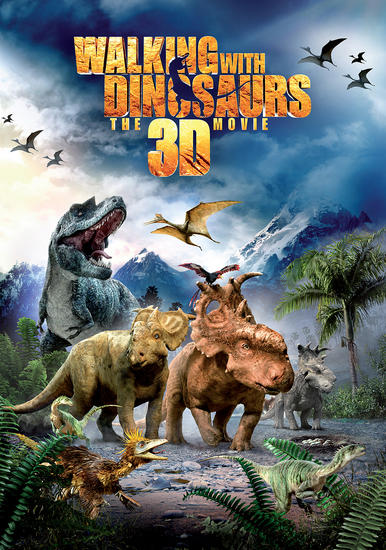 BARRY COOK & NEIL NIGHTINGALE
Walking With Dinosaurs-The Movie
Movie
•
Documentary
Animation
[60/100]

Dutch FilmWorks
15/05/2014, Didier BECU
---
Most critics were quite hard when this cartoon made its entrance in the film theatres. Most of them didn't take it that BBC Earth joined hand with the childish Disney-charm. So yes, this animation film is inspired on the highly acclaimed and extremely popular documentary series that's been launched at the end of the 90's. Never before were those prehistoric monsters looking so real and even Steven Spielberg was speechless. The promotional carrousel was spinning around. Worldwide you could visit exhibitions in where families could see how those creatures from 70 million years ago looked like. The popularity was so huge that they often forget that those animals were not so lovely after all. But good, the makers made it possible that children want to have a tyrannosaurus as a toy. The road was open for the making of a cartoon. The job was given to Barry Cook and Neil Nightingale. The first one is the man who directed the Disney-cartoon Mulan.


BBC Earth and Disney, is that a good combination? That depends of course and how you see things! The father who takes his son to the movies and hopes that his child will later turn out in a paleonthologist will be disappointed. Parents who want to give their kids a good time by offering them a mellow cartoon with extraordinary special effects can sleep on both ears. Or is it not a shame if a young kid sees how the father of animal is ripped apart by some rival? Well, we also had to accept one day that Bambi's mother was killed by a hunter, not?


Nah, the question a movie buff asks is if Walking With The Dinosaurus is good or not. Once again we're faced with a dilemma. The weak link is the script as there's simply not enough things going on during 80 minutes. The movie is about Patchi, a young pachyrhinosaurus. He's smart, but a bit silly too. The young Patchi thinks the world is a paradise and he's not aware of the fact that there are other animals around who see a delicious meal in him. While his friends take part in heroic games, Patchi dreams away. He's a romantic soul and daydreams about the great love of his life: Juniper. His biggest competitor is his own brother Scowler.


If the script and the irritating voice-overs are the weak points then the special effects are the strongest as Walking With The Dinosaurus is a visual triumph. The designed animals are not only breathtaking beautiful, they also look real. There's of course the never ending technique, but you're still wondering how it's possible that people can create a world of 70 million years ago in such a splendid style...it's indeed like you're actually there!


Walking With The Dinosaurus is now out on Dutch Filmworks.
Didier BECU
15/05/2014
---
De meeste kritieken waren bikkelhard toen deze animatiefilm zijn intrede in de bioscoop deed. Heel wat recensenten vonden het niet kunnen dat BBC Earth was gezwicht voor de kinderlijke charme van Disney. Want jawel, deze animatiefilm is geïnspireerd op de ontzettend populaire gelijknamige reeks die op het eind van de jaren 90 de wereld veroverde. Nog nooit leken de prehistorische dingen zo echt, zelfs Steven Spielberg stond met zijn mond vol tanden. De promomolen draaide op volle toeren. Wereldwijd had je exposities die gezinnen een kans gunden om zich te kunnen voorstellen hoe deze monsters eruit hebben gezien. Het blijven verschrikkelijke monsters die alles wat in hun vizier lag opvraten, maar de televisiemakers slaagden erin om deze vreemde creaturen een aaibaarheidsfactor te geven. Ja, zelfs de kleinste kinderen beschouwden plotseling een tyrannosaurus als een lief knuffelbeest. De weg lag dan ook open voor een animatiefilm waarbij de regie in handen werd gegeven aan Barry Cook en Neil Nightingale. Deze eerste is één van de regisseurs van Mulan, de Disney-film over de Chinese heldin.


BBC Earth en Disney gaat dat wel samen? Het is natuurlijk maar hoe je het bekijkt! De vader die zijn zoontje meeneemt naar de bios in de hoop dat zijn nakomeling na afloop paleontoloog zal worden laat deze kelk maar het best aan zich voorbij gaan. De ouder die gewoon zijn kind op een zeemzoet dinosaurusverhaal met betoverende special effects wil trakteren kan gerust aan de trip beginnen. Of toch niet? Is een kinderhart sterk genoeg om te zien hoe een jong dier toekijkt hoe zijn vader wordt opgepeuzeld? Nou ja, Bambi moest het ook aanvaarden dat haar moeder werd neergeschoten, niet?


De vraag die de filmfan zich stelt is niet of Walking With The Dinosaurus pedagogisch verantwoord is, wel of het een goede prent is. Opnieuw zitten we met een dilemma. Deze film gaat gebukt onder een leeg scenario. Er gebeurt gewoon te weinig in 80 minuten tijd. De film draait om Patchi, een kleine pachyrhinosaurus. Hij is slim, maar ook een sulletje. Voor hem is de aarde één groot paradijs en is er zich niet van bewust dat er andere diersoorten rondlopen die hem als een lekker avondmaal beschouwen. Bovendien is het dier een romanticus! Terwijl zijn vriendjes heldhaftige spelletjes spelen, droomt de jonge Patchi van een zorgeloos leventje met zijn grote liefde Juniper. Zijn grootste concurrent is weliswaar zijn eigen broer: Scowler. Meer valt er over de inhoud niet te vertellen, ofschoon het relaas regelmatig wordt onderbroken door een praatzieke vogel die de kijker inlicht over welk prehistorisch dier het precies gaat.


Als het scenario (en de irritante stemmen) de zwakke schakel van Walking With The Dinosaurus zijn, dan zijn de special effects de sterke. De tekenfilmfiguren zijn wetenschappelijk verantwoord, lijken levensecht en ogen op zijn zachtst gezegd imponerend. De techniek mag dan wel niet stilstaan, toch zit je als kijker met open mond te kijken hoe de mens in staat is om zoiets wonderlijks op het scherm te toveren. Want jawel, ondanks het flauwe verhaal lijkt het wel of je 70 miljoen jaar terug op onze aardbol rondloopt.


Walking With The Dinosaurus is nu uit op Dutch Filmworks.
Didier BECU
15/05/2014
---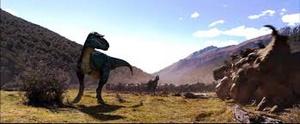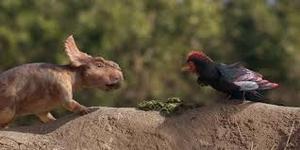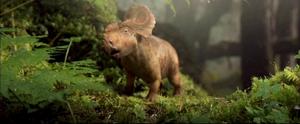 ---