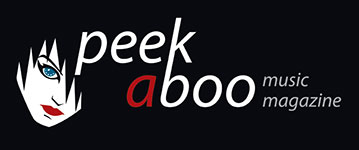 like this cinema review
---
BENOIT JACQUOT
CINEMA: 3 Coeurs
Movie
•
Cinema
Drama
•
Romantic
29/09/2014, Didier BECU
---
Recently Benoit Poelvoorde announced that he was tired of acting and that he would do something different. A sad decision, as even if not all movies from this Belgian are right choices, he surely remains one of the best actors from this tiny country, not to say the best! 3 Coeurs is another proof of that!
The newest movie from Benoît Jacquot has become a love drama that is full of tragic. Marc (Benoît Poelvoorde) is investigating tax affairs. He's the kind of person you'll never notice, a man who realises on his 47th birthday that he probably will never meet his princess. And then, of course, when no one expects it happens! When he is for his job in a provincial town he meets the lovely Sylvie (Charlotte Gainsbourg). He realises that it is love at first sight and promises that he will wait for her the next Friday at the Jardin des Tuileries in Paris. There's no need to exchange phone numbers, they don't even know each other's name…all that they're aware of is that they'll surely be at the meeting point. Marc has forgotten that you can't control everything. During his trip to the Paris garden he got stuck in a traffic jam and suffers from a cardiac arrest. He will never meet his great love. Sylvie is heartbroken and moves with her friend to Minneapolis. Some time later Marc meets Sophie (Chiara Mastroianni). He starts a relation with her, but doesn't know that she is the sister from Sylvie.
A story like this can only ends good if you're Woody Allen or a French director. Jacquot can, especially because the performances are so brilliant that you're immediately connected with the characters. I admit it: I'm surely not the right person to judge Charlotte Gainsbourg, but I'm convinced that she is along with Isabelle Huppert the best European actress. It's rare to see such an emotional Poelvoorde and to make it complete, you get Catherine Deneuve as mother-in-law. What more do you want?
3 Coeurs plays now in the film theatres. Don't act like Benoit Poelvoorde, so don't miss this rendez-vous!
Didier BECU
29/09/2014
---
Onlangs kondigde Benoit Poelvoorde aan dat hij genoeg heeft van het acteren. Een jammerlijke beslissing, want alhoewel hij er niet altijd is in geslaagd om de beste films uit te pikken, blijft hij toch één van de beste Belgische acteurs aller tijden, om niet te zeggen de beste. Met 3 Coeurs is het wederom raak.
De nieuwste film van Benoît Jacquot is een liefdesdrama vol tragiek. Marc (Benoît Poelvoorde) is een belastinginspecteur, een grijze muis die er zich op zijn 47e heeft bij neergelegd dat de ware prinses er nooit zal komen. Wanneer hij in een provinciestadje belandt gebeurt het plotseling wel. Bij de allereerste blik naar Sylvie (Charlotte Gainsbourg) slaan de vonken over. Marc belooft dat hij op haar zal wachten in de Tuilerieën van Parijs om klokslag zes uur. Een telefoonnummer uitwisselen is niet nodig, Marc zal er zijn. Sylvie die haar man ondertussen grondig beu is neemt het avontuurlijk aanbod aan, maar helaas slaat het noodlot toe. Marc wordt onwel en geraakt niet op de afgesproken plaats. Sylvies hart is gebroken en verhuist naar Minneapolis. Maanden later start Marc een relatie met Sophie (Chiara Mastroianni), hij weet wel niet dat de zus van Sophie zijn grote liefde Sylvie is.
Voer voor een stationsromannetje? Misschien wel, maar de vertolkingen zijn zo briljant dat je vanaf de eerste minuten met de gebroken personages meeleeft. Ondergetekende is misschien niet meteen de geschikte persoon om er een objectief oordeel over te vellen maar Charlotte Gainsbourg is samen met Isabelle Huppert de allerbeste Europese actrice en dat merk je in iedere scène. Zelden zagen we zo'n ontroerende Poelvoorde aan het werk en om het volledig compleet te maken is er ook nog Catherine Deneuve als schoonmoeder.
3 Coeurs loopt vanaf nu in de bioscoop. Mis de afspraak niet!
Didier BECU
29/09/2014
---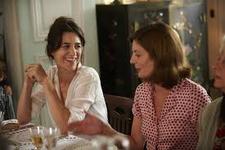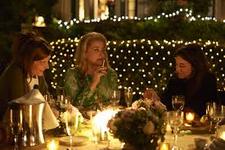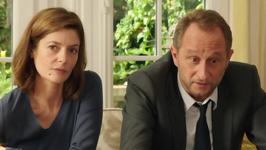 ---