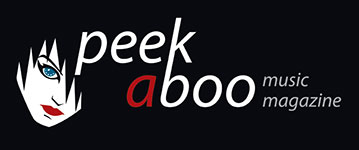 like this concert review

---
BLACK EASTER FESTIVAL
Day 1, 4/4/2015 - Romance and profundity
Concert
10/04/2015
---
Black Easter has presented us a marvelous line-up. A bold line-up too, with emphasis on the more romantic and profound side of goth culture. A line-up in which consistency lies in the uniqueness of each programmed artist. Variety but also quality.
Hatchling had the 'dubious' honor to open the festival. Not the most comfortable place on a festival. It must be said that Simon Mahieu could easily warm the sparse audience with an energetic set - perhaps in the middle it lost some tension, but the set finished strong again - he proved to be a more than decent opener.
Now we have to pick our words carefully, for none other than Dark Entries' colleague Peter plays in Dark Poem. We can not really afford to give negative criticism. Though fortunately it is totally unnecessary, because since the first time we heard of Dark Poem - and then our colleague had nothing to do with it - we were completely sold on this project. Dark Poem gave - and we are talking about 2011 - a performance at our Dark Entries Night, which gave them prompt the ability to bring out a CD. And Peter couldn't even count on much attention, because it was completely claimed by the lovely sisters Raya Schaduwjaagster ("Shadow Huntress") and Sofie Drakenvleugels ("Dragon Wings"), singing in an angelic way, with expressive dance and percussion and their hypnotic music. Another magnificent performance of this exceptional group.
The German musician Lisa Morgenstern performed for the first time abroad. This lady owes her first publicity to a number of shows, opening for Henke (see Goethes Erben on day 2). We were wondering how she would approach her show at the festival. She had two musicians: cellist Binni Cellini (from Letzte Instanz and countless other German projects) and Katharina as a singer-violinist. During the first songs the sound needed some adjustments and her binding texts gave some festival-goers mixed feelings: some found this rather arrogant (the fact that she silenced some people in the back of the hall) and sometimes laughable, while others found it again an additional value to the performance. The fact is that these binding texts are typical for this tormented mind - behind the angelic apparition in white dress, a dark soul is hiding that prefers to sing about things like suicide and insomnia. A first highlight came with "Bury Me". And from then on, the performance was really fine with interpretations of "Moon", "Lieber Tod", "Sweet Dreams (Eurythmics cover)", "Hairy Moon", "Nocturne"... The show ended with the applicable song "Farewell".
The Mighty Sieben is a project of Matt Howden. A tape with only Howden and his violin on the stage. Bold. With "Each Divine Spark" Sieben brought a strong and nuanced album. Live he brings his songs, as he announced himself, with more puch and direct. That brings more physical energy and drive in action. Personally, I miss some sensitive drawn-out pieces in this approach. Nevertheless, it was a good performance with full devotion that convinced a large part of the audience.
Ataraxia has been around since 1986, though they needed nearly eight years to record their debut. But since then, they have built an impressive discography. A particularly diverse discography, ranging from the Baroque music to progressive rock, neo-folk, cabaret, darkwave and neoclassical. So we were wondering which material these fine Italians would bring us on Saturday. The focus was clearly on the new material, work that has been created since 2004, in the current composition of the group. Francesca Nicoli has an extremely good voice, Vittorio Vandelli creates tingling electric guitar and Giovanni Pagliari brings the wide flared synths. An honorable mention goes to Riccardo Spaggiari, who delivers outstanding acoustic and electric percussion, and at times also puts melodic elements through his pads. The set of Ataraxia has made us wander that far into dreamland, that even after the performance, it took some time before we fully awakened.
Rosa Crux has been around since 1984, and took even longer to release a debut (11 years, yes!). But that doesn't matter, since the performances of the group are sensational. The set begins with a drum duel between singer-guitarist Olivier Tarabo and BAM (Batterie Acoustique Midi), a beautiful construction of drums that are driven mechanically. After the intro Tarabo takes the guitar in hand and we are treated to the typical Rosa Crux sound, with bombastic keyboards, complemented by sharp guitars and screeching Latin hymns. The framing takes an important place. In addition to the BAM, the piano and the gigantic carillon. The stage is bathed in candlelight and a rather dark light show, while background projections accentuate the macabre character of the whole performance. And then there are also the flag waving and the inescapable "danse de la terre" in which two pure mud-clad creatures ritually sprinkle themselves with earth, making the same set of repetitive movements. An impressive and intense performance.
The first day of the Black Easter Festival may already be regarded as extremely successful, though we all longed already for the top acts on Sunday....
Text: Wim Guillemyn & Xavier Kruth
Photos: Marquis (pi) X

10/04/2015
---
Nederlandse versie op www.darkentries.be

10/04/2015
---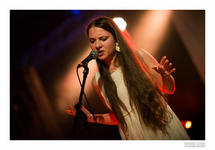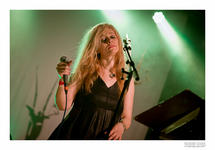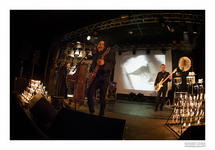 ---