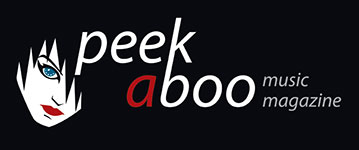 like this concert review
---
BLIXA BARGELD & TEHO TEARDO
Still Smiling Tour (Hasselt, Cultureel Centrum, 16/10/2015)
Concert
[85/100]

20/10/2015, William LIÉNARD
---
On October 16, 2015, Blixa Bargeld & Teho Teardo were at the Cultural Centre in Hasselt with the material of their album Still Smiling. Previously, they played the concert in Brussels and Bruges (11.05.2014), but earlier this year, the duo has released the (vinyl) EP Spring and, consequently, the new songs were added to the set list.
The concert hall of the Cultural Centre is large, too large for such a niche event, but despite the many empty seats, the audience was enthusiastic and after the lights had gone out, Blixa Bargeld and Teho Teardo (and their cellist) were warmly welcomed when they appeared on stage with only a small delay.
The concert lasted just under one and a half hour for a performance of 16 songs (including the encores). They started with the Neubauten-like Nur Zur Erinnerung, in which the electric guitar and the cello defined the soundscape for the rest of the evening. Mi Scusi is definitely a highlight of the album Still Smiling and Blixa Bargeld brought and excellent version, assisted by a groaning and whimpering cello and the tingling guitar sound of Teho Teardo, whereby the absence of the choral passage of the album version was not even noticed. In Axolotl Teho Teardo produced dark and menacing tones, Blixa ensured the barely noticeable mouth noise and the cello went slowly crescendo with little sounds from the laptop. Buntmetaldiebe is a similar Bertold Brecht-like composition, atmospheric, with Bargeld as the narrator. Electric guitar and cello painted an attractive canvas, enhanced with some electro noise. Still Smiling started with emphatic tones of a cello and a softly humming electric guitar: a first climax. The beautiful Nocturnalia and the melancholic What If (with a gorgeous cello and a string quartet) followed, and in Konjunktiv II an emphatic soundscape was created by strings, electric guitar and cello.
The Empty Boat is a quiet ballad by Brazilian superstar Caetano Veloso, in which South American elements are combined with a lot of jazz influences. Bargeld and Teardo retained the acoustic sounding guitar track and added cello and strings, over which Blixa Bargeld spread the lyrics in a peaceful and later in an emphatic way, turning the song into a warm and attractive ballad, with playful touches of cello and electric guitar, and perfectly timed interventions of the strings. No less than stunning, and very much appreciate by the audience. Come Up and See Me convinced on all fronts. The man who screwed a whole country, Bargeld sang between the Italian dialogues, and he obviously referred to Italy's former political wonderboy Berlusconi. For Alone with the Moon Blixa Bargeld put on his crooners jacket: a sugar-sweet and romantic ballad in the great American tradition, with again a stunning cello and strings... The calm pace was maintained in A Quiet Life, albeit with an emphatic electric guitar, backed by thick layers of cello and violins: a magical moment. The concert ended with Negroni, but obviously, the audience wanted more and got it after a hearty applause.
According to the playlist, Soli Si Muore was the first encore, but Blixa Bargeld decided to do the English version and so, Teho Teardo gently strummed the opening notes of Crimson and Clover, the song with which Tommy James & The Shondells scored a worldwide hit in 1968. The lyrics do not matter, not even the Italian, was Blixa Bargeld's response to Tardo's comical protest. Only the tremolo in the end is important, he added in a lighthearted tone. And so, Bargeld sang the melody, with simple guitar accompaniment and assistance of the cello. The percussion track of the original was missing, but that hardly mattered, because Teho Teardo's soundscape was perfectly balanced. Meanwhile,Blixa Bargeld carefully wove the fragile fabric of the song: simple and wonderful. The atmospheric and dreamy Nirgendheim followed and Defenestrazioni ended he concert in a quiet and funny way, again with a great speech and the cheers of a worked up audience (on tape). Well, Italy, it remains a strange land to outsiders...
The combination Blixa Bargeld /Teho Teardo works perfectly and they have provided evidence in Hasselt.
William LIÉNARD
20/10/2015
---
Op 16 oktober 2015 stonden Blixa Bargeld en Teho Teardo op het podium van het Cultureel Centrum In Hasselt met het materiaal van hun album Still Smiling, dat eerder ook al in Brussel en Brugge (11.05.2014) ten gehore werd brachten. Ondertussen heeft het duo de vinyl-ep Spring uitgebracht en ook die songs kwam tijdens het concert aan bod.
De grote zaal van het Cultureel Centrum is heel erg groot, té groot voor een dergelijk niche-evenement, maar ondanks de vele lege stoelen, liet het publiek het zich niet aan het hart komen en kregen Bargeld en Teardo (én hun celliste) na het doven van de lichten een daverend applaus toen ze omstreeks 20.10 uur op het podium verschenen.
Het concert duurde net geen anderhalf uur en in die tijd konden de fans genieten van 16 composities (inclusief de encores). De spits werd afgebeten met het Neubauten-achtige Nur Zur Erinnerung waarin de elektrische gitaar en de cello meteen het soundscape voor de rest van de avond definieerden. Mi Scusi is zonder meer een hoogtepunt uit het album Still Smiling en in Hasselt bracht Blixa Bargeld en uitstekende versie, bijgestaan door een kreunende en jankende cello en tintelend gitaargeluid van Teho Teardo, waarbij het ontbreken van de koorpassage niet eens opviel. Voor Axolotl trok Teho Teardo z'n gitaar op gang met donkere en dreigende tonen, Blixa zorgde voor de nauwelijks merkbare mondnoise, de cello ging langzaam crescendo en de rest van de kleine geluidjes werd uit de laptop tevoorschijn getoverd. Buntmetaldiebe is een gelijksoortige Bertold Brecht-achtige compositie, opnieuw atmosferische van aard met Bargeld als verteller. Gitaar en cello schilderden een aantrekkelijk canvas, aangevuld met wat electronoise. Still Smiling mocht uiteraard niet ontbreken en op de tonen van een nadrukkelijke cello en een zacht zoemende elektrische gitaar groeide de song uit tot een eerste hoogtepunt. Vervolgens kwamen nog het prachtige Nocturnalia, het melancholische What If (met een bloedmooie cello en een strijkwartet) en Konjunktiv II aan bod, waarvoor de strijkers in samenwerking met de elektrische gitaar en de cello een nadrukkelijke soundscape creëerden.
The Empty Boat is een vrij rustige ballade van de Braziliaanse superster Caetano Veloso waarin Zuid-Amerikaanse elementen gecombineerd worden met flink wat jazz-invloeden. Bargeld en Teardo behielden de akoestisch klinkende gitaartrack, voegden cello en strijkers toe, waarover Blixa Bargeld de tekst op een rustige manier en later vrij nadrukkelijk uitspreidde, waardoor de song een warme en aantrekkelijke indruk maakte, met speelse details van cello en elektrische gitaar en perfect getimede tussenkomsten van de strijkers. Bloedmooi, en dat wist het publiek duidelijk te appreciëren. En ook Come Up and See Me overtuigde over de hele lijn. The Man who screwed a whole country, zong Bargeld tussen de Italiaanse dialogen, waarmee hij uiteraard Italiës voormalige politieke wonderboy Berlusconi bedoelde. Voor Alone with the Moon trok Blixa Bargeld z'n croonersjasje aan: een zeemzoete en romantische ballade in de grote Amerikaanse traditie, met opnieuw een bloedmooie cello en uiteraard strijkers… en dat rustig tempo werd ook in A Quiet Life gehandhaafd, zij het met een nadrukkelijkere elektrische gitaar, gesteund door dikke lagen cello- en vioolgeluid: een kippenvelmoment. Het concert werd afgesloten met Negroni, maar uiteraard wilde het publiek meer en dat kreeg het na een stevig applaus.
Soli Si Muore stond er op de playlist, maar Blixa Bargeld besloot om toch maar de Engelse versie ten gehore te brengen en dus tokkelde Teho Teardo voorzichtig de beginnoten van Crimson en Clover, de song waarmee Tommy James & The Shondells in 1968 een wereldhit scoorden. De tekst doet er niet toe, ook de Italiaanse niet, was Blixa Bargelds reactie op Tardo's gespeelde protest, alleen het tremelo op het einde is van belang, voegde hij er nog aan toe. En dus zette Bargeld de melodie in, met eenvoudige gitaarbegeleiding en hulp van de cello. Dat de percussietrack van het origineel ontbrak was nauwelijks een bezwaar, want Teho Teardo zorgde ervoor dat het soundscape perfect in balans was. Ondertussen weefde Blixa Bargeld voorzichtig de fragiele melodie: eenvoudig, breekbaar en wondermooi. Het atmosferische en dromerige Nirgendheim volgde en met Defenestrazioni werd het concert op een rustige én grappige manier afgesloten, opnieuw met een grootse toespraak én publiek gejuich (uit de laptop). Tja, Italië, het blijft een vreemd land voor buitenstaanders…
De combinatie Blixa Bargeld/Teho Teardo werkt perfect en dat bewezen de heren nog maar een keer in Hasselt.
William LIÉNARD
20/10/2015
---
---