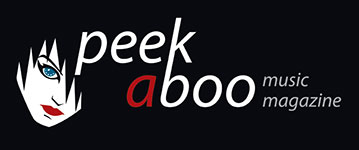 like this cult movies review
---
BOAZ DAVIDSON
The Last American Virgin
Movie
•
Cult movies
Comedy
[75/100]

Arrow
20/01/2015, Didier BECU
---
The reissues on the British Arrow Video-label always have some historical film value. Whether they are forgotten cult films or classics you should see (but are unable to find). And what is the added value of the comedy The Last American Virgin? Well, this sex comedy actually forms the basis of the cinema of the 80's!
First we have to go back to 1978, to Israel to be exactly, when Lemon Popsicle was released. Before that there were also movies made ​​ in Israel, but they hardly gained money. That was not the case for Lemon Popsicle. The film certainly caused a wave of outrage, but it was the most visited Israeli film ever (afterwards seven sequels were vmade!).Producers Menahem Golan and Yoram Globus moved to Hollywood, founded Cannon Films, and even though it was difficult at first, they were major film producersi in the 80's. What succeeds in Israel, must also be succesfulin Hollywood, they thought, and so they asked director Boaz Davidson to remake his autobiographical story, but this time with the 80's as a background and with American actors.
Meanwhile the Cannon concept is known: it had to be a hit, but it had to be made cheap. The bulk of the tiny budget went to the copyright rights, because the soundtrack with songs of Blondie, Dev , The Human League, KC and the Sunshine Band, The Police and U2, was the main element to get the audience to the cinema.
The actors were (cheap) unknowns. A spicy detai : both Nicolas Cage as Johnny Depp (imagine that !) were rejected during the audition. Fortunately, they opted for Diane Franklin, who performed the handsome Karen, the girl who makes Gary ( Lawrence Monoson ) and Rick (Steve Antin ) crazy. The story is charming, but forgettable. Davidson sometimes forgot that he was making a movie for the Americans (jokes they did not understand, or worse: a sad ending), and at the end of the day they were not too keen on the result. But, as is often the case, The Last American Virgin became a huge cult hit, that is now adored by many fans (including Tarantino buddy Eli Roth), and the rest is... pure movie history!
Didier BECU
20/01/2015
---
De heruitgaven op het Britse Arrow Video hebben altijd wel één of andere historische filmwaarde. Of het nu gaat om vergeten cultfilms of klassiekers die je moet zien (maar die onvindbaar zijn). En wat is dan de meerwaarde van de komedie The Last American Virgin, horen we sommigen zuchten? Wel, deze sekskomedie vormt eigenlijk de basis van de cinema van de jaren 80!
Eerst keren we terug naar 1978, naar Israel om precies te zijn. Vóór Lemon Popsicle werden er in Israel ook films gemaakt, maar die producties brachten amper geld op. Dat was helemaal niet het geval voor Lemon Popsicle. De film veroorzaakte een vloedgolf van verontwaardiging, maar werd wel de meest bezochte Israëlische film (er zijn trouwens nadien nog zeven sequels gedraaid). Meteen was het broodje van de producers Yoram Globus en Menahem Golan gebakken, die nadien naar Hollywood trokken. De twee richtten Cannon Films op, en ook al was het begin moeilijk, werden ze in de jaren 80 de belangrijkste filmproducers die alles voor het zeggen hadden. Wat in Israel kan, moet ook in Hollywood lukken, dachten ze en dus vroeg men regisseur Boaz Davidson om zijn autobiografisch verhaal opnieuw te regisseren, maar deze keer met de jaren 80 als decor en met Amerikaanse acteurs.
Het Cannon-concept is ondertussen bekend: het moest veel opbrengen, maar het mocht niet veel kosten. Het grootste deel van het piepkleine budget ging naar de auteursrechten, want de soundtrack met nummers van o.a. Blondie, Devo, The Human League, KC and the Sunshine Band, The Police en U2, was het paradepaardje. De acteurs waren (goedkope) onbekenden. Een pittig detail: zowel Nicolas Cage als Johnny Depp (stel je voor!) haalden de auditie niet. Gelukkig kozen ze wel voor Diane Franklin, die als de knappe Karen Gary (Lawrence Monoson) en Rick (Steve Antin) gek maakt. Het verhaal is een charmant niemendalletje, maar omdat Davidson soms vergat dat hij een Amerikaanse film draaide (grapjes die ze niet begrepen, of nog erger: een triest einde), waren de Amerikanen niet al te tuk op het resultaat. Maar, zoals dat vaker gaat, is The Last American Virgin een ongelofelijke culthit geworden die nu door tal van fans (waaronder Tarantino-maatje Eli Roth) wordt aanbeden, en de rest dat is...pure filmgeschiedenis!
Didier BECU
20/01/2015
---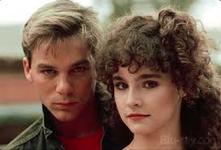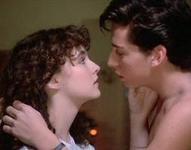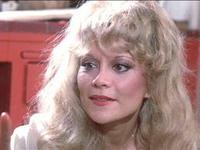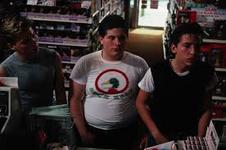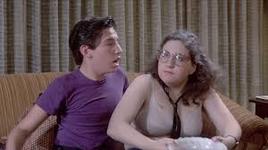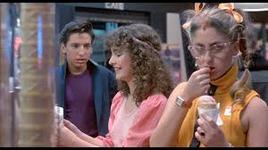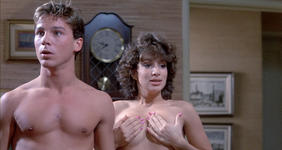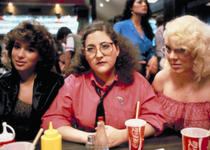 ---