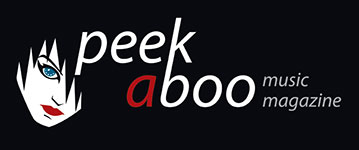 like this movie review
---
BRIAN LYNCH
MINIONS
Movie
Animation
[89/100]

Universal Pictures
12/07/2015, Didier BECU
---
2015 is a golden year for blockbusters. We are waiting impatiently for the new Star Wars or the latest James Bond, but even then we have no reason to complain. On the animation front all stops are pulled as well this year. The best film comes from the Pixar stable (Inside Out), but the funniest is undoubtedly the one with the Minions. Is there anyone who never saw these yellow creatures that will do anything for a banana? The kids (and adults) love the guys ofn the Despicable Me movie and so it was almost an automatic move to give the youngsters their own movie. Often spin offs are no more than the last drop out of a dying cow, but the Minions is different. The makers noticed that the yellow stooges of Gru were incredibly popular. They are not only funny, but their strange language, which sounds a bit like Spanish, is hilarious. It is a strange twist, but for the first time a spin-off may well surpass the parent movie. On the qualitative level that is certainly the case because Minions is the funniest movie of the year.
At the beginning of the movie, a voice informs us that the Minions always existed. Since prehistoric times those yellow men are looking for a villain they wanted to help, but it never worked out. The low point comes when they mess up a task for Napoleon. For years, the Minions hide in a cave where they languish of loneliness. Three Minions (leader Kevin, the stubborn Stuart and silly Bob) go out to find a new villain who they can serve. The three arrive in London where they meet Scarlett Overkill (Sandra Bullock), a bitchy woman who wants the crown of the Queen of England!
It is a rare thing, but almost every joke works. Brian Lynch had the brilliant idea to send the Minions to the London of the 60s. Not only do we hear a sublime soundtrack (from The Who to The Monkees), that particular period gives the Minions a wide range of crazy ideas too! Minions contains humor for everyone. There is no child around (at least not a normal child) that will make the link with Abbey Road when it sees the Minions passing a crosswalk, but also for them Minions contains plenty of fun.
Didier BECU
12/07/2015
---
2015 is een gouden jaar voor blockbusters. We wachten met ongeduld op de nieuwe Star Wars of de laatste James Bond, maar zelfs dan hebben we nog geen reden tot klagen. Ook op het animatiefront trekt men dit jaar alle registers open. De beste film komt uit de Pixar-stal (Inside Out), maar de grappigste is zonder twijfel die van de Minions. Moeten we deze creaturen nog voorstellen? Zou er iemand zijn die deze gele wezentjes, die alles doen voor een banaan, nog nooit heeft gezien? De kinderen (en volwassenen) zijn dol op de ventjes uit de Despicable Me-films en dus was het bijna een automatische zet om de kereltjes een eigen film te geven. Vaak zijn spin offs niet meer dan de laatste druppel uit een stervende koe, maar bij de Minions is dat anders. De makers merkten immers dat de gele knechtjes van Gru ongelooflijk populair waren. Ze zien er niet alleen grappig uit, maar ook hun broebeltaaltje dat een heel klein beetje Spaans klinkt, is hilarisch. Het is een vreemde kronkel, maar voor het eerst zou een spin off wel eens de moederfilm kunnen overtreffen. Op kwalitatief vlak is dat zeker het geval, want Minions is de grappigste film van het jaar.
Een vertelstem wijst er ons op dat de Minions altijd hebben bestaan. Reeds vanaf de prehistorie waren de gele mannetjes op zoek naar een slechterik die ze wilden helpen, maar door hun ijver liep alles steeds mis. Het dieptepunt is een mislukte opdracht voor Napoleon, waardoor ze op de vlucht moeten slaan. Jarenlang verschuilen de Minions zich in een grot waar ze wegkwijnen van eenzaamheid. Drie Minions (leider Kevin, de koppige Stuart en de onnozele Bob) gaan de wijde wereld in op zoek naar een nieuwe slechterik die ze willen dienen. De drie arriveren bij de wrede Scarlett Overkill (Sandra Bullock), een feeks die de kroon van de koningin van Engeland wil!
Het gebeurt zelden, maar bijna iedere grap is recht in de roos. Vanaf het begin bulder je van het lachen want deze wezentjes hebben aan alles lak. Brian Lynch had het geniale idee om de Minions naar het Londen van de jaren 60 te sturen. Daardoor krijgen we niet altijd een sublieme soundtrack (van The Who tot The Monkees), maar hebben de Minions een waaier aan gekke ideeën! Minions bevat humor voor iedereen. Er is geen kind (ten minste toch geen normaal kind) dat de link met Abbey Road zal leggen als de Minions een zebrapad oversteken, maar ook voor hen is er meer dan genoeg pret.
Didier BECU
12/07/2015
---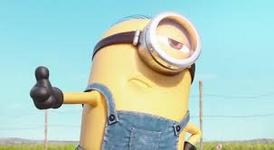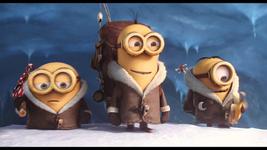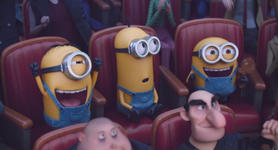 ---