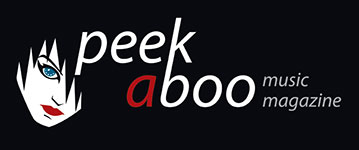 like this cult movies review
---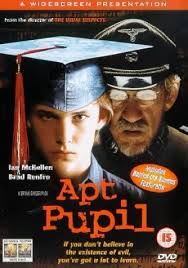 BRYAN SINGER
Apt Pupil
Movie
•
Cult movies
Drama
•
Horror
[71/100]

06/06/2014, Didier BECU
---
Just like we will do with records, we also will regularly put some movie classics in the spotlight. Not Vertigo or Citizen Kane (even if that always has to be possible), but movies that are a bit forgotten. The first invited guest is Bryan Singer, a director who we of course all know from his X-Men franchise.

Even if some will never accept it, the Holocaust has always been a source of inspiration for lots of filmmakers. In the 70's there was a whole boom of exploitationfilms that were set in a concentration camp and even Italian arthouse directors were keen to mix perverse sex with the nazi past (The Night Porter). Bryan Singer who directed the highly acclaimed The Usual Suspects, and of course later X-Men, jumped on this train. In these days Singer wasn't a real name in Hollywood, but the movie caused a commotion. Apt Pupil wasn't a hit at the office, but due to its very controversial subject, the movie got a second life in the cult circuit.


Apt Pupil is a short story by Stephen King that was part of his Different Seasons-collection. If Todd (Brad Renfro) really wants it, he'd be the first of his class, but for him school is equal to wasting time. Strange enough, the youngster has a great interest for history and an almost sick fascination for Nazism. Don't ask us how it's possible, but if Todd jumps on a bus he recognises in an old grumpy man the face of Kurt Dussander (Ian McKellen): one of the world's most wanted war criminals. During World War II he was a feared commandant in a concentration camp who killed many Jews. Instead of informing the police, Todd plays a perverse game. He buys an old nazi-uniform and obliges the old man to march in his living room. In a manner of speaking the old nazi becomes Todd's new toy. But suddenly Kussander switches the roles when he kidnaps an old tramp and forces young Todd to kill the poor sod. Everything becomes clear that the teenager has, just like Kussander, a desire to kill everything that surrounds him.


Even if Singer's movie was criticized a lot, it has to be said that King went much further. For instance in the novel you can read how Todd only gets sexually pleased when he thinks about concentration camps. In a movie that comes from Columbia-TriStar such things are of course unimaginable. No worries though, as Singer crosses some borders. That's especially because of the magnificent performance by Ian McKellen (you probably know him better as Magneto from X-Men or Gandalf from the Lord Of The Rings-saga). You even will swallow when out a sudden he makes a Hitler-salute in his living room. Sadly enough Singer chooses Brad Renfro as his opponent. This actor who died at the early age of 25 because of an overdose misses the charisma to lead the feature in a movie. It's no surprise that, apart from The Client, Apt Pupil would be his sole moment of fame. But Singer makes a mistake too. As soon as the old nazi gets power over the young boy, the magic is gone either. But as Apt Pupil can be found at such cheap prices these days, you better take the movie home.
Didier BECU
06/06/2014
---
Net zoals we dat met muziek doen, zullen we ook geregeld enkele filmklassiekers onder de loep nemen. Neen, niet Vertigo of Citizen Kane (alhoewel zoiets altijd kan en mag natuurlijk!), maar films die wat vergeten zijn geraakt en die best je aandacht waard zijn. Bryan Singer, bekend van zijn X-Men franchise mag meteen de spits afbijten!


Alhoewel sommige moraalridders moord en brand schreeuwen, blijft het toch onvermijdelijk dat de grootste slachtpartij uit de geschiedenis ook een onuitputtelijke inspiratiebron voor de filmwereld is. In de jaren 70 had je talrijke exploitationfilms die zich in concentratiekampen afspeelden en waren er zelfs Italiaanse arthouseregisseurs die het niet konden laten om het naziverleden met perverse seksspelletjes (Nightporter) te mengen. Ook Bryan Singer, de regisseur van The Usual Suspects en natuurlijk de X-Menfilms deed zijn duit in het zakje. In 1998 was Singer in Hollywoodtermen nog een broekventje, maar zijn derde film deed wel heel wat stof opwaaien. Aan de kassa bleef het rustig, maar nadien kreeg Apt Pupil in de cultwereld een eigen leven, wat natuurlijk aan het zeer controversiële verhaal is te danken.


Apt Pupil is een kortverhaal van Stephen King die uit zijn Different Seasons-bundel komt. Todd (Brad Renfro) is het soort tiener die school als tijdsverlies ziet. Hij heeft wel de gave om de eerste van de klas te zijn, maar het kan hem toch maar weinig schelen. Wel heeft de jonge kerel een grote interesse voor geschiedenis en een bijna zieke fascinatie voor het nazisme. Stel je niet de vraag hoe het mogelijk is, maar als hij de bus neemt, merkt hij een oude knorpot op die hij meteen als de gevreesde Kurt Dussander (Ian McKellen) herkent: één van 's werelds meest gezochte oorlogsmisdadigers. Dussander was tijdens de Tweede Wereldoorlog een sadistische commandant die talrijke joden in de gaskamer ombracht. In plaats van de gezochte man bij de politie aan te geven, opteert Todd voor een pervers spelletje. Hij koopt een oud nazikostuum en verplicht de man om in zijn oud plunje op zijn bevel in de huiskamer te marcheren. De gewezen commandant wordt als het ware Todds speelgoed. Maar plots keert de oude nazi de rollen om en laat de scholier een oude zwerver doden. De puber blijkt net als de oude Dussander een onweerstaanbare drang om te doden in zich te hebben.


Ofschoon deze film heel wat kritiek uitlokte kon Singer zich enigszins beheersen, want in het boek gaat Stephen King heel wat verder. Bij de horrorauteur komt bijv. de protagonist alleen maar seksueel aan zijn trekken als hij aan een concentratiekamp denkt, maar zoiets is natuurlijk ondenkbaar bij een prent die uit de Columbia-stal komt. Geen nood echter, want Singer drijft het sowieso tamelijk ver. Dat is vooral de verdienste van Ian McKellen (je weet wel Magneto uit X-Men en Gandalf uit de Lord Of The Rings-saga). De Engelse acteur vertolkt op fenomenale wijze de rol van gewezen nazi. Het wordt zelfs eventjes slikken als hij plots onverwachts in de huiskamer een Hitlergroet maakt. Jammer genoeg koos Singer Brad Renfro als tegenspeler uit. Deze acteur die op amper 25-jarige leeftijd aan een overdosis drugs overleed heeft niet het charisma om een film te dragen. Apt Pupil werd trouwens op The Client na, zijn enige grote rol. Maar ook Singer gaat niet geheel vrijuit. Het eerste gedeelte is ronduit verbluffend, maar vanaf het moment dat de nazi de jongen in zijn macht krijgt verdwijnt daarmee ook de magie. Maar goed, Apt Pupil is zo'n film die je regelmatig tegen een spotprijs in de winkelrekken vindt, dus kun je hem maar beter mee nemen.


Waarschijnlijk is er geen haar meer op het hoofd van Bryan Singer die nog aan Apt Pupil denkt. Deze prent wordt door menig filmfan wegens zijn onderwerp verguisd, maar jaren na datum is hij aan een tweede leven als cultklassieker begonnen. Een beetje terecht, want de rol van Ian McKellen is er eentje om voor eeuwig te onthouden.
Didier BECU
06/06/2014
---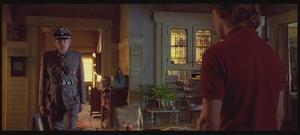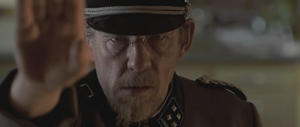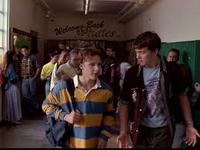 ---