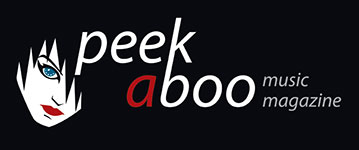 like this concert review
---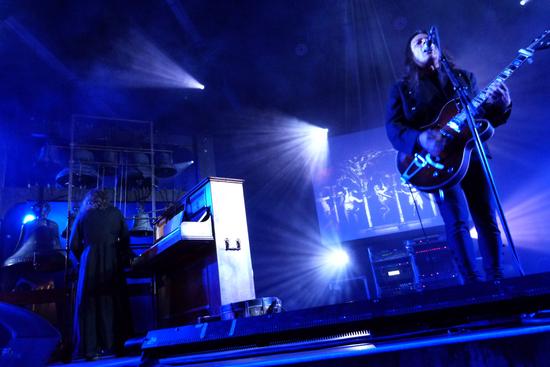 CASTLEFEST 2014
Rosa Crvx, The Dolmen, Cesair, Irfan, Folk Noir, The Moon And The Nightspirit
Concert
Classical
•
Ethereal / Heavenly Voices
•
Folk / Ethnic / Tribal
•
Gothic
•
Gothic Rock
•
Medieval
•
Neoclassical
03/08/2014, Ron SCHOONWATER
---
The tenth anniversary of Castlefest! Whoever thought ten years ago that this festival and gathering of - for instance - medieval, fantasy, LARP, and steam punk would grow into one of the biggest events in the Netherlands? Well, it did! The people behind Castlefest actually became (professional) organizers of other festivals and gatherings as well. It's like living the dream. The biggest compliment in all these years of growth is that the atmosphere, the cosy and familiar feeling of the early days is still there. For some it's the holiday of the year, the gathering of kindred spirits (with the highlight of the burning of the wicker man) or four days living in another, more peaceful world. Many of the visitors are working months and weeks before on their costume to look at their best. If you know that there are around 500 volunteers working on this fest and there are around 30.000 visitors - than you have an idea of the current scale of Castlefest.

This year we only attended on the Friday and this part is only about the bands. If you want to check out more about the people and atmosphere of Castlefest we've made another short report (with pictures) on this page as well.

Before the fest we had hoped to see Orfeo, but when we entered the grounds we only heard 'thank you, we were Orfeo' in Dutch. So, we've managed to miss them once again. We had therefore some time to check the re-enactment, medieval part of the grounds and find enough time to get to the other stage. When we arrived THE MOON AND THE NIGHTSPIRIT was busy with their sound check. The Hungarian band creates a unique interpretation of world music and pagan folk. The voice of Agnes is as always clear as a rain drop, but always has that melancholic undertone. The music is a mixture of typical, almost Faun, folk but always with a Balkan twist. The combination of acoustic guitar, bass and violin works wonderfully well. Unfortunately their new album "Holdrejtek" will be released on August 15th, but their set gave some insight in their new and upcoming album.

After a few songs we hurried to the main stage. The Dutch/ German formation of FOLK NOIR played their mixture of folk, pop and singer songwriter music. With the enchanting voice of Kaat Geevers (also known from L.E.A.F.) and the great voice of Oliver S. Tyr (also known from Faun) the band has two well known figures in front. With the musical support of Stephan Groth (also Faun) and Alex Schulz and their sometimes strange instruments (like a children's toy, but also traditional acoustic guitar, hurdy gurdy and drums) the band performs perfectly. With songs like the danceable 'Polska', their folk version of Fink's 'Yesterday Was Hard On All Of Us' and 'Wind And Tree' of L.E.A.F. they prove to have more than enough diversity in their music.

The Bulgarian IRFAN had travelled around 30 hours to be at their second home of Castlefest. They play almost every year at Castlefest, but this time they were - for the first time in the Netherlands - with their original singer; Denitza Seraphimova. Although we never had any complaints about all the other singers Denitza proved to be the 'real thing'. Her unbelievable voice is as strong as - for instance - Lisa Gerrard (from Dead Can Dance), but has a more ethnic soul as well. Together with the deep masculine voice of Kalin Yordanov the music of IRFAN is breathtakingly beautiful. The music is sometimes swinging like on 'Hagia Sophia', but mostly introspective and melancholic like on the title song of their new record "The Eternal Return". Their mixture of ethereal, sacred, world music and heavenly voices is at today's performance working wonderfully well. Unfortunately the band couldn't bring their new album with them (to be released in October), but with their set of today we already know that we can - again - expect a very special, but typical IRFAN, record. I'm already looking forward to it. Their homage to Dead Can Dance with (the not well known) 'Svatba' was a perfect ending of a perfect performance. This was their best ever performance I've seen from IRFAN (and that says a lot, because I've seen them so many times).

After this beautiful moment of peace and tranquillity we need some time to open ourselves for some other music. The Dutch CESAIR proved to be a good follow-up. Their mixture of folk and ethnic music from the Orient is the right step into the reality of the mood of Castlefest. Happy danceable songs are greatly mixed with more quiet, tranquil ones. Although the songs may sound sometimes happy the lyrics are mostly not. War, death and other mischief is the base of CESAIR. Singer Monique is in her element today and the band has, like Monique, grown incredible since the first time I saw them. Not only in playing music, but also in writing great songs like they proved on their CD "Dies, Nox Et Omnia".

It's time to parrrrrrrrtttyyyyyyyyyyyyy! The pirates of THE DOLMEN know exactly how. They party with rock songs like (the cover) 'Whiskey In The Jar' or with a 'typical' pirate song like 'Dead Cats Don't Meow'. Their catching, well performed, rock songs and enthusiastic performance are there at the right time. People who were tired after a long day are now dancing, singing and screaming. It's the right energy pill for those who need one. For those who didn't need the energy THE DOLMEN is still a pleasure to watch. This is a very energetic show from a band that has clearly a lot of fun in performing for their fans. If the pirates had electricity in their days we now know what kind of music they would have played.

Before we even know it we were at the end of the day watching the dark gothic rock added with church bells (carillon), piano (keyboard) and a lot of mysticism from ROSA CRVX. It's their third time at Castlefest, but this time they've brought the smallest show possible (three persons). Their second time on this fest they brought their biggest show possible so this is a huge disappointment. No choir and we thought no flags ( I heard afterwards we were looking in the wrong direction - at the stage for the pictures - the flags appeared in the centre of the audience) and we missed unfortunately the dancers in the sand (because we were tempted by some drinks and food). The music also suffered from some technical difficulties, but, strangely enough for someone who's such a perfectionist as, Olivier Tarabo (chant, guitar) overcomes them perfectly. There is sometimes an angry look, but musically and vocally he keeps on playing without any noticeable fault. Together with the impressive carillon/ keyboard played by Claude Feeny the end result is typical ROSA CRVX. Their music is one of a kind and is rightfully so the 'grand finale' of today. Although songs like 'In Tenebris' and 'Invocation' still sound impressive we would be more impressed if the band - finally, after twelve years - will release a new album. We heard some new songs as well today, so…

And that was the end of a great day. Good food, sunny weather, a diversity of music and a great atmosphere. Castlefest proved once again that there's a bright and shiny future for this gathering of souls. Let's wait and see what they come up with to celebrate their eleventh year.

Ron SCHOONWATER
03/08/2014
---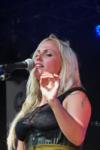 ---