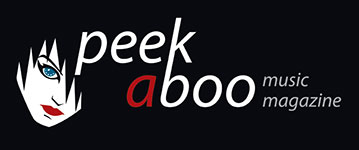 like this cd review
---
CEPHALGY
Gott Maschine Vaterland
Music
•
CD
Dark Electro
•
EBM
[91/100]

Out Of Line
29/08/2017, Jurgen BRAECKEVELT
---
It took them a while but now the German Dark Electro gods Cephalgy strike back hard with their new album 'Gott Maschine Vaterland'. They needed 5 years to prepare these new songs to attack your speakers with a crushing force.
'Anatomy' pounds with a traditionally tight rhythm section, sparse melodies like so much old-school EBM music has in its DNA. The tone is instantly set and we have only one wish: please let the whole album sound like this! How fast can this wish become a reality? After the rather corny sounding 'Bei Dir Sein' with the necessary emotional lyrical content, the gentlemen of Cephalgy must have thought it was time for some more hard-hitting EBM. The title song 'Good Maschine Vaterland' is a guaranteed dance floor killer. A very hard, pounding beat, danceable melodies with monotone but threatening, dark vocals. A jewel of a song, like many on this album.
'Symphony Of My Heart' reveals an epic song, with female vocals and some English lyrics. 'In Gefallene Liebe', the female vocal brings in a nice variation and elevates the song to a different tone, in all aspects. Also the guitars on this track have a nice effect on this. From time to time I feel like I hear some Blutengel seep through. 'In My Head' effectively penetrates into the deepest recesses of your brain, profound, threatening and invasive. Cephalgy infiltrates the depths of your mind with military pace. Ruthless.
'Neverending Life' has a strong sing-along factor because of the very catchy melody and inviting chorus: "Neverland Life, takes me tonight, and the darkness so bright, a heart in the moonlight"... 'Willst Du' starts off with a drum'n'bassy sound, until the dark voice of singer, Jörg, gives it a dark twist. Apparently he listened carefully to Rammstein because his voice sounds just like them.
Sometimes our electro heroes seem to be Jacks-of-all-trades, especially when hearing 'Burning Heart' which sounds more Future Pop-ish, although the harsher beats keep giving it a darker touch. 'Utopia' sounds very Dark Electro, reminding me a bit of the Hocico sound. Maybe not as harsh as the Mexican electro-terrorists, but still... with 'Verfluchter Leib' we are back to a slicing to the bone EBM track.
More of this with 'Für Dich' although with a slightly more minimalist arrangement and old school sound. 'Blut zu Blut' is another pure dancefloor-filler as far as I'm concerned. Dry repetitive rhythms and straight forward on all levels. After a rollercoaster of amazing songs, we reach the end of the ride with a gift of an outro track… 'Es Tut Mir Leid' … mich auch … to know we are at the end of a great album.
So Cephalgy is back and how!? Very strong songs, very diversified, perfect down to the smallest detail. This album scores high and it's well deserved too!
In my opinion a must have for all lovers of Dark Electro and EBM... Enjoy!
Jurgen BRAECKEVELT
29/08/2017
---
Ze hebben lange tijd op zich laten wachten, maar de Duitse dark electro goden Cephalgy slaan keihard toe met de CD Gott Maschine Vaterland. 5 jaar hadden ze nodig... voor het nieuwe materiaal klaar was om met een verpletterende kracht als een genadeloze pletwals doorheen menige boxen te razen.
Anatomie beukt meteen als van oudsher met kurkdroge ritmesectie, een zuinige melodie en heeft veel oldschool EBM in het DNA. De toon is meteen gezet en er is één wens: laat het gehele album op deze manier klinken.En hoe snel een droom werkelijkheid kan worden. Bei Dir Sein klinkt melig en tekstueel krijgen we de nodige emotionele geladenheid. Maar genoeg van dit, tijd voor snoeiharde EBM denken de lieden van Cephalgy. Titelsong Gott Maschine Vaterland is gegarandeerd een dancefloorkiller. En heel stevige stompende, snoeiharde beat, dansbare melodie en vocaal ook monotoon dreigend, donker en doorleefd. Een juweel van een song, zoals vele op dit album.
Symphony Of My Heart neemt ons mee in een epische song, met vrouwelijke vocalen en zowaar deel Engelse lyrics. Ook in Gefallene Liebe is de vrouwelijke inbreng een fijne afwisseling en geeft de song meteen een andere toonaard, op alle vlak. Ook de gitaren krijgen hier een mooie rol toebedeeld. Er loert een glimp van Blutengel om de hoek, is zo mijn gevoel. In My Head dringt effectief door tot in het diepste van je brein, diepgaand, dreigend, bezwerend. Cephalgy die tot in de diepste krochten van de gedachten infiltreert met militaire tred. Genadeloos ook.
Neverending Life heeft een meezingergehalte, door de heel aanstekelijke melodie en het refrein die je daartoe uitnodigt: Neverending life, takes me tonight, and the darkness so bright, a heart in the moonlight... Willst Du start met een drum'n'bassachtige sound, tot het donkere stemgeluid van Jörg de zaak een duistere draai geeft. Hij heeft blijkbaar goed geluisterd naar Rammstein, want het stemgeluid neigt daar naartoe.
En de electrohelden zijn van alle markten thuis, want Burning Heart klinkt iets meer future-pop, hoewel de snoeiharde beats het dan weer donker maken na enige tijd. Utopia is echt dark electro, waar qua sound een zweem van Hocico herkenbaar is. Niet zo uitgesproken hard als het Mexicaanse geweld, maar toch... Verfluchter Leib gaat dan weer op de pure EBM- beat rechtdoor en snijdt door merg en been.
Für Dich bedient zich van een minimalistischer arrangement en klinkt old school. Blut zu Blut is pure dancefloorkiller nummer twee op dit album wat mij betreft. Kurkdroog herhalende ritmesectie en hoekig rechtdoor op alle vlak. Na een eindeloze aanéénschakeling van geweldige songs, krijgen we een outro cadeau.. Es Tut Mir Lied.. mich auch. Het doet me pijn dat we met nummer 14 aan het einde zijn van een geweldig album.
Cephalgy is terug en hoe!? Heel sterke nummers, gediversifieerd, af tot in de kleinste puntjes. Dit album scoort hoge ogen en verdient dit ook. Voor de liefhebbers van dark electro en EBM ééntje die in de CD-kast moét staan... in my opinion.... Genieten !
Jurgen BRAECKEVELT
29/08/2017
---