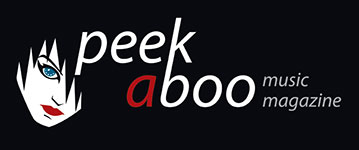 like this movie classics review
---
CHARLES LAUGHTON
The Night Of The Hunter
Movie
•
Movie classics
Drama
•
Thriller
[89/100]

Arrow
03/12/2013, Didier BECU
---
The Night Of The Hunter from1955 is surely one of the most remarkable movies ever made. Currently you can find this picture in every list that hosts the 100 best movies of all time, but in the 50's everyone (especially the studio's) rejected the dark directing by Charles Laughton who was formerly known as an actor for his roles like Quasimodo in The Hunchback of Notre Dame or Captain Bligh in Mutiny on the Bounty. The filmstar also wanted to show the world that he could also direct. And yes, he definitely can, the only problem though is that no one noticed that back then. And so, The Night Of The Hunter soon dissapeared after its release. Unfortunately enough it immediately became Laughtons sole movie as well.
After some while The Night Of The Hunter began to have its second life as some movie buffs (including Martin Scorsese) praised the movie for its excellent cinematographic values. Once totally ignored, but now a movie that is seen as one of the basic stones of today's American filmart. The story itself might read perhaps a bit dated, but you're watching this epic in the first place for its cinematographic beauty. Laughton was working with cinematographer Stanley Cortez who has proven in The Magnificent Ambersons by Orson Welles that he's a true master in this art. Cortez is using lots of expressionist visuals that reminds us of both German masters like F.W. Murnau and Lang, or even from pioneer D.W. Griffith. A beautiful example of such a shot is the one in where you can see the dead body of the murdered woman at the bottom of the river.
From time to time you can hear some tune that could have come from some dated musical like Oklahoma!, but The Night Of The Hunter is in the first place a very morbid tale. Robert Mitchum plays in an impressive way the role of preacher Harry Powell. On his fists are the words of love and hate tatooed and he always has his Holy Bible with him, but in reality Powell is the devil himself. One day he ends up in jail after a car theft. In his cell he meets young bankrobber Ben Harper (Peter Graves). Ben is condemned to death, even if the poor sod just did this to feed his family as this story takes place during the Great Depression. Ben informs his cellmate that he has given the stolen money to his ten year old son. This news sounds pretty good in Powell's ears: money and a young widow! After his release from jail Ben travels to Bens wife (Shelley Winters). He soon marries her, but after some days she got brutally murdered by her new husband. The devilish preacher wants to know where the money is hidden and he is not afraid to use violence towards the innocent children.
Yes, you'll be swallowing more than once as this movie is very brutal. Mitchum is just genius as the cruel preacher, although the actor was second choice as the makers preferred to have Sir Laurence Olivier and Gary Cooper for doing this leading role. The finale is maybe a bit too mellow but Laughton was forced by the studio's to end his movie as such.
The Night Of The Hunter is completely restored and out on Blu-ray on the British Arrow-label. This classic is an absolute must for every movielover. The cinematographic art alone is worth seeing this picture. To top it all, this Blu-ray is included with a three hour (!) documentary about the making of this epic. Also included is a short bonusfilm about Cortez. To say it in other words: every filmcollection needs this disc!
Didier BECU
03/12/2013
---
The Night Of The Hunter uit 1955 is één van de opmerkelijkste films die ooit is gemaakt. Tegenwoordig prijkt deze prent in ieder lijstje die de honderd beste films aller tijden wil vertegenwoordigen, maar ooit is dat anders geweest. Toen de film destijds werd uitgebracht was namelijk niemand te spreken over de gitzwarte aanpak van de Brit Charles Laughton. Deze uiterst onsympathieke man stond bij het grote publiek bekend als de krankzinnige karakterkop die men kende uit rollen als Quasimodo in The Hunchback of Notre Dame of kapitein Bligh uit Mutiny on the Bounty. Laughton wilde evenwel ook bewijzen dat hij kon regisseren. Dat kan hij absoluut, alleen werd zijn kunst door geen kat geapprecieerd waardoor The Night Of The Hunter jammer genoeg zijn enige prent werd.
Na een tijdje begon The Night Of The Hunter een tweede leven te leiden. Notoire filmkenners (waaronder Martin Scorsese) prezen de film hoog aan, onder andere voor zijn excellente cinematografische waarden. Destijds verguisd, maar nu dus één van de pronkstukken uit het Amerikaanse culturele erfgoed. Het verhaal zelf voelt misschien wat oubollig aan, maar deze cultprent bekijk je in de eerste plaats voor zijn prachtige beelden. Laughton kon immers op Stanley Cortez rekenen die eerder al magistrale dingen deed in The Magnificent Ambersons van Orson Welles. Cortez maakt gretig gebruik van expressionistische visuals waardoor je automatisch denkt aan Duitse grootmeesters als F.W. Murnau of Fritz Lang. Een prachtig voorbeeld daarvan is het excellente shot waarin het lijk van een vrouw op de bodem van de rivier ligt.
Er wordt af en toe wel eens een deuntje gezongen die je eerder zou thuisbrengen in een gedateerde musical als Oklahoma!, toch is The Night Of The Hunter in de eerste plaats een morbide vertelling. Robert Mitchum speelt op imponerende wijze de rol van predikant Harry Powell. Op zijn vuisten staan de woorden love en hate getatoeëerd, en ook al heeft hij steeds zijn Bijbel op zak, blijft Powell de duivel zelve. Als hij op een dag in de gevangenis belandt wegens autodiefstal maakt hij in zijn cel kennis met bankovervaller Ben Harper (Peter Graves). De arme Ben wacht de doodstraf. De pechvogel pleegde de roof alleen maar om zijn gezin eten te geven, het trieste verhaal speelt zich immers af tijdens de Grote Depressie. Ben vertelt zijn celgenoot dat hij de buit aan zijn tienjarig zoontje heeft gegeven. Dat klinkt de dominee als muziek in de oren: geld en een wanhopige weduwe. Na zijn vrijlating reist de predikant dan ook naar Bens gezin af. Powell huwt de weduwe (Shelley Winters), maar na een aantal nachten wordt zij op gruwelijke wijze door hem vermoord. De gewelddadige zielenhoeder wil weten waar de kinderen het geld verborgen houden en hij schuwt geenszins geweld tegenover hun.
Het is inderdaad meermaals slikken als je deze film anno 2013 bekijkt. Mitchum is geniaal als het vleesgeworden kwaad, ook al was hij in werkelijkheid maar tweede keus (de makers wilden immers aanvankelijk Sir Laurence Olivier of Gary Cooper in de hoofdrol). Het slot komt weliswaar wat melig over, maar dat kwam in de eerste plaats omdat Laughton door de studiobonzen werd verplicht om zijn film met dat soort toontje af te sluiten.
The Night Of The Hunter is nu volledig gerestaureerd en op Blu-ray door het Britse Arrow-label uitgebracht. Deze klassieker is gewoonweg een film die ieder zichzelf respecterende cinefiel moet hebben gezien (al was het maar voor het fenomenale camerawerk van Cortez). Als bonus krijg je op deze Blu-ray ook nog een bijna drie uur (!) durende documentaire over de film, alsook een korte special over Cortez. Kortom, een hebbeding!
Didier BECU
03/12/2013
---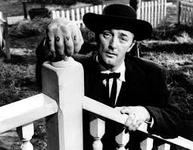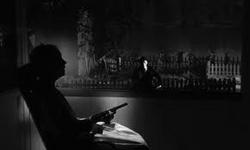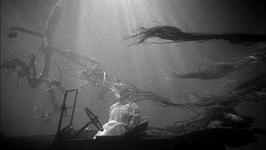 ---