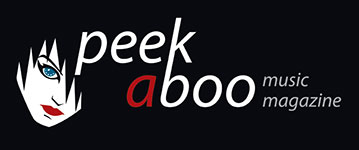 like this concert review
---
CHELSEA WOLFE
Concert at Magasin4 in Brussels on 13th April 2012 with UNISON and CERCUEIL
Concert
Dark Ambient
•
Drone
•
Ethereal / Heavenly Voices
•
Shoegaze
•
Trip Hop
[85/100]

24/04/2012, Philippe BLACKMARQUIS
---
Cheap Satanism Records was organising a concert in the framework of the Belgian Fantastic Film Festival (BIFFF) with three bands associated with the 'witch-house' wave. We spent a great evening, thanks to Chelsea Wolfe, of course, but also thanks to the two supporting bands: Unison and Cercueil.
Unison
Unison, a band from the French region Poitou-Charentes, seduced us with its music, a hypnotic 'wall of sound' with elements of shoegaze, noise or drone, over which hovers the fragile and haunting voice of Melanie Moran. Musically, we think of Portishead, My Bloody Valentine or Cocteau Twins but Unison has its own sound, which is near perfection, especially in the beautiful 'Brothers And Sisters'. Check the live footage below:
At the end of the concert, the band covered the New Beat hit 'Rock To The Beat' from 1o1, as 'a tribute to Belgium'. An excellent choice! In short, it was a convincing performance, and we will rush to buy their album, 'Unison', released recently by Lentonia Records.
Cercueil
We were also waiting with interest for 'Cercueil' (the French word for 'coffin'), a band from Lille. With such a name, you can be sure they nail down their competitors. Hum... Formed in 2009, they have two albums under their belt, including the excellent 'Erostrate'. Their music style is a crossover between cold-wave, noise, electronica and trip-hop. It evokes Velvet Underground, Nine Inch Nails, Portishead (again), Kate Bush or Kraftwerk. Penelope Michel's voice is reminiscent of Nico but also of Liela Moss (The Duke Spirit) and Grace Slick (Jefferson Airplane). They should cover 'White Rabbit', by the way! On stage, the band has a sophisticated sound and in spite of minor technical problems, the magic takes shape, especially on the superb 'After Dark', from the latest album. Only negative point, Penelope Michel seems a bit static, a bit shy behind her keyboards and her voice sometimes struggles to be heard above the noisy arrangements from the other musicians. I look forward to seeing them again in a concert as headliners!
Chelsea Wolfe
After a few minutes, it's time to discover the high priestess of the evening, Chelsea Wolfe. This period is really the season of the witches! After Florence Welch, The Jezebels, or Zola Jesus, it's Halloween every day... and it's great!The stage is dark, the musicians are dressed in black and there she is: mysterious and enchanting... Based in Los Angeles, Wolfe was revealed by two albums of very high quality. ON stage, she mmediately leads us into her world of 'drone-folk'. It's a bit like seeing PJ Harvey's gothic little sister. The accompanying band is incredibly effective, alternating between noisy flashes and quiet moments where Chelsea's plaintive voice comes as a whisper.
In the setlist, you will find the best tracks from the two LP's, 'The Grime And The Glow' and 'Apokalypsis', be it the brutal 'Moses', the terrifying 'Demons' or the ghostly 'Movie Screen'. In 'Pale On Pale', her voice has arabic accents and is reminiscent of Lisa Gerrard (Dead Can Dance). In a nutshell, we had a great time, as we bathed in a dark, ghostly music endowed with a terrifying beauty. Bewitching...
Philippe BLACKMARQUIS
24/04/2012
---