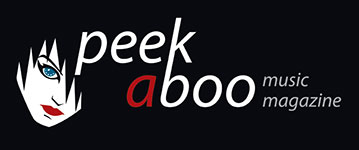 like this cd (ep) review
---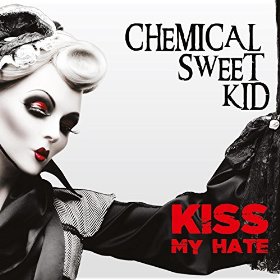 CHEMICAL SWEET KID
Kiss my hate
Music
•
CD (EP)
Industrial Rock
[90/100]

Self-released
17/04/2015, Britta Tabrit
---
After the tour through Mexico in March together with Larva from Spain, Chemical Sweet Kid (CSK) released their new EP "Kiss my hate".
CSK is a French Industrial Rock duo; Julien Kidam (vocals & programming) and Kora Li (live keyboard).
The brand new EP contains 2 new CSK songs as well as 4 remixes.
So I suggest to look closely at this novelty now.
The first track "Kiss my hate" is the one that gives this EP its name. Quite rightly! Pulsating beats open the door to Julien Kidam's words of hate. "Don't blame me for your mistakes – kiss my hate!" With this phrase the clear-cut course of this song is obvious. Relentlessly the vocals bluster out of the loudspeakers, the drums pound clumsily. CSK makes the essence of the track – HATE- hearable and sensible. From time to time you get a confused feeling inside caused by bedlamic sounds. Something between anxiety and rage. "Kiss my hate" is by all means more than a kiss. It's rather a deep bite, a bite right into your soul.
Track 2 is called "So far so good" and carries on the wild and unsubdued tenor of the first one. Heady and stirring CSK puts a stranglehold on you that you can't escape. Dangerous and unpredictable the song burns the CKS's fury into your mind. Just give it a try yourself and find out about dark site of this force.
Well, let's talk about the remixes as well.
"Kiss my hate" (XMH remix) is the first one. Remixed by the Dutch project XMH this version hits the "disco dancefloor part" of this EP. Speedily waiting to get out, this mix awakens your need to shake the leg. If I were a DJ, I'd certainly put this on my set list for the next night in the club.
"Kiss my hate" (Under All Remix) is a completely different arrangement. The French Industrial Metal remix is more melodic and dreamy without spoiling the original in any sense. Even though it somehow interrupts the flow of this EP, that shouldn't bother you at all; it's an interesting composition!
Going on with "Kiss my hate" (K-Bereit Remix) there is a third brilliant interpretation.
K-Bereit is another French band. For those who have spent a little more time within the electro and EBM scene the name "Cobald 60" might ring a bell. Back in 1996 this project was founded by Jean-Luc de Mayer (Front 242) and Dominique Lallement. K-Bereit is Dominique's actual place of creative work. The remix creates a wasteful aura with its yelping and fulminating K-Bereit traits. Let it blow off your mind! Unmissable!
The last track is "Kiss my hate" (Ethan Fawkes Remix). The Belgian musician Ethan Fawkes supplies us with his acquainted Industrial excessive noise. The melody is blurred and modified. It's definitely the rudest mix here but nonetheless it sticks out. This mix reflects evidently Fawkes' signature feature, but it puts the final touches to this EP.
CSK also produced a video clip to the new song "Kiss my hate".
You can find it here: https://www.youtube.com/watch?v=mPecx8fuF8o
If you want to find out more about Chemical Sweet Kid, here we go with the links:
FB: www.facebook.com/chemicalsweetkid
YouTube: https://www.youtube.com/channel/UCJm0y-b3VxImQWehWPLbuig
Britta Tabrit
17/04/2015
---