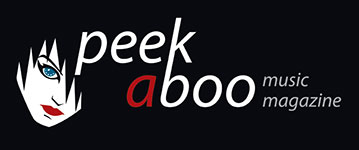 like this cd review
---
CHIRON
We Own The Night
Music
•
CD
Dark Wave
•
Electro Pop
•
Electronics
[76/100]

Third Verse
10/12/2016, Didier BECU
---
You might wonder why suddenly we review everything by the Australian goth band Ikon. We love that band, but there's a story involved you simply have to hear. You see, Chiron is a gem not many people are aware of. And the band is from Australia. Even if we can build the fastest vehicles which can fly to Mars in no time, it's not easy to get your hands on stuff from the Australian underground. But a good friend of mine brought the CD's with her while on her way from London to Belgium. Her goal (and of Michael Aliani who is behind this project) was introducing you, the readers of Peek-A-Boo, to that wonderful world created by Chiron.
Maybe Michael is tired of it, but you have to do it, when you want to convince people (and that's what he wants). He was involved in the first line-up of Ikon, in my humble opinion simply one of the greatest goth bands ever. Chiron is great too, but more obscure.

The latest CD by Chiron is called We own The Night, and it's definitely a next step in the band's career. Not only because of the female vocals by Tanya Lee, but also because Michael (and Robert Anthony) are flirting with electronics. In a way, it's completely different from the old Chiron sound, but it stays dark nonetheless.

The opener Fury is probably one of the most intimate songs Chiron ever wrote, superb dark wave with Tanya Lee's vocals. Once Wasted starts, it's clear tat this album will contain some synthetic sounds. But that's just the beginning as Energy and Free Spin (two songs that almost last 8 minutes) combine dark sounds with modern rave music. We even hear a touch of Eurodisco. Nothing wrong with that!

Kamikaze sounds like (well...) future pop. The beats are almost pure VNV Nation, but again with a sort of energy you only can associate with rave parties. A weird combination, but it works damn well!

A Voice is like a rest point between the beats. Deeper takes us again to the dance floor, an ideal preparation for the rhythms of the 11 minutes-long Slave.

We Own The Night is surely not Chiron as you know it, as this is a complete different (dance) side of the band. That's what people call evolution, or just the will to try something else as too many bands make 20 albums of the same kind. Not Chiron.
Didier BECU
10/12/2016
---