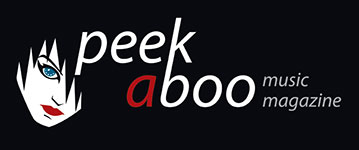 like this concert review
---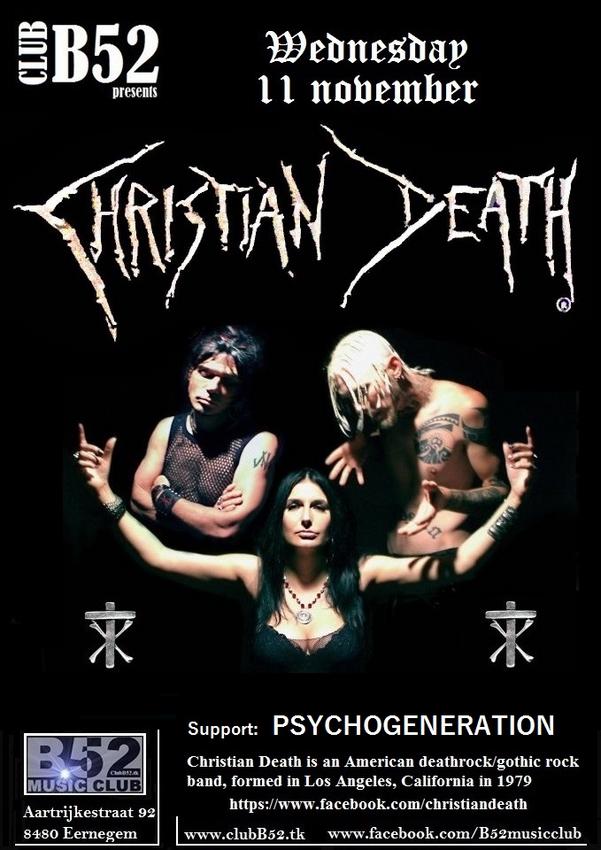 CHRISTIAN DEATH
Eernegem, B52
Concert
Death Rock / Batcave
12/11/2015, Ruben SAEY
---
The American death rock band Christian Death unexpectedly visited the small, but well-known music club B52 in West Flanders, Belgium. Wednesday is not exactly the day most people had in mind to see a gig, but for Christian Death you can make an exception and the possible consequences will be arranged the day after.
It was since the 2007 album American Inquisition that the band had performed new material, but with the brand new album The Root Of All Evilution the time has finally come! For most fans, the album is still fresh and undiscovered. An ideal opportunity to (re)discover the band and the new album. Dressed in our finest black outfit, we went to the B52. Once there, it was immediately clear that you could reach the stage without any push.
The evening was started by the local heroes Psychogeneration. The band members all have experience in other bands with different influences and they brought a mix of various metal styles, but without a real line. I have heard some surprising things, but there was a lack of a real connection. The response of the audience wasn't exactly overwhelming either. After saying Thank you, good night, they left the stage and everything was prepared for the act everybody had come to see.
A video wall was prepared and the instruments were placed on stage. All this was done fairly quickly, but despite that, the group arrived one hour too late! The video wall started, some tropical images appeared and with a kind of apocalyptic voice Valor began the opening track In The Garden Of Evilution. It looked pretty neat, and the audience was curiously looking forward to what would come next.
What happened then is something that I never experienced before, from the moment the guitars started, we were literally blown away by a wall of sound. The volume was so high that many people put their fingers in their ears and went a few steps backward. The new album is peppered with Eastern influences, so there are many quiet passages. During these, the audience was given some rest, but once the wall of sound started again, our ears almost started bleeding! The band continued to play as if nothing had happened, playing the first three songs of their new album one after another.
During Fema Coffins Valor explained the meaning of the song and talked about how Americans bury the homeless in specially made boxes (the Fema coffins). Or how rich America again treats the poor as slaves. He asked the public to say no this, it was clear that that the singer was really upset by it.

Then came the song that I personally was waiting for: Illuminazi, a title that needs no explanation and a song in pure Christian Death death rock style. One big downside, however, was again the too high volume that distorted the whole sound. And it has to be said, the vocals of Maitiri were not always of high quality.

Some people went to the nearby café as they couldn't stand the noise any longer. After half of the new album was played, Valor asked what the public was expecting, to continue with the new album, or switch to some older songs. The answer immediately came, and was not totally unexpected.

To be honest, the quality of the sound was at times so poor that after She Never Woke Up, I decided to leave. I am convinced that if the noise would have been acceptable, that I would have seen a very nice gig. I don't know whose responsibility it was, but I'm afraid that most visitors were simply disappointed. A concert that's been killed by technique!
Ruben SAEY
12/11/2015
---
De Amerikaanse deathrock band Christian Death bracht eerder onverwacht een bezoek aan de kleine, maar alom bekende muziekclub B52 in het West-Vlaamse Eernegem.

Een woensdagavond is nu niet meteen het moment dat de meeste mensen in gedachten hadden om naar een optreden te gaan, maar voor Christian Death kan je al eens een uitzondering maken en de eventuele gevolgen daarvan zullen de dag nadien wel aangepakt worden.

Het was van het in 2007 uitgebrachte album American Inquisition geleden dat de band nog met nieuw materiaal optrad, maar nu is er het nieuwe album The Root Of All Evilution. Het album is nog een verse en voor velen een nog te ontdekken plaat. Een mooie gelegenheid om zowel de band als het nieuwe album te (her)ontdekken. Met de mooiste zwarte outfit en onze puntschoenen aan trokken we vol verwachting naar de B52. Daar aangekomen was het meteen duidelijk dat we niet zouden moeten duwen om een plaatsje aan het podium te veroveren. De opkomst was recht evenredig met de ongelukkige datum.

De avond werd op gang getrokken door de lokale helden Psychogeneration. De bandleden hebben allemaal ervaring in andere bands met verschillende invloeden en zo werd er een mix van allerhande metalstijlen gebracht, zonder dat je er echt een lijn in kon trekken. Ik heb leuke, soms verrassende dingen gehoord, maar van een echte samenhang was er toch maar weinig sprake. Ook de respons van het publiek was eerder aan de lauwe kant. Na een Thank you, good night verlieten ze het podium, dat in gereedheid werd gebracht voor de act waarvoor het niet zo talrijke publiek was gekomen.

Een videowall werd klaargezet en instrumenten geïnstalleerd. Dit alles was vrij vlug geklaard, maar desondanks dat, liet de groep het publiek toch vrij lang wachtenn. Christian Death was voorzien voor negen uur, toch was het pas na tien uur dat de band het podium besteeg. De videowall werd gestart, er verschenen wat tropische beelden en Valor begon met een soort apocalyptische stem de openingstrack In The Garden Of Evilution. Dit zag er allemaal vrij netjes uit en het publiek, dat wat onwennig met het nieuwe materiaal, keek nieuwsgierig uit naar het vervolg van dit intro. Wat toen gebeurde, heb ik nog nooit eerder meegemaakt, van het moment dat de gitaren werden ingezet, werden we letterlijk weggeblazen door een wall of sound. Het volume stond zo hoog dat velen met de vingers in de oren enkele meters achteruitgingen. Het nieuwe album is doorspekt met oosterse invloeden zodat er heel wat rustige passages in zitten. Tijdens die passages kreeg het publiek even de tijd om te bekomen, maar keer op keer werd de geluidsmuur weer opgetrokken. Het ging werkelijk zo ver dat de oren pijn deden. De band bleef doorspelen alsof er niets aan de hand was en speelde op deze manier vlotjes de eerste drie nummers van het nieuwe album na elkaar.

Bij het vierde nummer Fema Coffins werd door Valor het begrip Fema Coffins aangeklaagd, of over hoe de dakloze Amerikanen in speciaal daarvoor gemaakte kisten (de zogenaamde Fema-kisten) vaak per vier worden begraven op een speciaal daarvoor ingericht Fema-kamp. Of hoe het rijke Amerika de minderbedeelden opnieuw als slaven behandelt. Aan de toon waarop hij zijn uitleg deed en het publiek duidelijk vroeg een luide neen stem te geven, was het duidelijk dat dit hem hoog zat. Het bleef niet bij deze ene interactie, er werd vanuit het publiek wat geroepen en er kwam meteen weer antwoord van Valor, wat erop wees dat hij er wel zin in had en niet zomaar een verplicht nummertje kwam doen.

Het nummer waar ik persoonlijk op wachtte was meteen ook het vervolg Illuminazi, een titel waar weinig uitleg bij nodig is en een nummer in ware Christian Death-deathrockstijl. Dat is een nummer waarvan ik denk dat ik het in de toekomst nog wel her en der zal horen. Één groot minpunt bleef zich echter steeds maar herhalen, het volume stond veel te hoog waardoor vele geluiden overstuurd waren en de muziek bij momenten niet om aan te horen was. Ook de zang van Maitiri was niet altijd even hoogstaand. De reactie van het publiek bleef niet uit. Druppelsgewijs zag je mensen hun toevlucht zoeken in de ietwat rustigere sfeer van het café. Na de helft van het nieuwe album te hebben gespeeld, vroeg zanger Valor wat het publiek verwachtte, doorgaan met het nieuwe album, of overschakelen op wat oudere nummers. Het antwoord kwam meteen, en niet totaal onverwacht.

Er werden meteen wat titels van ouder werk geschreeuwd en zo werd uit het rijke repertoire van de band verder getapt. Eerlijk is eerlijk, de kwaliteit van het geluid was bij momenten zo erbarmelijk dat ik het na She Never Woke Up voor bekeken hield. Ik ben ervan overtuigd dat indien het geluidsniveau aanvaardbaar was geweest, ik een heel mooi optreden zou hebben gezien. Ik weet niet wie verantwoordelijk was, maar ik vrees dat dit voor de meeste bezoekers een ferme domper op de avond was. Verschillende mensen hadden er een heel lange autorit voor over gehad en die keerden toch met gemengde gevoelens terug. Wat mij betreft was dit een optreden met veel potentie, maar dat werd door een foute techniek compleet de das omgedaan.
Ruben SAEY
12/11/2015
---