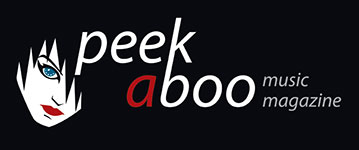 like this movie classics review
---
CLAUDE PINOTEAU
L'ETUDIANTE
Movie
•
Movie classics
Romantic
[72/100]

Gaumont
07/08/2015, Didier BECU
---
In 1980, the young Sophie Marceau conquered many boys hearts with her role in La Boum. This romantic (but very entertaining) trifle was one of the greatest successes of French cinema and was the start of the fame of the young teen actress. In the 80s, there was no teen magazine that didn't have the handsome face of the French woman on its cover. From then on, her film career went uphill. A sequel was made and she starred alongside Jean-Paul Belmondo (which is a guarantee for success in France) in the funny comedy Joyeuses Pâques. After the extravagant (but splendid) L'Amour Braque by Andrzej Zulawski (who later would be her husband), director Claude Pinoteau tried to repeat the trick of La Boum with L'Etudiante. Pinoteau had all the right to do that, as he was the one who discovered her. The film is not the same blast as La Boum, but L'Étudiante is still a comedy that will charm the lovers of French cinema.
The story is not just thin, it also looks like a blueprint of La Boum. During a skiing holiday in the French Alps the awkward Ned (Vincent Lindon) meets the woman of his life. Of course, not everything goes smoothly, because it seems like Ned and Valentine (Sophie Marceau) are not immediately created for each other. She is stubborn, conservative and timid, while Ned enjoys life in all its aspects. Even in their professional life, the two are opposites. Ned is a touring musician, while Valentine follows a university course after her day job as a teacher,. As difficult as it may seem, Ned conquers Valentine's heart.
No, you don't have to watch the movie for the story, because the script of Pinoteau and Danièle Thompson couldn't be more predictable than this. And yet, L'Étudiante works perfectly. Pinoteau exploits the beauty of Marceau it in all possible ways, so the comedy sometimes looks like a long commercial for the French film diva, but the filmmaker does that (just like in La Boum) in such a funny way that you forget that. Or am I just too blinded by Marceau? L'Étudiante is not really dated, although such films could only be made in the 80s. The only minor point is the horrendous soundtrack (which is dated!) by Vladimir Cosma. For the rest, L'Étudiante is a beautiful, melancholic trip. A tip? Well, for a Sophie Marceau fan, that is what you call a stupid question!
Didier BECU
07/08/2015
---
In 1980 veroverde de jonge Sophie Marceau ontelbare jongensharten met haar rol in La Boum. Dit romantische (maar o zo vermakelijke) niemendalletje werd één van de grootste successen uit de Franse cinema, waardoor het broodje van de tieneractrice meteen was gebakken. In de jaren 80 kwam je in alle tienerbladen het knappe snoetje van de Française tegen. Ook met haar filmcarrière ging het bergop. Niet alleen kwam er een vervolg op La Boum, ook acteerde zij aan de zijde van Jean-Paul Belmondo (in Frankrijk sowieso een garantie voor succes) in de amusante komedie Joyeuses Pâques. Na de extravagantie L'Amour Braque van Andrzej Zulawski, probeerde Claude Pinoteau om via L'Étudiante de truc van La Boum over te doen. Pinoteau had daar alle recht toe, want hij was het die haar ontdekte. De film werd niet dezelfde knaller als haar debuut, toch is L'Étudiante een komedie die de liefhebbers van lichte Franse cinema zal bekoren (of bekoord heeft).
Het verhaaltje is niet alleen flinterdun, het lijkt ook op een blauwdruk van La Boum. Tijdens een skivakantie in de Franse Alpen ontmoet de onhandige Ned (Vincent Lindon) de vrouw van zijn leven. Natuurlijk loopt niet alles van een leien dakje, want op het eerste gezicht zijn Ned en Valentine (Sophie Marceau) niet meteen voor elkaar geschapen. Zij is koppig, conservatief en bedeesd, terwijl Ned een grote levensgenieter is. Ook in het beroepsleven zijn de twee elkaars tegenpolen. Ned is een rondreizend muzikant, terwijl Valentine na haar dagtaak als lerares een cursus aan de universiteit volgt. Hoe moeilijk het ook lijkt, toch wil Ned er alles aan doen om Valentines hart te veroveren.
Neen, voor het verhaal alleen moet je deze film zeker niet bekijken, want het scenario van Pinoteau en Danièle Thompson kon wellicht niet voorspelbaarder zijn dan het is. En toch werkt L'Étudiante perfect. Pinoteau buit de schoonheid van Marceau op alle mogelijke manieren uit, waardoor de komedie soms gewoon op een lange reclamespot voor de Franse filmdiva lijkt, maar de cineast doet dat (net als in La Boum) op zo'n speelse manier dat je vaak zijn onkunde vergeet. Of ben ik gewoon verblind door Marceau? L'Étudiante is niet echt gedateerd, alhoewel zo'n films alleen maar in de jaren 80 konden worden gemaakt. Het enige wat je er moet bijnemen is de afgrijselijke soundtrack (die dus wel gedateerd is!) van Vladimir Cosma. Voor de rest is L'Étudiante een prachtige, melancholische trip. In Vlaanderen is deze film nooit uitgebracht, maar in iedere Franse winkel is deze dvd nog vlot te verkrijgen. Tip dus? Tja, voor een Sophie Marceau-fan is dat wel een domme vraag, hoor!
Didier BECU
07/08/2015
---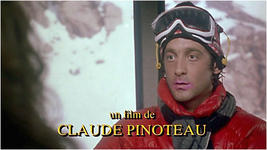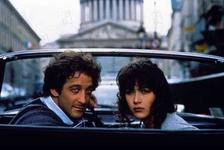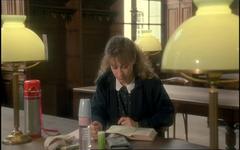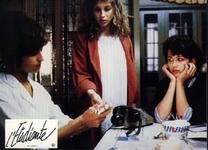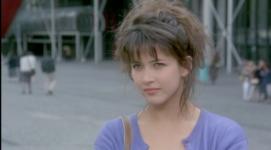 ---