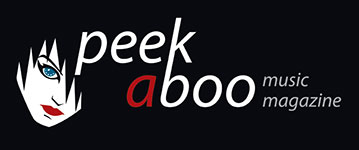 like this movie review
---
CLINT EASTWOOD
Jersey Boys
Movie
Biography
•
Musical
[79/100]

Warner Home Video
27/10/2014, Didier BECU
---
Even if Clint Eastwood has reached the age of 84, it seems like the man with the iron face is just unstoppable. By the time you read this, he just has ended filming his newest work American Sniper starring Bradley Cooper. His latest movie Jersey Boys wasn't such a big hit over here, but that's mainly because the name of Frankie Valli is almost a synonym for that guy who sung the main theme from Grease. Whether you want it or not, you surely know all the tunes by his band The Four Seasons as they sold worldwide 175 million records. His life story has been adapted to the musical Jersey Boys, a smashing hit you can see every day on Broadway.
It was the famous crooner himself who asked Eastwood to direct this story. The director made an own (classic) interpretation from the play. You hear all the hits, Eastwood has chosen all the boys from the original Broadway-piece, but Jersey Boys hasn't become a musical. It's more a dramatic biographic as the band were having many problems over financial discussions. You don't have to be surprised about that, as after all Frankie Castelluccio (John Lloyd Young) was a young rascal during his teen years. It was only his golden voice that kept him out of the arms from the New Jersey-mob.
A rascal who makes it from the gutter to the Rock and Roll Hall of Fame is a golden script for a musical, but on the white screen some magic is lost because of the stiff performance that's a bit too bland. The guys surely know their role, but they're not masters in front of a camera. Luckily enough there was a master behind it as Eastwood might be a very conservative cinematographer, he surely knows all about to make a good film job. Jersey Boys is a decent music biography without any risks made by one of the greatest directors of our time.
Technical specifications:
Director: Clint Eastwood
Cast: John Lloyd Young, Erich Bergen, Michael Lomenda
Length: 134 minutes
Subtitles: Dutch
Sound: English DTS-HD Master Audio 5.1
Didier BECU
27/10/2014
---
Clint Eastwood is dan wel ondertussen 84, maar terwijl we dit schrijven is de man het ijzeren gezicht bezig aan de eindopnames van American Sniper: zijn nieuwste met Bradley Cooper. Dit maar om te zeggen dat Dirty Harry niet te stoppen is. Voor zijn laatste film Jersey Boys liep men in de Benelux wat minder storm, maar dat komt natuurlijk vooral omdat de naam Frankie Valli bij ons bijna niet meer is dan een synoniem voor de naam van de kerel die de openingstune van Grease schreef. Nu goed, zelfs als zou je het niet willen, dan nog ken je wellicht alle nummers van zijn band The Four Seasons waarmee hij wereldwijd 175 miljoen platen verkocht. Zijn levensloop werd omgedoopt tot de musical Jersey Boys die je vandaag nog steeds elke dag op Broadway kan bekijken.
Het was de crooner zelf die Eastwood vroeg om zijn levensverhaal te filmen. Alhoewel de cineast koos om met de Broadway-cast in zee te gaan is Jersey Boys evenwel geen musical geworden. Alle hits passeren de revue, maar Eastwood legt vooral de nadruk op de financiële problemen die de vier kerels met elkaar hadden. Dat is geen wonder als je weet dat Frankie Castelluccio (John Lloyd Young) in zijn jeugd een jong boefje was. Het was dankzij zijn gouden stem dat hij uiteindelijk niet bij de maffia van New Jersey belandde.
Een kwajongen die het van de goot tot de Rock and Roll Hall of Fame schopt is inderdaad een gedroomd onderwerp voor 'n musical. Op het witte doek gaat er jammer genoeg wat magie verloren en dat ligt vooral aan de net iets te stijve vertolking. Je merkt wel dat de acteurs hun rol door en door kennen, maar flirten met de camera kunnen ze niet. Gelukkig is er wel de zoals altijd ervaren rot die Eastwood is. Hij is een oerconservatieve filmmaker, maar beheerst als geen ander de wetten van de cinematografie. Jersey Boys is een brave, maar zeer degelijke biografie over een net iets te gladgestreken jongen, maar wel verfilmd door één van de beste!
Technische specificaties:
Regisseur: Clint Eastwood
Cast: John Lloyd Young, Erich Bergen, Michael Lomenda
Speelduur 134 minuten
Gesproken talen Duits, Engels, Italiaans, Spaans
Ondertiteling Nederlands
Geluid: Engels DTS-HD Master Audio 5.1
Didier BECU
27/10/2014
---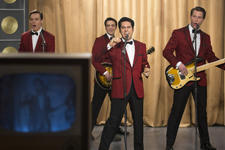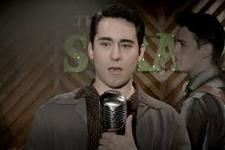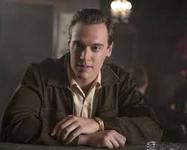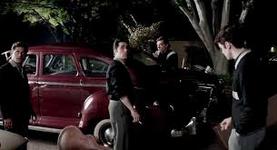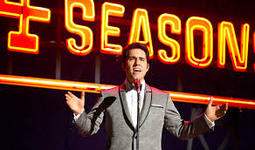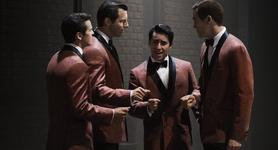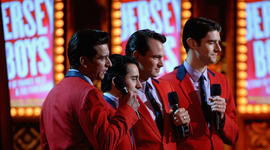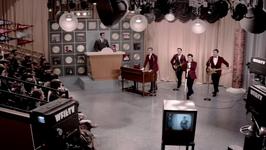 ---