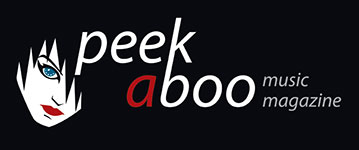 like this cd review
---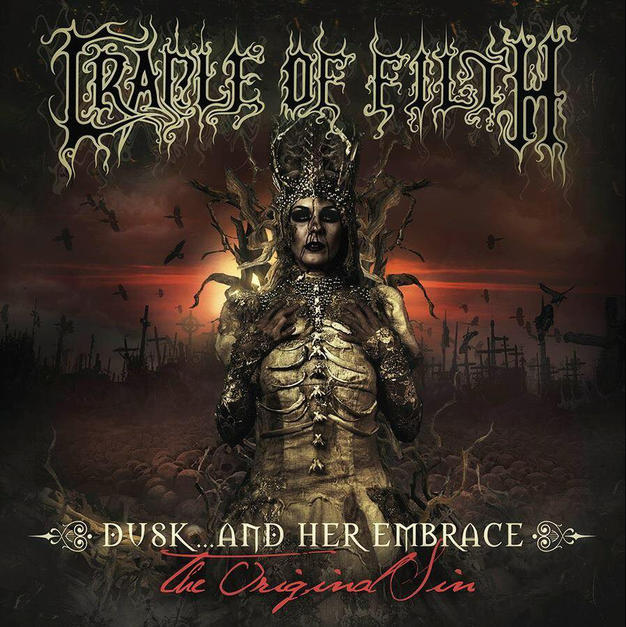 CRADLE OF FILTH
Dusk And Her Embrace – The Original Sin
Music
•
CD
Black Metal
•
Goth Metal
[84/100]

11/12/2016, Benny CALUWE
---
20 years after the release of the milestone album Dusk And Her Embrace, Cradle Of Filth returns with a nice treat for the fans on the newly resurrected Cacophonous Records label. Dusk And Her Embrace was initially released on Music For Nations in 1996. It was a critical and commercial success. Cruelty & The Beast is often regarded as Cradle Of Filth's strongest album, but in my humble opinion Dusk And Her Embrace is Cradle Of Filth's pièce de résistance. I didn't have any affinity with extreme metal, until the dusk embraced me. As a youngster I was deeply impressed by Dani Filth's multi-facetted vocals and his malevolent almost literary lyrics and the seductive yet haunting voice of Sarah Jezebel Deva. The atmospheric keyboards, the technical high paced yet melodic guitar licks and Barker drumming at breakneck speed, they totally amazed me.
I wasn't familiar with the fact that the 1996 Dusk And Her Embrace album was actually a re-recording. The album was already made in 1995 before the band got contract disputes with Cacophonous Records and before half of the band (Paul Allender and Paul & Benjamin Ryan) left to form The Blood Divine. The remaining band members didn't want to release an album that wasn't representative for their rejuvenated line up. To fulfil their contract obligations with Cacophonous Records, the band wrote the V Empire Or Dark Faerytales In Phallustein EP. Dusk And Her Embrace was re-worked and re-recorded to be released on Music For Nations and eventually became their breakthrough album. Considering that V Empire was merely a hastily written escape-plan, only increases my appreciation.
The original recordings of this landmark album, which were literally gathering dust on someone's shelf, finally see the light of day after 21 years as Dusk And Her Embrace – The Original Sin.
The album kicks off with Macabre, This Banquet. Macabre indeed. It works well to create an ominous atmosphere. The other instrumental Carmilla's Masque evokes a certain tension as well. But The Graveyard By Moonlight is a totally different track. The eponymous track on the 1996 album succeeds way better in evoking a haunting atmosphere.
Although there are numerous little differences between both releases, most aren't that impactful. For people who are familiar with the Music For Nations album, the tracks are obviously recognizable. The Original Sin is clearly a blueprint of the 1996 album. Next to an altering order in the track listing, there are some minor differences lyrically, but the most obvious differences are found in the vocals and in terms of production.
Dusk And Her Embrace – The Original Sin sounds less polished, rawer, more basic and more underground than its successor. There are many subtle differences in atmosphere with the tighter and cleaner produced 1996 album. The Original Sin is closer to the traditional black metal aesthetics. After all it's written by the same line up as The Principle Of Evil Made Flesh. At times this rougher tone works to the material's advantage. Nocturnal Supremacy never sounded as wicked as on this latest release. This more aggressive version of Heaven Torn Asunder sounds delightfully blasphemous.
The Original Sin also benefits from the prominent bass sound. In general you could say that The Original Sin is the more guitar driven version of Dusk And Her Embrace, but in some sections the synth overtones are prominent as well. All instruments are clearly heard in the mix. Sometimes this leads to sloppy and messy moments, especially in the high speed sections.
Occasionally The Original Sin lacks the warm production of the Music For Nations release. The gothic accents on the 1996 album are more pronounced, just as the female vocals are more distinctive. It becomes clear that Dani Filth grew a lot as a vocalist in the course of that year. His narrative parts on the familiar Dusk And Her Embrace album are richer, stronger and more unsettling.
An obvious example of The Original Sin's shortcomings can be heard in Beauty Slept In Sodom. The song's intro sounds like a children's music box and Dani's narration doesn't meet the standards that I 'm used to.
Is it the power of habit? In my opinion Dusk And Her Embrace – The Original Sin can't match, let alone overcome the more refined 1996 album. Despite some flaws, Dusk And Her Embrace – The Original Sin undeniably remains an interesting album. At times it's delightfully ferocious and unbound. So I can imagine some guys (especially so called true black metal fans) will prefer this original version over its successor. Both albums justify their right of existence.
Dusk And Her Embrace's track listing (Music For Nations – 1996):
Humana Inspired To Nightmare
Heaven Torn Asunder
Funeral In Carpathia
A Gothic Romance (Red Roses For The Devil's Whore)
Nocturnal Supremacy '96 (bonus track on the digipack edition)
Malice Through The Looking Glass
Dusk And Her Embrace
The Graveyard By Moonlight
Beauty Slept In Sodom
Haunted Shores
Dusk And Her Embrace – The Original Sin's track listing (Cacophonous Records – 2016):
Macabre, This Banquet
Nocturnal Supremacy
Heaven Torn Asunder
Dusk And Her Embrace
A Gothic Romance
The Graveyard By Moonlight
Funeral In Carpathia
Beauty Slept In Sodom
The Haunted Shores Of Avalon
Carmilla's Masque
A Gothic Romance (Demo)
Nocturnal Supremacy (Demo)
Benny CALUWE
11/12/2016
---
20 jaar na de release van Dusk And Her Embrace heeft Cradle Of Filth een leuke verrassing voor de fans. Dusk And Her Embrace werd initieel in 1996 uitgebracht op Music For Nations. Het album werd zeer goed ontvangen. Hoewel Cruelty & The Beast vaak wordt bestempeld als het beste Cradle Of Filth-album, blijft Dusk And Her Embrace voor mij hun pièce de résistence. Ik had geen enkele affiniteit met black metal tot ik Dusk And Her Embrace ontdekte. Dani Filths veelzijdige vocalen en zijn bijna literaire lyrics maakten indruk op me - wat een verschil met de ridicule teksten van sommige extreme metalbands. Ook Sarah Jezebel Deva's stem wist me meteen te verleiden. Net als de atmosferische keyboards en het technische snelle, maar melodische gitaarspel.
Ik was niet vertrouwd met het feit dat Dusk And Her Embrace uit 1996 eigenlijk een herwerking was. Het album werd origineel opgenomen in 1995, nog vóór de band in onmin raakte met Cacophonous Records. Bovendien vertrok de halve bezetting van de band (Paul Allender en Paul & Benjamin Ryan) om The Blood Divine te vormen. De resterende bandleden hadden geen zin om een album uit te brengen dat niet representatief was voor hun hernieuwde line up. Om onder hun contractuele verplichtingen met Cacophonous Records uit te komen, schreef de band V Empire Or Dark Faerytales In Phallustein. Dusk And Her Embrace werd herwerkt en heropgenomen. Het album dat uitkwam op Music For Nations werd uiteindelijk hun grote doorbraak. Dat de V Empire-ep slechts een vluchtig bijeengeschreven ontsnappingsplan was, doet mijn appreciatie voor de schijf alleen maar toenemen.
De originele opnames van Dusk And Her Embrace werden na 21 jaar van onder het stof gehaald en verschijnen nu met de ondertitel The Original Sin.
Dusk And Her Embrace – The Original Sin start in stijl met Macabre, This Banquet. Inderdaad macaber. Er wordt een onheilspellende atmosfeer gecreëerd. De andere instrumental Carmilla's Masque wekt ook een zekere spanning op. The Graveyard By Moonlight is echter een totaal andere track. De gelijknamige track op het Music For Nations album klinkt heel wat dreigender.
Hoewel de kleine verschillen tussen beide versies talrijk zijn, hebben de meeste weinig impact. Voor de mensen die vertrouwd zijn met het album uit 1996, zijn de tracks duidelijk herkenbaar. The Original Sin is duidelijk een blauwdruk van het album op Music For Nations. Naast een afwijkende volgorde in de tracklisting, zijn er ook enkele verschillen in de lyrics (meestal beperkt tot enkele regels). De verschillen in de vocalen en de productie zijn duidelijker.
Dusk And Her Embrace – The Original Sin klinkt minder gepolijst en ruwer dan zijn opvolger. Er zijn menige subtiele verschillen in atmosfeer met het strakker geproduceerde album uit 1996. The Original Sin is een meer traditioneel blackmetalalbum, het is per slot van rekening ook geschreven door dezelfde bezetting als die van The Principle Of Evil Made Flesh. Sommige tracks hebben baat bij de ruwere toon van het album. Nocturnal Supremacy klonk nog nooit zo kwaadaardig als op de recentste plaat. De agressievere versie van Heaven Torn Asunder klinkt heerlijk godslasterlijk.
The Orignal Sin plukt ook de vruchten van de meer prominente basgitaar. Over het algemeen zou men kunnen stellen dat The Original Sin de meer gitaar georiënteerde versie van Dusk And Her Embrace is, maar in bepaalde passages zijn ook de keyboards prominent aanwezig. Alle instrumenten zijn goed hoorbaar in de mix, wat wel eens tot slordige stukken leidt, vooral in de snelle secties.
Occasioneel ontbeert The Original Sin de warme productie van het Music For Nations-album. De gothicaccenten zijn er meer uitgesproken, net als de vrouwelijke vocalen. Het is ook duidelijk dat Dani Filth in dat jaar groeide als vocalist. Zijn vocalen op het voor mij vertrouwd Dusk And Her Embrace zijn sterker en veelzijdiger.
Een duidelijk voorbeeld van de tekortkomingen hoor je in Beauty Slept In Sodom. De intro lijkt te komen uit een muziekdoos en Danis vocalen klinken minder imponerend dan ik gewend was.
Is het de macht der gewoonte? Volgens mij kan Dusk And Her Embrace – The Original Sin niet tippen aan het meer verfijnde album uit 1996. Ondanks enkele tekortkomingen is Dusk And Her Embrace – The Original Sin ontegensprekelijk een interessante plaat. Bij momenten klinkt ze verrukkelijk wild en ongebonden. Ik kan me verstellen dat sommigen (vooral zogenaamde "true black metal"-fans) deze originele versie verkiezen boven de opvolger. Beide albums rechtvaardigen hun bestaansrecht.
Benny CALUWE
11/12/2016
---