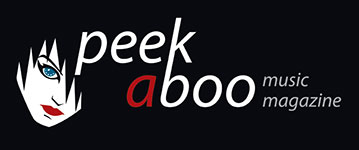 like this digital review
---
DAEMONIA NYMPHE
Witches' Lullaby
Music
•
Digital
Dark Ambient
•
Ethereal / Heavenly Voices
•
Mystical
19/04/2021, Tom PLOVIE
---
It was Easter Sunday, just like today, when Daemonia Nymphe was in Belgium two years ago and performed at Black Easter (Antwerp). They played their album 'Phychostasia' in a theatrical show, including live dance with fire. Visually, these Greeks are strong at creating atmosphere and mystique. They do this by entering the stage with large veils, wearing masks and beautiful costumes, musically by using old instruments such as the kithara or pandoura.
With 'Witches' Lullaby', an EP has been released that is entirely built around the same song from the score of the play 'Macbeth'. Daemonia Nymphe wrote the music for this Shakespearean play in 2016. It has been performed over 50 times in Greece, directed by Anastasia Revi. The melody in the lullaby represents the Shakespearean witches who make Macbeth a prediction, one that will lead to his downfall. Is there a link with the Greek Fates, the moira?
Yes. In the melody new life (birth) is symbolized. Connected with this is Fate and her goddess Moira. She embodies the trinity of the present, future and past. Ancient Greek mythology gave each of them a name too: Clotho, Lachesis and Atropos.
The choice of a lullaby as a genre is, in itself, one to help the soul on its journey into the world. But, depending on who sings, the soul can be controlled and therefore given a different start...
The general idea of this EP is the creation of 4 new lullabies, all based on the original version from 2016. An international collaboration of artists was set up with Hatis Noit (Japan), Priscilla Hernandez (Spain), Victoria Couper (Great Britain/Portugal) & Reyhan Yusuf (Great Britain/Turkey) and finally Evi Stergiou, who -together with Spyros Giasafakis- forms the core of Daemonia Nymphe.
Opener 'Majo tachi no komori-uta' immediately sets the tone with mysterious whispering. The Glockenspiel and the kalimba ensure the original melody is recognizable. After its intro one can enter a world of self-created images. The different vocal layers of Hatis Noit ensure that the Fates are never far away.
With 'La nana de las brujas' we hear the version of Priscilla Hernandez. She opens with an a capella version of the melody, accompanied by various vocal layers too. After less than a minute, the kalimba sets in. Everything sounds a bit more slow, more at ease it seems.
'Canção de embalar das bruxas' starts on a darker note: with the sound of dripping water and eery bird singing. In this version the actual melody is subordinated to the mood setting: with an occassional "ssssht!" or even with muffled screams in the background. The witches can be found here the most.
The last version is 'Nanoúrisma ton magisson', with 2 minutes and 39 seconds only half the length of all previous versions. It has a more refreshing sound and sticks out comparing to the other four. The guitars provide this lullaby with a warmer and less dark timbre.
The EP will be released on Bandcamp with the original lullaby as a final track. Listening to this EP as a whole might be a bit too monotone but I like the general concept of it. I always enjoy discovering and comparing alternative versions of songs.
As a project this 'Witches' Lullaby' has passed, but I can't wait to hear a new full album of the band. Maybe by Easter 2022?
Tom PLOVIE
19/04/2021
---
Net zoals vandaag was het Paaszondag toen Daemonia Nymphe twee jaar terug in België was en een optreden gaf op Black Easter (Antwerpen). Ze speelden er hun album 'Phychostasia' tijdens een show vol theatraliteit, waaronder het dansen met vuur. Visueel zijn deze Grieken sterk om sfeer te creëren en mystiek uit te stralen. Ze doen dat door met grote voilen het podium op te komen, maskers en schitterende kostuums te dragen en muzikaal door het gebruik van een oud instrumentarium zoals de kithara of pandura.
Met 'Witches' Lullaby' verschijnt er nu een EP die geheel opgebouwd werd rond het gelijknamig nummer uit de score van het toneelstuk 'Macbeth'. Daemonia Nymphe schreef de muziek voor het Shakespeariaanse stuk in 2016. Het werd in Griekenland ruim 50 keer uitgevoerd, in een regie van Anastasia Revi. De melodie in het wiegelied representeert de Shakespeariaanse heksen die Macbeth een voorspelling doen, één die tot zijn ondergang zal leiden. Is er een link met de Griekse schikgodinnen, de moira?
Jawel. In die melodie wordt namelijk het nieuwe leven (de geboorte) gesymboliseerd. Daaraan gekoppeld is er het lot en haar godin Moira. Zij belichaamt de drievuldigheid van het heden, de toekomst én het verleden. De Griekse mythologie geeft elk van hen ook een naam: Klotho, Lachesis en Atropos.
De keuze voor een wiegenlied als genre op zich is er één om de ziel op pad te helpen. Maar, afhankelijk van wie die zingt kan de ziel gestuurd worden en dus ook een verschillende start krijgen...
Uitgangspunt van deze EP is de creatie van 4 nieuwe wiegeliederen, gebaseerd op het originele uit 2016. Er werd hiervoor een internationale samenwerking van artiesten opgezet met Hatis Noit (Japan), Priscilla Hernandez (Spanje), Victoria Couper (Groot-Brittanië/Portugal) & Reyhan Yusuf (Groot-Brittanië/Turkije) en tot slot Evi Stergiou, die samen met Spyros Giasafakis de spil vormt van Daemonia Nymphe.
Opener 'Majo tachi no komori-uta' weet meteen met mystiek gefluister de toon te zetten. Het Glockenspiel en de kalimba zorgen dat de oorspronkelijke melodie herkenbaar wordt ingezet. Daarna is het wegglijden en ruim vijf minuten lang genieten van bevreemende beelden die deze versie oproept. De verschillende stemlagen van Hatis Noit zorgen dat de schikgodinnen nooit veraf zijn.
Met 'La nana de las brujas' is de Spaanse Hernandez aan zet. Zij zet de melodie meteen vocaal op de kaart, opnieuw in diverse stemlagen. Na een kleine minuut valt de kalimba in. Alles klinkt wat slepender en trager, meer verstild.
Iets donkerder start 'Canção de embalar das bruxas', met watergedruppel en nachtelijke vogelgeluiden. De eigenlijke melodie wordt ondergeschikt aan de sfeerzetting: met een occiasionele 'ssssht!' of zelfs met gedempt gegil op de achtergrond. De heksen zijn hierop het meest terug te vinden.
Als laatste versie is er 'Nanoúrisma ton magisson', met 2 minuten en 39 seconden slechts half zo lang als alle voorgaande versies. Zij klinkt een stuk frisser en het meest verschillend van de vier. De gitaren zorgen voor een warmere en minder duistere klankkleur.
Op Bandcamp wordt de EP gereleased met de originele track als afsluiter. Om deze EP in één keer te beluisteren is het misschien wat teveel van hetzelfde, hoewel ik de invalshoek ervan zeker genegen ben. Alternatieve versies of covers vind ik altijd leuk om te ontdekken en te kunnen vergelijken.
Als project is dit geslaagd, maar ik kijk uit naar een volwaardig nieuw album - misschien tegen Pasen 2022?
Tom PLOVIE
19/04/2021
---
---