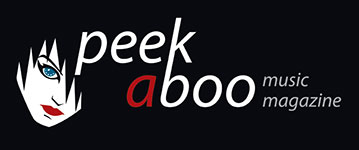 like this concert review
---
DAF, ABSOLUTE BODY CONTROL, ONMENS
Sint-Niklaas, De Casino (28/11/2015)
Concert
30/11/2015, Didier BECU
---
Those who decided to spend their Saturday evening at De Casino in Sint-Niklaas (Belgium, 28th November), probablystill have their fingers in the ears, as the three bands produced each in its own way the necessary dose of energy, power, sound, and above all quality.

For Onmens it was definitely not an easy task, because the Ghent based band of Sigfried Burroughs and Kasper Van Esbroeck was programmed with two icons (one that represents the best of the Belgian dark scene and another that simply invented the EBM sound). But no worries, from the first to the last second they fired their explosive bursts without mercy at the audience. They take their inspiration from the EBM scene, but they completely make it their own thing and the final result has very little to do with EBM, except that it also awakens you. Musically Sigfried and Kasper are somewhere between Vandal X and Atari Teenage Riot. Screaming out your soul during half an hour, releasing inner demons and crushing the spectator with noise: that's Onmens! No, not everyone is crazy about their noisy cocktail, that much is true, but there are just as many who think the opposite and they enjoyed a deafening show of two guys who do not take themselves too seriously, but have more courage and character than many "prodigies" you find these days in the Belgian scene. Early next year, the duo will release a new CD, and yet another opportunity to feel again unhuman (as that is what Onmens means!).

And then there was Absolute Body Control. What can we tell about Dirk Ivens and Eric Van Wonterghem that has not been said in Peek-A-Boo yet? The band that formed in the early 80s, is undoubtedly the most poppy one Dirk Ivens was ever part of. Every song sounds like an indestructible classic, the sing-along factor is increasingly prominent, Eric's analog synth beats are wonderfully perfect and well; who can better control the stage as Dirk Ivens? Most of the songs came from the latest CD Shattered Illusion, but also classics like So Obvious, Figures or Give Me Your Hands were included in the set. Dirk was beaming, because on that evening his heimat was again at his feet, and the public was rewarded with an encore: a crushing version of Warm Leatherette. It seems like routine, but even after countless times, we hope to see Absolute Body Control as soon as possible on stage again, just because Dirk and Eric are the best wave band of the moment!

In 1985 there was a band that released a single called Absolute Body Control, its name: DAF! Even though these days Robert Delgado and Robert Görl are busy with their own projects, they still are regularly on stage as DAF. Fans wonder how long this party will last, because the two are like a jukebox from the 80s, but the EBM pop punk that rocked the Western music scene still stands as a house! Playing on autopilot, but what a class! From the first notes of Verschwende deine Jugend, the front man poured a bottle of water on his body (and many would follow until the singer was soaked wet). Delgado was running from side to side, almost like a possessed man, while Görl was hidding behind the drums. Most bands save their biggest hit for the end, but DAF played Der Mussolini as third track. No problem, because the two have a cartload of classics. When we heard tracks like Die Lippe, Nacht Arbeit Sato Sato, Als wäre's das letzte Mal, Mein Herz macht Bum, it seems like the Berlin Wall still stands. Wir sind DAF und du bist DAF, Delgado screamed, and it felt great because DAF is punk as punk should be! Alles ist gut!
Click here for Benny's photo reports : Onmens, Absolute Body Control and DAF
This review is in colloboration with Concert Monkey.
Didier BECU
30/11/2015
---
Wie op 28 november besloot om zijn zaterdagavond in De Casino van Sint-Niklaas door te brengen, zal beslist nog wel eventjes met zijn vingers in de oren gaan, want de drie bands die op de affiche stonden, zorgden elk op hun eigen manier voor de nodige dosis energie, kracht, geluid en vooral kwaliteit.
Voor Onmens was het beslist wat wennen, want de Gentse band van Sigfried Burroughs en Kasper Van Esbroeck stond geprogrammeerd met twee iconen (eentje die het beste uit de donkere Belgische scène vertegenwoordigt en een andere die zo waar de EBM uitvond). Geen nood, want de twee Gentenaars waren niet bang om ev. op hun bek te gaan, en dat deden ze ook niet, want vanaf de eerste tot de laatste seconde vuurden zij hun explosieve salvo's zonder genade op het publiek af. Onmens haalt zijn inspiratie o.a. uit de EBM, maar doet daar compleet zijn eigen ding mee zodanig dat het uiteindelijke resultaat bitter weinig met EBM te maken heeft, behalve dat het je wakker schudt. Muzikaal bevinden Sigfried en Kasper zich ergens tussen Vandal X en Atari Teenage Riot. Je ziel uitschreeuwen, een halfuur de demonen uit je loslaten en de toeschouwer verpletteren met lawaai. Neen, niet iedereen is gek op deze geluidscocktail, zoveel is zeker, maar er zijn er minstens evenveel die dat wel zijn en die genoten van een oorverdovende show van twee kerels die zichzelf niet al te serieus nemen, maar die meer moed en karakter hebben dan vele "wonderkinderen" die je tegenwoordig in de Belgische scène aantreft. Begin volgend jaar brengt het duo een nieuwe cd uit, en alweer een kans om je wat als een onmens te voelen…
En dan was er Absolute Body Control. Wat kan je eigenlijk nog over Dirk Ivens en Eric Van Wonterghem vertellen wat nog niet op Peek-A-Boo is neergepend? Deze band, die in het begin van de jaren 80 werd opgericht, is zonder twijfel de meest poppy band waarmee Dirk Ivens ooit bezig was. Iedere track klinkt als een onverwoestbare klassieker, de meezingbaarheidsfactor is steeds prominent aanwezig, de analoge synthbeats van Eric wonderbaarlijk perfect en tja, wie beheerst er in België beter het podium dan Dirk Ivens? De meeste nummers kwamen uit de laatste cd Shattered Illusion, maar ook klassiekers als So Obvious, Figures of Give Me Your Hands werden gespeeld. De man uit het Waasland glunderde, want zijn heimat lag opnieuw aan zijn voeten, en dat werd beloond met een toegift: een verpletterende versie van Warm Leatherette. Het lijkt routineus, maar zelfs na ontelbare keren, hopen wij Absolute Body Control zo snel mogelijk opnieuw op een podium te zien, gewoon omdat Dirk en Eric de sterkste waveband van het moment zijn!

In 1985 was er een groep die een single uitbracht met de naam Absolute Body Control, hun naam: DAF! Ook al zijn Robert Delgado en Robert Görl dezer dagen volop bezig met hun eigen projecten, staan ze nog geregeld op het podium als DAF. Menig fan vraagt zich af hoe lang dit feestje nog zal duren, want de twee zijn niet meer dan een jukebox uit de jaren 80, maar de EBM-poppunk die de westerse muziekscène op haar grondvesten heeft doen daveren staat nog steeds als een huis! Op automatische piloot dus, maar wat een klasse! Vanaf de eerste tonen van Verschwende deine Jugend overgiet frontman zichzelf met een flesje water (en er zullen nog vele volgen tot wanneer de zanger kletsnat op het podium staat). Delgado loopt van links naar rechts, bijna als een bezetene, terwijl Görl achter de drums verscholen zit. De meeste bands bewaren hun grootste hit tot het einde, maar Der Mussolini wordt bij DAF als derde nummer gespeeld. Geen probleem, want de twee hebben een karrevracht aan klassiekers. Als we tracks als Die Lippe, Nachtarbeit, Sato-Sato, Als wär's das letzte Mal of Mein Herz macht Bum horen, lijkt het wel alsof de Muur in Berlijn nog steeds overeind staat. Wir sind DAF und du bist DAF, schreeuwt Delagado, en dat doet deugd, want DAF is gewoon punk die je bewusteloos mept. Alles ist gut!
Klik hier voor Benny's fotoreportage: Onmens, Absolute Body Control en DAF.
Dit concertverslag is in samenwerking met Concert Monkey.
Didier BECU
30/11/2015
---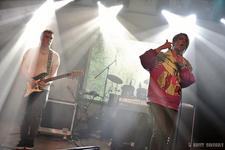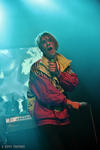 ---