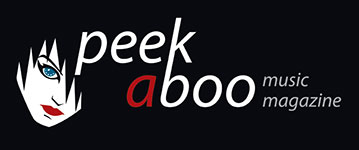 like this concert review
---
DAGEIST
Dendermonde, Mina's Irish Pub (25/06/2016)
Concert
10/12/2016, Jurgen BRAECKEVELT
---
On 25th June Ashes & Dust organized in Mina 's Irish Pub in Dendermonde (Belgium) a concert by the French duo DaGeist. The first masterpiece David Schiavoni and Frédéric Strzelczyk made is the CD 40: a collection of postpunk- and cold wave gems. The sound contains some shoegaze influences, but also cold wave that is coming from The Cure's belly. Also typical for the sound is the way Frédéric plays his bass: angular and deeply, which gives the songs a slightly harder tone.

The concert can be summarized in a few terms : sincere, intimate, strong and experienced. From the first note of opener Comon, it became clear that DaGeist is a live band. The energy of Davide and Fréderic immedoiately grabs you. Mind you, there's nothing wrong with the varied excellent CD, on stage DaGeist just gives you that extra punch. Lake Of Love made us float away on some cold wave, all with a very delicate balance between electronics and guitars.

The two conquered the audience by playing a lot of songs among them, so you could experience the energy at close range. Tight pace, songs that live are even better then on CD. The set was beautiful and the final No One Is Innocent was very powerful. You could see the veins on David's neck, while the sweat was pouring from Frédéric's face when he punished his bass.

DaGeist gives you quality, that is certain, with the strongest factor David's voice which is fragile at times melancholic if necessary, but above all very powerful, sincere and very intense.

All songs of 40 were played. It was clear the two did it with fun. The audience gave the band what it deserved: a huge applause. Hopefully we will see them in many venues. Those who were in Dendermonde saw a good band, and that in a very nice location. This taste for more, much more!

Photos by Luminous Dash / Jürgen Braeckevelt / Ashes & Dust.
Jurgen BRAECKEVELT
10/12/2016
---
Ashes & Dust organiseerde op 25 juni in de Mina's Irish Pub in Dendermonde een optreden van het Franse duo DaGeist. Het eerste meesterwerk dat David Schiavoni en Frédéric Strzelczyk is de cd 40: een verzameling van postpunk- en coldwavepareltjes. Het geluid bevat shoegaze-invloeden, maar eveneens cold wave die uit de buik van The Cure komt. Ook typerend is de manier waarop Frédéric de bas speelt: hoekig en diep waardoor de songs een wat hardere toon krijgen.

Het optreden kan je in een paar termen vatten: oprecht, intiem, stevig en doorleefd. David en Frédéric zijn onbevangen. Vanaf de eerste noot van opener Comon werd het duidelijk dat DaGeist een liveband is. De energie die ze uitstralen, palmt je zo in. Let wel, hiermee bedoelen we niks verkeerds over de cd die goed en vol variaties klinkt, live hoor je wel die extra punch. Lake Of Love voerde ons mee op coldwavegolven, met een heel delicaat evenwicht tussen elektronica en gitaarwerk.
De twee palmden de zaal letterlijk in door in heel wat songs gewoon tussen het publiek te spelen waardoor je de energie van heel nabij kon beleven. Strak tempo, goede songs die live nog meer overtuigden dan ze op cd al deden. De set was ook mooi opgebouwd en de finale No One Is Innocent was heel krachtig. De aders op de hals van David stoomden vol en tekenden zich duidelijk af, het zweet gutste van Frédérics gezicht toen hij zijn bas pijnigde.
De kwaliteit van DaGeist is er zeker, met als meerwaarde Davids stem: bij momenten breekbaar, melancholisch indien nodig, maar vooral: krachtig. Een dijk van een stem, en dat is niet iedere zanger in het genre gegeven: oprecht en heel intens.
De volledige CD 40 passeerde de revue. Het was duidelijk dat de twee er plezier in hadden, en dat stralen ze ook uit. Het publiek gaf de band terug wat hij verdiende: een oprecht applaus voor DaGeist die hopelijk nog talrijke podia zal bestijgen en muziekliefhebbers zal kunnen bekoren.
De aanwezigen hebben een goede band gezien, en dat in een heel leuke locatie. Dit smaakt naar meer, véél meer....
Foto's: Luminous Dash/Jürgen Braeckevelt/Ashes & Dust.
SETLIST
Comon
Lake Of love
Vampire
Demon's Time
In My City
Stereo
Amazing
Trash Disco
No One Is Innocent
Jurgen BRAECKEVELT
10/12/2016
---
---