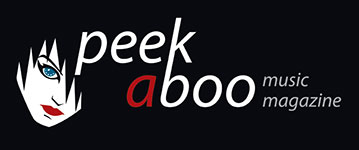 like this cd review
---
DALLA NEBBIA
Felix Culpa
Music
•
CD
Black Metal
[86/100]

Razed Soul Productions
25/11/2015, Wim GUILLEMYN
---
Last year Peek-A-Boo reviewed the debut of Mesmur. Two members of this doom metal band are also part of Dalla Nebbia: guitarist Yixja and drummer Alkurion. They also have a bassist Tiphareth, a programmer Zduhac, a violinist Sareeta and a guitarist Aort who contribute on a few songs.
So we get a black metal album with progressive, doom and death metal elements. The opening track Momento Mori is a medieval instrumental that has an epic atmosphere, composed with harpsichord, acoustic guitar, synths, a violin and a flute.
The next song Until The Rain has a goth sounding bass, while the singing is typical for the genre: dark, ominous and sometimes with grunts. They alternate the heavy voice, the grunt and clean vocals, and even put them together. This leads to a fine result and makes the music easier to digest.
On Abandoned Unto The Sky they play faster. It's a catchy track, at least for this genre, and apart from the interesting rhythm changes, you also hear some delicious bass grooves.
The nine minute Paradise In Flames is a strong track with an epic feel. The violin in the intro gives it a romantic/gothic character. Again, a very original song for this genre. It starts with a melodic guitar, and after seven minutes (when the climax arrives) we hear a more heavy and dark metal sound.
The Silent Transition is the final song: an instrumental composition that resembles the opening track, or in other words: a perfect ending.
Compared to their debut The Cusp Of The Void, Dalla Nebbia made a great leap forward. Musically and productionally it is much better. It sounds more compact and mature, and it's black metal without the use of clichés. Lyrically there are no surprises though, because it's about death, rotting, being doomed... No, not exactly cheerful stuff, but in its genre a quite unique album.
Wim GUILLEMYN
25/11/2015
---
Verleden jaar nog besprak Peek-A-Boo het debuut van de doommetalband Mesmur. Twee leden uit die band met name gitarist Yixja en drummer Alkurion maken ook deel uit van Dalla Nebbia. Daarnaast hebben ze ook nog een bassist Tiphareth, programmeur Zduhac, violiste Sareeta en gitarist Aort die op een paar nummertjes een bijdrage leveren.
Zo krijgen we een blackmetalalbum met progressieve, doom- en deathmetalelementen. De openingstrack Momento Mori is een middeleeuws klinkende instrumentale track die gecomponeerd is met een klavecimbel, akoestische gitaar, synths, viool en fluit. Heel sfeerrijk en episch.

Deze intro gaat over in Until The Rain Subsides. De baslijn klinkt erg goth, terwijl de zang typisch voor het genre is: donker, onheilspellend en soms met grunts. Wat ze wel doen is de zware stem en de grunt niet alleen met de cleane zang afwisselen, maar ze op elkaar leggen. Dat levert een fijn resultaat op en maakt het net iets lichter verteerbaar.
Op Abandoned Unto The Sky spelen ze een versnelling hoger en dat gaat hen wel goed af. Het is een vrij catchy track, ten minste voor dit genre toch, met duidelijke overgangen en ritmewissels. Ook interessante basgrooves hier.

Lament of Aokigahara begint met een obscuur klinkende bas en synthlijn. De melodische kant van de muziek is het werk van zowel Yixja (via de licks en riffs) als Zduhac. Beide lijnen worden mooi met elkaar verweven. Ook het negen minuten durende Paradise In Flames is een sterke track met epische neigingen. De viool in de intro geeft het een romantisch/gothisch karakter. De verdere ontwikkeling van de song is origineel voor het genre. Er wordt gekozen om met een melodische gitaarlijn de song op gang te trekken. Pas na zeven minuten krijgen we als climax meer zware en donkere metal.

Daarna volgt The Silent Transition, de afsluitende instrumentale track die qua sfeer en structuur van hetzelfde soort is als de opener of m.a.w. een mooie afsluiter.
Ten opzichte van hun debuut The Cusp of the Void ,is Dalla Nebbia er een stuk op vooruitgegaan. Muzikaal en productioneel zit het beter in elkaar. Het geheel klinkt een stuk compacter en meer volwassen, en het is blackmetal zonder clichés. Tekstueel zijn er geen verrassingen, want het gaat over dood, het wegrotten, het gedoemd zijn… Neen, je wordt er niet meteen vrolijk van. In het genre een behoorlijk origineel album.
Wim GUILLEMYN
25/11/2015
---