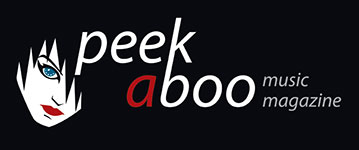 like this movie review
---
DANY BOON
Supercondriaque
Movie
Comedy
[57/100]

Paradiso
12/11/2014, Didier BECU
---
In France Dany Boon is king. He is famous, but you will also find people who dislike the French comedian because he can be compared to Louis de Funès : you laugh with with him or he just annoys you.
We have no problems with such humor, because a person also has the right to amuse himself, hasn't he? We just want good films and that's not the case with Supercondriaque. Dany Boon plays the hypochondriac Romain Faubert who suffers from a fear of contamination. He sees bacteria everywhere and even kissing or touching a doorbell is out of the question. His best friend is his doctor Dimitri (Kad Merad). By coincidence Romain changes identity with the rebel Anton Miroslav (Jean -Yves Berteloot ) of the imaginary country Tsjerkistan.
Just like the Funès, Boon is keen on making silly faces. That works in some scenes, but because he is not really a good actor it's annoying as well. In hits like Bienvenue Chez Les Ch'tis or Rien à Déclarer with Benoit Poelvoorde he was not too bad, but it what he does, doesn't work in Supercondriaque, especially not because the whole cast is overacting. Only for people who want to see all the French boulevard comedies, they do exist!
Supercondriaque is now out on DVD through Paradiso Films
Cast: Dany Boon, Kad Merad , Alice Pol , Judith El Zein
Director: Dany Boon
Genre : Comedy
DVD Audio : French DTS 5.1 , French Dolby Digital 5.1
Subtitles : Dutch
Didier BECU
12/11/2014
---
In Frankrijk is Dany Boon een heel klein beetje koning en ook daarbuiten heeft de man een horde fans. Daar kun je wellicht evenveel mensen tegenover zetten die een grondige hekel aan de Franse komiek hebben, want het is een beetje zoals met Louis de Funès: of je zit te schaterlachen of je ergert je dood.
Wij hebben geen problemen met platte humor, want een mens moet zich ook eens kunnen amuseren, niet? Alleen hebben we dat graag in goede films en dat is Supercondriaque helemaal niet. Dany Boon vertolkt de hypochonder Romain Faubert die aan smetvrees lijdt. Hij ziet in alles bacteriën, zelfs een kus geven of een deurbel aanraken is uit den boze. Zijn beste vriend is de weinig interessante huisarts Dimitri (Kad Merad). Door een stom toeval wisselt Romain van identiteit met de rebel Anton Miroslav (Jean-Yves Berteloot) uit het verzonnen land Tsjerkistan.
Net zoals de Funès houdt Boon van smoelen trekken. Dat lukt in bepaalde scènes, maar doordat hij niet echt een goede acteur is gaat dat gauw op de zenuwen werken. In hits als Bienvenue Chez Les Ch'tis of het douanevehikel Rien à Déclarer met Benoit Poelvoorde viel dat allemaal best mee, maar niet in Supercondriaque, zeker niet als je weet dat de hele cast zich schuldig maakt aan storende overacting. Alleen maar voor mensen die alle Franse boulevardkomedies willen zien, ze bestaan hoor!
Supercondriaque is vanaf nu uit op dvd via Paradiso Films.
Cast: Dany Boon ,Kad Merad , Alice Pol, Judith El Zein
Regie: Dany Boon
Genre: Comedy
Geluid dvd: Frans DTS 5.1, Frans Dolby Digital 5.1
Ondertitels: Nederlands
Didier BECU
12/11/2014
---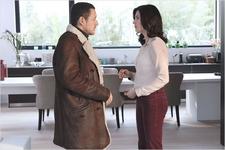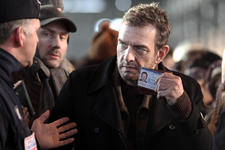 ---