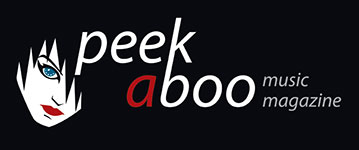 like this concert review
---
DARK STORM FESTIVAL
Chemnitz, Germany (25/12/2014)
Concert
13/01/2015, Britta Tabrit
---
When I read about the line-up at Dark Storm Festival on December 25th 2014 in Chemnitz, Germany, I decided to go there during my Christmas holidays.
After driving by car from the very west of Germany to the very east, I arrived in Chemnitz around 4 pm. As it was the first time for me there, I was keen on knowing more about the location. I entered the Stadthalle around 5 pm and there were already lots of people standing in the lobby area. There were several merchandise booths and the possibility to buy food and beverages. Ost+Front was already performing on one of the two stages when I arrived. The show was interesting, but nothing special in my opinion. Something I've experienced a couple of times. Maybe because it's not necessarily my taste in music.
At 6 pm I met Erk Aicrag, singer of Hocico and Rabia Sorda for an interview. After this quite relaxing time, I went to one of the stages to see Grausame Töchter whose gig I really liked. Very impressive and entertaining at the same time. It was a pleasure listening to them! Hopefully I will be lucky and get another chance again soon!
Afterwards I checked out Dive. The show was rich in variety and the damn good music astonishing. Honestly a positive surprise! I can highly recommend that band! After having a cocktail and something to eat, I was looking forward to seeing Welle:Erdball again. I had not attended their shows for years, but when Alf, Honey, Lady Lila and Fräulein Venus entered the stage, it was like coming home. I really enjoyed the mix of old and new songs and I was quite satisfied with my decision to go to Chemnitz now.
Later that evening there was Erk Aicrag performing with Hocico. Unfortunately el maestro Racso Agroyam was not there due to illness. But Erk managed to have Marcus Engel on the keyboard. Marcus usually is the guitarist of Erk's second music project Rabia Sorda. Even though no one can replace Racso, Marcus did an awesome job while Erk was giving hell to the audience in his unique and ineffable thrilling way. A real loud experience that left me "deaf" for several hours.
At the end there was Project Pitchfork's show, real masters of music! An excellent appearance, wonderful songs and a fantastic atmosphere completed a diverting evening in Chemnitz.
When I stepped outside to get some fresh air, the world was covered in snow and reminded me of the fact that it was still Christmas ! I guess this was not my last visit there, thanks Chemnitz!
Britta Tabrit
13/01/2015
---