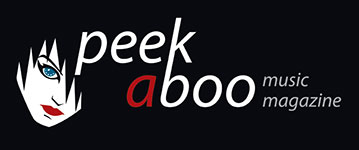 like this album classics review

---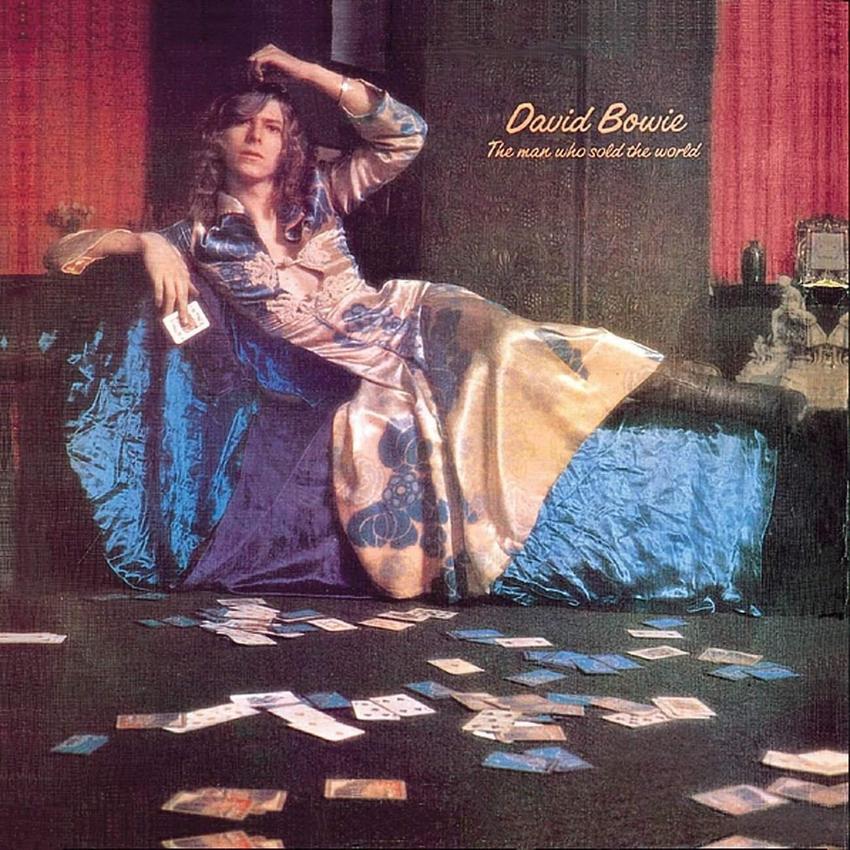 DAVID BOWIE
The Man Who Sold The World
Music
•
Album Classics
08/12/2016, Kevin HEWICK
---
Over four decades later, I can't recall the reason why my parents and I drove the 70 plus miles for a day trip on a Sunday to a closed down seaside town, I can't even recall which seaside town it was.
I think it was Sutton On Sea. It's 1971, I'm 14, I'm bored, still a kid, attached to my parents, yet detached. Nothing about this magical mystery tour appeals to me, except... I see a record shop. OK, it's a CLOSED record shop, but at least it's got albums on display in its window. Somebody working in that Sleepytown record store had a sense of subversion, either that or they just didn't look at the images on the record covers. One stood out, big time.
It was a picture of a man, lounging on a sofa of some sort. A man. In a dress. A beautiful dress. He looked like Greta Garbo(he was later to pronounce that he was the twisted name on Garbos eyes).
The cards scattered on the floor were a tarot pack, not that I understood that at the time. Must apt for here was the future before my very eyes, because this wasn't just the man (dressed a woman) who sold the world, this was the man who was about to change the world.
But that was to take time.
It's probably hard for people to comprehend just how David Bowie's career slumped after Space Oddity. Despite the excellence of the album of the same name by 1970 he was mostly regarded as a one hit wonder. In my home city Leicester legend has it that he and The Hype (Mick Ronson, Woody Woodmansy and Tony Visconti) played to a grand total 11 people at the Il Rondo club.
For all the frockery shockery The Man Who Sold The World sold 68 copies in the UK in its first week of release.
"He was more broke than me" Roy Haroer.
But David Bowie knew one thing. He knew he was David Bowie. He believed his time would come again.
He was right. Ideas were flowing from him and around him, phenomenal ideas about music, lyrics, presentation, style. He also had new secret weapons, his new wife Angie, and a new guitarist called Mick Ronson, both massively influencing what was to come..
The Width Of A Circle arrives on a wave of feedback like a manifesto, the ultimate epic album opener (a feat he was to pull off again 5 years later with Station To Station). Width sounds possessed and its lyrics are a scramble of occult and homo-erotic images. In the early 70s its themes of demonic seduction seemed especially striking and its gay sex references had no precedent except in the then little known work of The Velvet Underground.
Kahlil Gibran namechecked by talking blackbirds, "I realised that God's a young man too", "the monster was me", leather belts, swaying above, "the burning pit of fear" and 'Devil's love'. What the hell was he on about? "
The sonic attack in all this is driven by Woodmansy's dramatic drums, Visconti's madly high in the mix bass and Ronson's orgasmic lead guitar. At 2.10 he launches into what must be one of the greatest guitar solos of all time. He doesn't so much play the guitar as fuck the thing. It's one of the most staggering 40 seconds of guitar fucking ever.
They sound like Cream gone mad. They sound like Cream but take it somewhere else.
"..A spitting serpent horned and tailed / waiting for you.."
Much is made of this albums preoccupation with madness. Bowie knew mental instability all too well especially through his half brother Terry's struggle with an illness that would eventually drive him to suicide. All The Madmen seems brilliantly inside that mindset, says I'n happy to be mad, leave me here, leave me be against a pretty backing of sweetly loony recorders pushed aside by Ronson's burning riffery. There even seems to be a joyousness to it, the lad insane celebrating his insanity. But behind the 'joy' is a hint of something darker:
- "I will do me harm".
Even within the apparent jocularity of 'Black Country Rock' the view can be "much too crazy". Ronson is again a revelation, duelling with himself on some exquisite riffs, and Bowie doing a wicked impersonation of Marc Bolan on the last verse. The glam rock template is in place already two years ahead of Ziggy.
The side ends on the icily beautiful 'After All', sung with a flat, detached, delicate delivery with Bowie trademark Stylophone warbles as eerie varispeed 'Laughing Gnome' backing voices wail "Oh by jingo".It's a mature and haunting masterstroke that seems utterly timeless, part of no trend and a preview of "the mindwarp pavilion' of 'Quicksand' and the chill of 'The Bewlay Brothers'.
Though recording had only began in February 1970 the mood throughout is very un-sixties. "We're painting our faces and dressing in thoughts from the skies" seems a wistful throwback. We're "older children" "taller children" and "nobody's children" now and the narrator even asks for forgiveness: "I've borrowed your time and I'm sorry I've called"
The other side of the disc flips the other side of the coin, the gleefully psychopathic protagonist of 'Running Gun Blues' seems all too recognisable from the repetitious tragedy of our 21st century mass shootings. "I've cut twenty three down since Friday".
Ralph Mace's ahead of its time synthesiser comes into its own here, and on 'Saviour Machine' where the Balladian technological leper messiah pulls the plug on the peaceful Utopian paradise it oversees, an artificial intelligence nervous breakdown no less. "Life is too easy. A plague seems quite feasible now or maybe a war, or I may kill you all."She Shook Me Cold is the demented glam punk sister of Black Country Rock and has the band in full on Cream style mode again with Ronson again doing some dizzyingly show stopping steroid boosted guitar and Visconti bass boosted to speaker blowing levels.
Lyrically Bowie outcocks cock rock "I had no time to spare/ I grabbed her golden hair" but finds that he gets his brain - and other parts of his anatomy - blown. Ziggy is being born before our very ears.
It's a sign of Bowies burgeoning artistry that he still has anything fresh left to give for the albums conclusion. The title track is one of his most enduring creations, as subtle as rock can get, ambiguous and enigmatic. David knows he is a major artist, the world just wasn't going to catch up with that fact for a while.
Who is the man who sold the world? Is it you or is it me? Was it Lulu?
The collection closes with the burned out Supermen, the twilight of the Gods. " I ain't got the power anymore" indeed.. "No death for the perfect men". The lustful energies of The Width Of A Circle are spent.
This album was destined to really reach its audience a couple of years later with its repackaged RCA reissue after Hunky Dory and The Rise And Fall Of Ziggy Stardust. The hunger for all things Bowie - and Ronson - was at its height and this set did not disappoint. Surely no ready-made back catalogue was ever as effective as this one was.
And David had many changes ahead. The 70s were his like the 60s were to The Beatles. His early steps were as assured as any to come but here is where it really comes together in a totally classic form.
And I am still as impressed as when I saw that man in that dress in that record shop window…
Kevin HEWICK
08/12/2016
---
Meer dan vier decennia later, ik kan mij de reden niet meer herinneren, reden mijn ouders 100 kilometer ver voor een dagje uit naar een gesloten badplaats, ik kan me niet eens herinneren welke badplaats het was. Ik denk dat het Sutton On Sea was. Het is 1971, ik ben 14, verveelde me, nog een kind dat gehecht was aan mijn ouders, maar toch los. Niets spreekt mij aan, behalve... een platenzaak. OK, het is gesloten, maar in ieder geval zie ik de albums in het uitstalraam. Iemand die in een platenzaak werkt die Sleepytown heet, voelt bijna subversief. Ik zie een foto van een man, liggend op een zetel. Een man. In een jurk! Een mooie jurk. Hij zag eruit als Greta Garbo (later zou blijken dat hij dezelfde ogen als Garbo had). De tarotkaarten liggen verspreid op de vloer, ik begreep dat toen niet. Was dit beeld wel geschikt voor mijn toekomst? Een man (gekleed een vrouw) die de wereld verkocht, dit was de man die op het punt stond om de wereld te veranderen!Maar dat zou tijd vragen.

Het is waarschijnlijk moeilijk om te begrijpen hoe David Bowie 's carrière na Space Oddity in elkaar zakte. Ondanks de kwaliteit van het album uit 1970 werd hij vooral als een onehitwonder beschouwd. In mijn woonplaats Leicester zegt men dat hij er ooit samen met Mick Ronson , Woody Woodmansy en Tony Visconti in de Il Rondo club speelde, voor 11 mensen! Zou best kunnen, The Man Who Sold The World verkocht welgeteld 68 exemplaren in het Verenigd Koninkrijk in de eerste week van zijn release.

Maar David Bowie wist één ding. Hij wist dat hij David Bowie was. Hij geloofde dat zijn tijd terug zou komen.Hij had gelijk. De ideeën vloeiden van hem af, fenomenale ideeën over muziek, lyrische gedichten , de presentatie , de stijl. Hij had ook nieuwe geheime wapens, zijn nieuwe vrouw Angie, en een nieuwe gitarist Mick Ronson.

The Width Of A Circle is een manifest, het is de ultieme opener van een album (een prestatie die hij vijf jaar later op Station To Station zou herhalen). De song klinkt bezeten en de teksten zijn occult, en dan zijn er nog de homo-erotische verwijzingen. In de vroege jaren '70 zijn thema's als demonische verleiding en homofilie bijna onbesproken, behalve in het minder bekende werk van The Velvet Underground.

De sonische aanval wordt aangedreven door de dramatische drums van Woodmansy, Viscontis waanzinnige bas en Ronso's orgastische gitaar. Op de tweede minuut lanceert hij een van de beste gitaarsolo's aller tijden. Hij speelt niet de gitaar, hij neukt ermee. Het is een van de meest duizelingwekkende 40 seconden gitaarneuken die ik ooit heb gehoord. Ze klinken als een gek geworden Cream, maar ze doen er iets compleets anders mee.

Een groot deel van dit album gaat over waanzin. Bowie wist maar al te goed wat mentale instabiliteit betekent zijn halfbroer Terry streed tegen schizofrenie en het zo hem uiteindelijk naar zelfmoord leiden. All The Madmen lijkt briljant, met de gitaar van Ronson zelfs licht van ondertoon: ik ben blij dat ik gek ben. Een man die blij is om krankzinnig te zijn, maar achter de 'vreugde' schuilt iets donker.

"I will do me harm".

Ook Black Country Rock klinkt op het eerste gezicht grappig: het uitzicht kan "veel te gek" zijn. Maar het is meer dan dat. Ronson is alweer magnifiek, hij duelleert met zichzelf tijdens een aantal prachtige riffs en Bowie maakt een slechte imitatie van Marc Bolan op de laatste strofe. Ziggy is er nog niet, maar de glamrock is al geboren.

De A-kant eindigt met het wondermooie After All. De stem van Bowie klinkt losjes, delicaat en wat vrijgevochten. Het vrolijke stemmetje van Laughing Gnome is weg, het wordt angstaanjagend en meer volwassen. Een beklijvende meesterzet, maar het is geen trend. Hier kon je al The Bewlay Brothers en Quicksand in horen.

Hoewel de opnames in februari 1970 begonnen, hoor je hier maar weinig de invloed van de sixties in. "We're painting our faces and dressing in thoughts from the skies", het lijkt weemoedig. We zijn "oudere kinderen" "grotere kinderen" en "kinderen van niemand" en de verteller vraagt ​​zelfs om vergeving: "I've borrowed your time and I'm sorry I've called".De andere kant van het schijfje toont de andere kant van de medaille, de vrolijk psychopathische hoofdpersoon van Running Gun Blues zouden we in de 21ste eeuw nog in talrijke tragische massale schietpartijen tegenkomen.

"I've cut twenty three down since Friday".
Ralph Mace was zijn tijd ver vooruit, zoals je op zijn synthesizerwerk in Saviour Machine kon horen.

"Life is too easy. A plague seems quite feasible now or maybe a war, or I may kill you all."

She Shook Me Cold is de demente glampunkzuster van Black Country Rock waardoor de band volop als Cream klinkt, opnieuw met een niet te stoppen en duizelingwekkende Ronson, een gitaar die met steroïden is versterkt en de bas van Visconti die de luidsprekers omver blaast.

Tekstueel is Bowie ook op het allerhoogste niveau: "I had no time to spare/ I grabbed her golden hair". Zonder dat we het echt beseffen, wordt Ziggy geboren.

Het is een teken van Bowies ontluikende kunstenaarschap, en dat hij nog steeds iets fris in petto heeft vooraleer de plaat eindigt. Het titelnummer is een van zijn meest beste creaties , subtiel, dubbelzinnig en raadselachtig. David weet dat hij een belangrijke kunstenaar is, de wereld was gewoon nog niet klaar voor hem.
Who is the man who sold the world? Is it you or is it me? Was it Lulu?

De plaat sluit af met The Supermen , de schemering van de goden. Dit album was voorbestemd om zijn publiek pas een paar jaar later te bereiken door heruitgave van RCA na Hunky Dory en The Rise And Fall Of Ziggy Stardust. De honger voor Bowie - en Ronson – was op zijn hoogtepunt was en deze keer stelde de lp niet teleur. Nooit was backcatalogue zo effectief en pasklaar als toen.

En David had nog veel veranderingen in petto. De jaren '70 waren voor hem wat de jaren '60 voor The Beatles waren. Zijn eerste stappen waren verzekerd.

En ik ben nog steeds onder de indruk als de man in die jurk in het uitstalraam zie…
Kevin HEWICK
08/12/2016
---