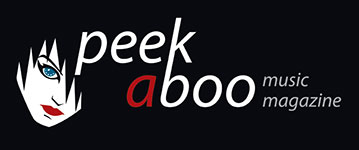 like this movie review
---
DAVID LAMBERT
Je Suis A Toi (FilmFest Ghent 2014)
Movie
Drama
•
Gay
Filmfest Gent
17/10/2014, Didier BECU
---
This year's edition of FilmFest Ghent features ten Belgian movies. Of course all spotlights are aimed to the remake from The Loft by Erik Van Looy as opener (and according to jury member Bret Easton Ellis the dumbest picture he has ever seen), but we like to concentrate ourselves to what's happening in the south of Belgium. Not everyone will be happy with this statement, but the best movies are made in Wallony. Social dramas that upset the viewer because they're so real, hard stories that happen on the corner of every street. David Lambert is such a movie maker. After his debut Hors les Murs, it became clear that he was a cinematographer to follow and his newest movie Je Suis A Toi is just the confirmation of that!
You can compare his style with the one from the Dardenne-brothers, even if he adds more (explicit) sex. According to him that's because sex is just like our daily bread: it comes every day on the table. Je Suis A Toi tells the sad story about the young escort boy Lucas (Nahuel Pérez Biscayart) from Buenos Aires. During one of his chats, the Belgian baker Henry (Jean-Michel Balthazar) invites him to search his luck in the little village from Hermalle. Lucas gets a job in the bakery, but he's forced to share the bed with his boss. This silly plan never seems to work, and Lucas even falls in love with the beautiful widow Audrey (Monia Chokri) who works in the shop.
A very heavy subject to deal with, but Lambert makes it lighter by adding now and then a joke. Of course you don't feel well afterwards, but it's a part of the society we're living in. Maybe, Deux Jours, Une Nuit is indeed the best Belgian movie from this year, but I wonder if those who say this already have seen Je Suis A Toi. Splendid.
Didier BECU
17/10/2014
---
Dit jaar zijn er zo waar tien Belgische titels opgenomen in de programmering van het Filmfestival van Gent. Natuurlijk is The Loft van Erik Van Looy als openingsfilm de publiekstrekker (en volgens juryvoorzitter Bret Easton Ellis het domste wat hij ooit heeft gezien), maar wij verdiepen ons toch liever in het zuiden van ons Belgenlandje. Want tja, ook al zullen sommige flamiganten er niet mee kunnen lachen is het toch zo dat de beste Belgische cinema in Wallonië wordt gemaakt. Niet het relaas over bier zuipende amateurvoetballers, maar sociale drama's die de kijker een uppercut van jewelste bezorgen. David Lambert is zo'n filmmaker. Na zijn debuut Hors les Murs werd het al gauw duidelijk dat deze Waal een cineast was waarmee rekening moest worden gehouden en dat wordt met zijn nieuwste Je Suis A Toi nogmaals bewezen.
Je zou zijn stijl het best met die van de Dardenne-broers kunnen vergelijken, alleen komt er bij Lambert wat meer (expliciete) seks bij kijken. Naar eigen zeggen, gewoon omdat dat dit zoiets is als ons brood: het komt elke dag op tafel. Je Suis A Toi vertelt het trieste verhaal van de jonge prostituee Lucas (Nahuel Pérez Biscayart) die in Buenos Aires als escortjongen werkt. Tijdens een van zijn chats overtuigt de Belgische bakker Henry (Jean-Michel Balthazar) hem om zijn geluk in het Waalse dorpje Hermalle te komen zoeken. Hij krijgt een baantje in de bakkerij, alleen moet hij wel het bed delen met zijn baas. Vanaf het begin lijkt alles er op dat dit dwaze plan geen kans van slagen heeft, bovendien wordt de jonge Argentijn verliefd op het knappe winkelhulpje Audrey (Monia Chokri).
Een loodzwaar onderwerp, maar de steen op de maag wordt wat lichter omdat Lambert geregeld wat grapjes tussen het drama steekt. Je Suis A Toi biedt een heldere (maar tegelijkertijd ook keiharde) blik op de maatschappij. Het voelt helemaal niet lekker aan, maar je weet dat dergelijke kleine drama's zich op de hoek van elke straat afspelen. Tja, misschien is Deux Jours, Une Nuit wel de Belgische film van het jaar, maar zouden de mensen die dat beweren Je Suis A Toi reeds hebben gezien?
Didier BECU
17/10/2014
---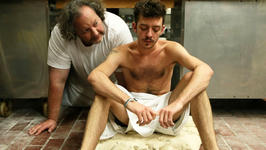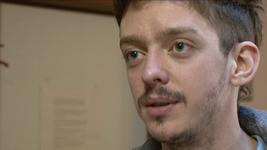 ---