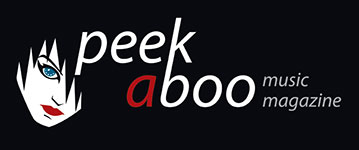 like this movie review
---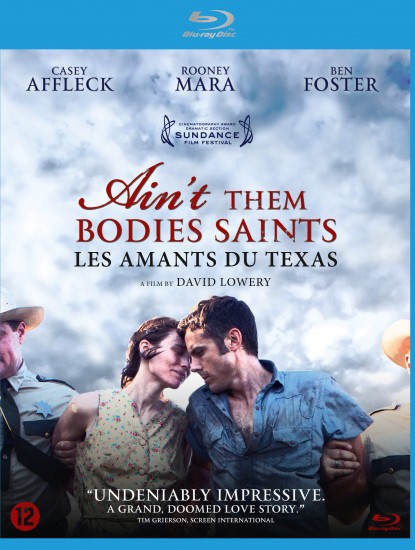 DAVID LOWERY
Ain't Them Body Saints
Movie
Drama
[73/100]

A-Film
07/08/2014, Didier BECU
---
While brother Ben is preparing himself to battle Superman as Batman, youngster Casey Affleck chooses (at least for now) the path of independent cinema. Last year the actor was hailed for his performance in Ain't them Bodies Saints at several filmfestivals. A deserved triumph as this intimate modern neo-noir western shows that the man behind the camera, David Lowery, is someone we better follow. Even if he cites western legend John Ford as his main inspiration, the American director is often compared to Terrence Malick: the cinematographer from Badlands and The Tree of Life who drive some movie fans insane by filming everything slow and using his camera to portray landscapes and human emotions. Just watch To The Wonder and you know what we're talking about.



Ain't Them Bodies Saints is a film as such. There isn't that much happening in the story about thug Bob (Casey Affleck), but the movie impresses nonetheless. Somewhere during this 70's the crook is hiding himself with girlfriend Ruth (Rooney Mara whom you know from The Girl with the Dragon Tattoo) in a barn. It ends up in a gunfight with cop Patrick Wheeler (Ben Foster) getting wounded. Bob is forced to go to jail, but no one knows that it was pregnant Ruth who fired the gun. Years later Bob escapes from prison as he finally wants to look in the eyes of his daughter, but in the mean time his former lover formed an intense friendship (or is it more?) with her victim.


This romantic crime drama not only has a great directing and brilliant performances (Casey is indeed better as Ben), but there's also the magnificent camera work from Bradford Young. Fans who only want action will probably be disappointed, but if you were ever seduced by The Assassination of Jesse James by the Coward Robert Ford (also starring Casey Affleckin) then you'll like Ain't Them Bodies Saints too. You better watch out for Casey as soon you can see him in Interstellar: the brand new science fiction blockbuster from Christopher Nolan.


Ain't Them Bodies Saints is out on A-Film, on both DVD and Blu-ray.
Didier BECU
07/08/2014
---
Terwijl grote broer Ben binnenkort als Batman met Superman in de clinch zal gaan, verkiest Casey Affleck (voorlopig) het pad van de kleinere film. Vorig jaar liep hij met Ain't them Bodies Saints op diverse filmfestivals (van Sundance tot Gent) in de kijker. Terecht, want deze intimistische moderne neo-noir western verraadt dat er een man achter de camera staat die we maar best in het oog houden: David Lowery. Ook al citeert de cineast westernlegende John Ford als zijn inspiratie, wordt de Amerikaan toch het meest met Terrence Malick vergeleken: de maker van Badlands en The Tree of Life die sommige filmfans de gordijnen injaagt omdat hij alles zo traag filmt en zijn camera hanteert om landschappen en vooral gevoelens te filmen. Kijk naar het geniale To The Wonder en je weet waarover we het hebben.


Ain't Them Bodies Saints is ook zo'n film. Er gebeurt bitter weinig in het relaas van gangster Bob (Casey Affleck), maar het is wel een prent die indruk maakt. In de jaren 70 verschanst de boef zich samen met zijn liefje Ruth (Rooney Mara die je wel kent uit The Girl with the Dragon Tattoo) in een schuur. Helaas loopt dat verkeerd af. Tijdens de schietpartij wordt agent Patrick Wheeler (Ben Foster) door een kogel getroffen waardoor Bob een aantal jaren achter de tralies moet. Niemand weet dat het de zwangere Ruth is die het schot heeft afgevuurd. Jaren later ontsnapt Bob uit zijn cel omdat hij eindelijk zijn dochter in de ogen wil kijken, maar ondertussen heeft zijn toenmalig liefje een intense vriendschap (of is er meer?) met haar slachtoffer begonnen.


Deze romantische misdaadfilm kan niet alleen rekenen op een knappe regie, verbluffende acteerprestaties (Casey is echt wel beter dan Ben) maar ook op het oogverblindende camerawerk van Bradford Young. Filmliefhebbers die louter voor de actie gaan zullen het moeilijk hebben om anderhalf uur geboeid te blijven, maar wie zich ooit liet verleiden door bijv. The Assassination of Jesse James by the Coward Robert Ford (met ook Casey Affleckin de hoofdrol) zal aan Ain't Them Bodies Saints een mooie kluif hebben. Die Casey moet je trouwens in de gaten houden want binnenkort kan je ook hem in Interstellar zien: de nagelnieuwe blockbuster van wonderkind Christopher Nolan.


Ain't Them Bodies Saints is nu uit op A-Film, zowel op dvd als Blu-ray.
Didier BECU
07/08/2014
---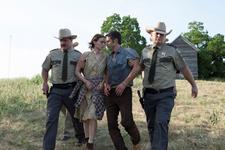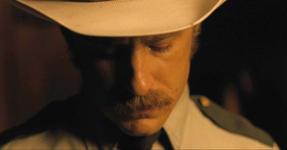 ---