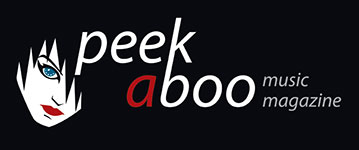 like this movie review
---
DAVID MACKENZIE
Starred Up
Movie
Crime
•
Drama
[78/100]

Homescreen
30/10/2014, Didier BECU
---
We surely don't wish it ever happens, but if you end up in a British jail and you hear that someone has been starred up, that means that he has been transferred from the youth prison to the adult section just because he was too violent to deal with.
This happens to the 19-year old Eric Love (Jack O'Connell), a brute you better don't meet in the street. The young convict only understands the language of violence. Immediately after he arrives in the Glasgewian prison he sets his rules. He's feared by guards, and when Eric freaks out, you can be sure that there will be blood on the floor! In the same building also resides his dad (Ben Mendelsohn), who informs him that he can always count on him if things turn bad because in jail no one behaves like a pussy. Despite his aggression, social worker Rupert Friend Oliver (Rupert Friend) believes there is hope for Eric.
Indeed, this insane story looks like it's been penned down for another Sylvester Stallone action flick, but the script is written by Jonathan Asser who worked twelve years in prison himself and was inspired by true events. Director David Mackenzie who previously made Young Adam has come up with a brutal prison drama that at the end turns out a bit too mellow. You soon forget thatas the movie is saved by the excellent performance of Jack O'Connell. Mackenzie proceeded as if Starred Up was a documentary; he never chooses sides: the viewer is put between walls to make up his own mind. The young crook is in fact a criminal thug from whom you know that he has no future left. Our humanity requires us to give such people another chance, while the guards are just doing their job.
Starred Up is now out via Homescreen on DVD.
Technical specifications:
Cast: Jack O' Conell Ben Mendelsohn Rupert Friend
Director: David Mackenzie
Genre: Drama
Length: 106 minutes
Country: UK 2013
Didier BECU
30/10/2014
---
We wensen het onze lezers niet toe, maar mocht je ooit in een Britse nor terechtkomen en je hoort dat iemand "starred up" is dan betekent dit dat het om een bajesklant uit de jeugdgevangenis gaat die zo gewelddadig is dat men hem gemakshalve naar een strafinrichting voor volwassenen heeft gestuurd.
Deze twijfelachtige eer overkomt de negentienjarige Eric Love (Jack O'Connell): een bruut wiens pad je maar beter niet kruist. De gedetineerde kent alleen maar de taal van de vuisten en meteen bij zijn aankomst laat hij verstaan dat je hem maar beter laat begaan. Eric is de schrik van de cipiers. Als de jonge kerel zijn kuren krijgt, mag je er zeker van zijn dat er rake, pijnlijke klappen vallen. De appel valt niet ver van de boom, want in diezelfde gevangenis zit ook zijn vader (Ben Mendelsohn) die zijn zoon de raad heeft om zich niet te laten kleineren. Ondanks zijn agressie is de maatschappelijke werker Rupert Friend Oliver (Rupert Friend) ervan overtuigd dat er hoop is voor Eric.
Het verhaal lijkt wel op een ontspoord Hollywoodscenario die men voor Sylvester Stallone heeft bedacht, maar is wel degelijk door Jonathan Asser geschreven die zelf twaalf jaar in de gevangenis werkte en zich liet inspireren door zijn ervaringen. Regisseur David Mackenzie die eerder in de kijker liep met Young Adam heeft een keihard gevangenisdrama gemaakt dat op het einde net iets te melig wordt, maar wordt gered door de uitmuntende vertolking van Jack O'Connell. Mackenzie filmt alles vanuit een stijl die bijna op een documentaire lijkt zonder partij te kiezen. De jonge misdadiger is een stuk uitschot waarmee je niks kan aanrichten, maar onze menselijkheid verplicht er ons toe om zo'n iemand alsnog een kans te gunnen, terwijl de cipiers ook maar hun job uitoefenen. Stof voor discussie dus!
Starred Up is vanaf nu uit op Homescreen via DVD.
Technische specificaties:
Cast: Jack O' Conell Ben Mendelsohn Rupert Friend
Regie: David Mackenzie
Genre: Drama
Lengte: 106 min.
Herkomst: Groot Brittannië 2013
Didier BECU
30/10/2014
---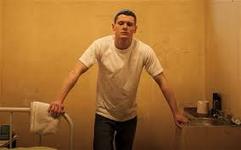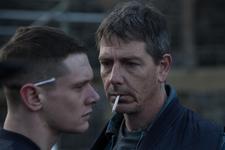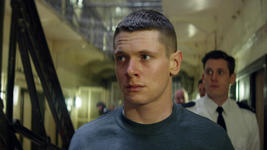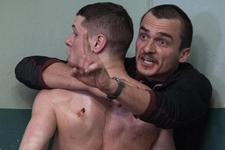 ---