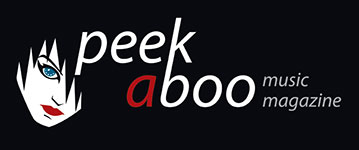 like this movie review
---
DAVID TWOHY
Riddick
Movie
Action
•
Adventure
•
Science Fiction
[52/100]

Dutch FilmWorks
20/01/2014, Didier BECU
---
2013 had to be one of the best years for Vin Diesel, but sadly enough this got totally overshadowed by the tragic death of his buddy Paul Walker. Luckily enough for him, he still could count on his many fans as the third Riddick-movie became once again a hit. Diesel could only laugh about this, as he was forced to produce the movie himself as The Chronicles of Riddick (the sequel of Pitch Black that made a star out of Diesel) was a disappointment.

Vin Diesel among the ugly animals, that's how you can describe the story in a nutshell. Things aren't going well with Richard B. Riddick. At the beginning of the movie some hungry vultures are eating his limbs. But why worry? According to the hero himself he has faced other things and at the end of the day he always came back. This time Riddick got chased by two gangs of mercenaries who are extremely dumb. Ten men and one woman are hired to chain Riddick. Dead or alive, it doesn't matter...but of course you know from the very first second who'll win.
The third part is in America known as The Chronicles of Riddick: Dead Man Stalking, but in Europe it simply got shortened to Riddick. That's a wise decision as the story of this sciencefictionmovie isn't important at all. Riddick is in the first place a visual fest in where maker David Twohy can totally use his rich imagination. Those who like futuristic (kitschy) visions will be once again delighted as some of the breathtaking decors seem to come straight out of Barbarella by Roger Vadim. The banal script doesn't put us off as Vin Diesel for once doesn't work on our nerves. After all, he's just playing a brainless macho, and who's better than him for performing such a role?
Riddick is released on Dutch Film Works as a very handy combopack in where you can find both the DVD and Blu-Ray.
For the fans there are plenty of extra's such as: The Twohy Touch, Riddickian Tech, Vin's Riddick, Meet The Mercs, The World Of Riddick en Riddick: Blindsided.
Didier BECU
20/01/2014
---
2013 moest één van de beste jaren voor Vin Diesel worden, maar dat werd jammer genoeg overschaduwd door de tragische dood van zijn Fast & Furious-maatje Paul Walker. Gelukkig voor hem had hij wel nog zijn talrijke fans, want die zorgden er opnieuw voor dat Riddick het nodige geld in het laatje bracht. En dat was nodig, al was het maar zodat Vin Diesel de middelvinger kon opsteken naar de Hollywoodbonzen. Na de eerder teleurstellende box office van The Chronicles of Riddick (het vervolg op Pitch Black die van Diesel een ster maakte) werd de kaalkop immers gedwongen om zelf producer van zijn derde luik te worden.

Vin Diesel tussen de lelijke beesten, zo kun je eigenlijk het best de nieuwe avonturen van Richard B. Riddick omschrijven. Het gaat helemaal niet goed met de actieheld, want de film begint met een scène waarin hongerige gieren vlees uit zijn ledematen pikken. Maar niet getreurd, want naar eigen zeggen is de spierbundel meer gewoon dan dat en keert hij steeds opnieuw terug. In het derde deel wordt Riddick achterna gezeten door twee huurlingenbendes die vooral uitblinken door hun domheid. In totaal zijn er tien mannen en een vrouw (of zeg maar beter manwijf!) die Riddick in de boeien willen slaan. Dood of levend, het maakt niet uit, maar vanaf de eerste minuut weet je natuurlijk wie er aan het kortste eind zal trekken.

Dit derde deel dat in Amerika bekend staat als The Chronicles of Riddick: Dead Man Stalking werd in Europa ingekort tot Riddick. Misschien al bij al een goede beslissing, want eigenlijk is de inhoud van deze scifi-actieprent van ondergeschikt belang. Deze film is vooral een visueel festijn waarin maker David Twohy zich weer naar hartenlust kan uitleven. Wie een zwak heeft voor futuristische beelden, zal zonder twijfel bezwijken voor de kitscherige decors die zo uit Roger Vadim's Barbarella konden komen. Het banale verhaal nemen we er maar bij. En zelfs Vin Diesel werkt voor één keer niet op de zenuwen, maar hij is er dan ook de geknipte persoon voor om een hersenloze spierbundel te spelen die alleen maar inhoudsloze machopraat bralt, niet waar?

Riddick is uitgebracht door Dutch Film Works en dat in een handig combopack waarin je dus zowel de dvd als de Blu-ray terugvindt. De transfer is briljant, en bij een film die het vooral van zijn visuele troeven moet hebben is dat een opsteker.

Voor de fans zijn er ook nog een paar leuke extra's op het schijfje aanwezig: The Twohy Touch, Riddickian Tech, Vin's Riddick, Meet The Mercs, The World Of Riddick en Riddick: Blindsided. Alles samen voor bijna een uurtje bonusmateriaal, en dus meer dan genoeg om alles over Riddick te weten.
Didier BECU
20/01/2014
---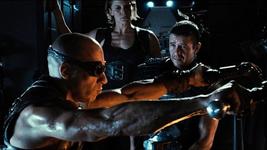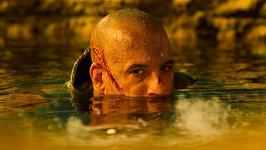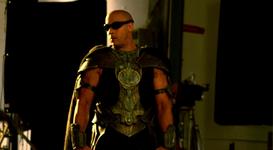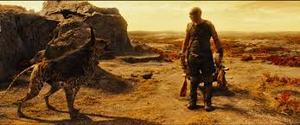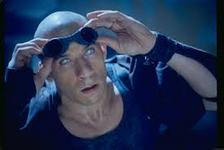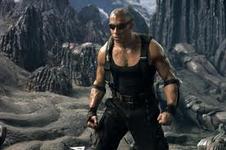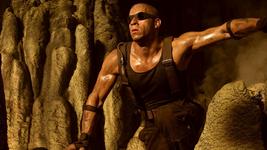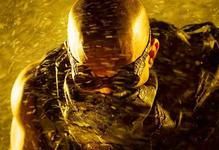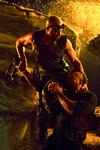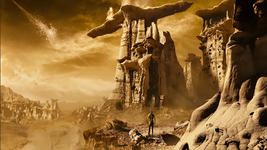 ---