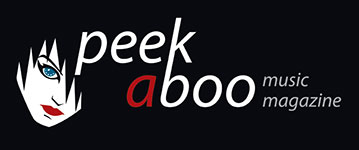 like this concert review
---
DE BRASSERS
Antwerpen, De Kleine Hedonist (28/2/2015)
Concert
Post Punk
•
Punk
•
Rock
[90/100]

01/03/2015, William LIÉNARD
---
On Saturday, February 28th, 2015, the Flemish Punk band De Brassers played in De Kleine Hedonist in the framework of the 5th edition of the Wave Night @ de Kleine Hedonist, where the Belgian wave and punk of the 70s and 80s were in the spotlight. De Kleine Hedonist is a small venue, nothing more than a large café, that can accommodate a small stage and over 150 spectators, and they were massively present.
The concert started exactly at 21:30 CET with three strong rockers: Sick in Your Mind, The Scream and the ATV cover Action Time and Vision. This is music that has been played in similar circumstances in their hometown Hamont (Northern Limburg) to provoke the local bourgeoisie at the time, music that needs an audience to reinforce the controversial slogans, and more than a large concert stage, a space such as e Kleine Hedonist is the perfect setting for such an event. The diehard fans were of course in the first rows and they sang along lustily, which is not surprising, because like in a similar small gig in Wallonia a couple of summers ago, they not only got the opportunity to do so, but the whole set-up was perfect for that purpose.
Kontrole is a crowd favourite, a complaint against well-meaning fellow citizens, who tried to keep the young rabble under control in the conservative and Catholic Northern Limburg of the late 70s. The crowd loved it, because the song has kept its importance in a society where conformity and consumerism are considered the highest values. In Bad Company and in the Fat Gadget cover Back to Nature the guitars were accompanied by a significant amount of (wonderful) electronic violence, and singer Marc Poukens went all the way to the bone. En Toen Was is er Niets Meer is the most popular sing-along during a performance of De Brassers, and one that should never be lacking, but to our surprise it was overshadowed this time by a very strong version of Eruit, thunderous, full of adrenaline and tightly played. The ATV cover Nasty Little Lonely closed the concert with heavy guitars and fireworks-like drumming.
For the encores four songs were selected: the Massive Attack cover Angel, Frightened (The Fall cover), My Night and the Joy Division cover New Dawn Fades. A total of 15 songs with which De Brassers confirmed their reputation as a dangerous Punk band: solid bass (Marc Haesendonckx), versatile guitars (Willy and Jules Dirckx), pounding drums (Erwin Jans, former Struggler), beautiful keyboards (Joachim Cohen) and the unique vocals of an ever tormented Marc Poukens. A small but memorable concert.
William LIÉNARD
01/03/2015
---
In de Kleine Hedonist waren op zaterdag 28 februari 2015 De Brassers te gast in het kader van de 5de editie van Wave Night@de Kleine Hedonist, dat dit keer de blik richtte op de Belgische wave en punk uit de jaren 70 en 80. De Kleine Hedonist is een kleine zaal, eigenlijk niet meer dan een groot café, en het biedt plaats aan een kleine podium en ruim 150 toeschouwers, en die waren massaal aanwezig.
Het concert ging precies om 21.30 uur van start met drie stevige en snoeiharde rockers: Sick in Your Mind, The Scream en de ATV-cover Action Time and Vision. Dit is muziek die ooit in vergelijkbare omstandigheden werd uitgevoerd in de Kwiet in Hamont en waarmee de plaatselijke burgerij werd geprovoceerd, muziek die een publiek nodig heeft om de controversiële slogans kracht bij te zetten, en meer dan op een groot concertpodium is een ruimte zoals De Kleine Hedonist de geknipt omgeving voor een dergelijk evenement. Dat de diehardfans van op de eerste rij de songteksten letterlijk mee stonden te brullen, mag dan ook niet verbazen, want net zoals tijdens een vergelijkbaar klein optreden in Wallonië een paar zomers geleden, was daar niet alleen gelegenheid toe, maar leende de opstelling zich daar ook perfect toe.
Kontrole is een publiekslieveling, een klacht tegen de brave burgervaders die het jonge schorem in het conservatieve en katholieke Noord-Limburg in de laten jaren 70 met alle mogelijke middelen in het gareel probeerden te houden. De toeschouwers gingen uit de bol, want Kontrole is rauw en direct, en de compositie heeft niets van haar actualiteitswaarde verloren in een maatschappij waar conformisme en consumentisme tot de allerhoogste waarden zijn uitgeroepen. In Bad Company en in de Fat Gadget-cover Back to Nature kregen de gitaren het gezelschap van een flinke hoeveelheid (prachtig) elektronische geweld, en in Twijfels ging zanger Marc Poukens helemaal tot op het bot. En Toen Was er Niets Meer is de gehaaide meezinger tijdens een optreden van De Brassers en het is de song die nooit mag ontbreken, maar verrassend genoeg werd die deze keer overschaduwd door een ijzersterke uitvoering van Eruit, loeihard, vol adrenaline en strak gespeeld. De ATV-cover Nasty Little Lonely sloot het concert af met heftige gitaren en vuurwerkachtig drumwerk.
Als toemaatje speelden De Brassers vervolgens nog de Massive Attack-cover Angel, andante maar nadrukkelijk, Frightened (the Fall-cover), My Night en de Joy Division-cover New Dawn Fades. In totaal 15 songs waarmee De Brassers hun reputatie alle eer aandeden: stevig baswerk (Marc Haesendonckx), veelzijdige gitaren (Willy en zoon Jules Dirckx), beukende drums (Erwin Jans, ex-Struggler), prachtige keyboards (Joachim Cohen) en de unieke zangpartijen van een immer getormenteerde Marc Poukens. Een klein, maar onvergetelijk concert.
William LIÉNARD
01/03/2015
---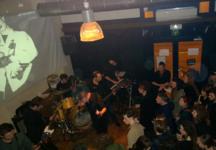 ---