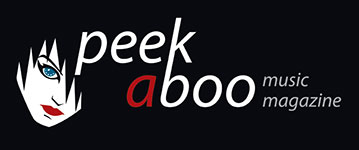 like this concert review
---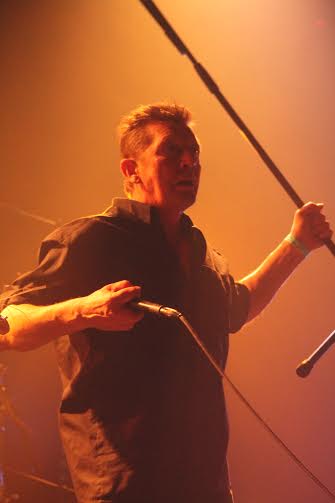 DE BRASSERS
Brussels, Magasin 4 (07/11/2015)
Concert
10/11/2015, Manu L DASH
---
Lovers of dark "doom" music (think Joy Division or Cabaret Voltaire) certainly had to make a stop at Magasin 4 in Brussels last Saturday. On that evening the (now infamous) punks from Hamont or De Brassers performed a superb set of their most famous and energetic songs, along with some very fine covers of their British heroes such as Action Time And Vision by Alternative TV or Back To Nature by Fad Gadget.

For this occasion, Ben (former keyboard player of the band) was wearing an extravagant leather fetish outfit to introduce the band. It was a shame that not many people turned up, and those who weren't there, definitely missed something! But never mind, those who showed up, and have been fans for a long time, decided to start a real punk party.

The group seemed to enjoyed it and as always, figurehead Mark Poukens gave the best he could. His distinctive way of gazing (and of course the music) is at times reminiscent of Johnny Rotten, and the typical way to hold the microphone makes us think of.... Mark Poukens! He is, and remains, a born entertainer.

During this concert, we were accompanied by a friend from Manchester who has visited thousands of concerts. He is an intimate friend of almost every English band that has some importance in (post) punk. He was impressed by De Brassers, especially by their excellent Fad Gadget cover.

The climax was reached during the encores. The most known (and most exciting) songs were played in a row: Kontrole, En Toen Was Er Niets Meer and Ik Wil Eruit! A well deserved moshpit was an inevitable consequence.

This review also appeared on Luminous Dash. Click here to take a look at this excellent site.
Manu L DASH
10/11/2015
---
Liefhebbers van donkere "doom"-muziek (denk aan Joy Division of Cabaret Voltaire) werden afgelopen zaterdag in Magasin 4 in Brussel verwacht. Die avond speelden de (intussen beruchte) Hamontse oerpunkers De Brassers een mooie set met hun bekendste en energetische nummers, maar ook met een aantal puike covers van enkele van hun Engelse helden zoals Action Time and Vision van Alternative TV en Back To Nature van Fad Gadget.

Voor deze gelegenheid werden ze aangekondigd door Ben (ex-keyboardspeler van de band), die voor de gelegenheid een extravagante lederen fetishoutfit had aangetrokken. De opkomst was onterecht relatief klein en zij die er niet bij waren hebben wat gemist! De aanwezigen, vaak rasechte fans, lieten het echter niet aan hun hart komen en de punky sfeer liet niet lang op zich wachten.
Ook de groep leek er zin in te hebben en boegbeeld Mark Poukens gaf zoals gewoonlijk het beste van zichzelf. Zijn kenmerkende priemende en starende blik (en uiteraard ook de muziek) doen bij momenten wat denken aan Johnny Rotten, en de typische manier waarop hij zijn microfoon vasthoudt doet vooral denken aan…. Mark Poukens! Hij is, en blijft, een geboren entertainer en bespeelt het publiek als weinig anderen dat doen.

Tijdens dit concert werden wij vergezeld van een vriend uit Manchester die zelf reeds duizenden concerten heeft bezocht en een intimus is van zowat elke Engelse band die ook maar iets te betekenen heeft in de (post)punk. Ook hij was onder de indruk van De Brassers, en dan vooral van hun uitstekende cover van Fad Gadget.

De apotheose kwam vooral tijdens de bisnummers. Toen werden de bekendste (en ook meest opzwepende) nummers op rij gespeeld: Kontrole, En Toen was er Niets Meer en het ongelooflijke Ik Wil Eruit! Een welverdiende moshpit was dan ook een onvermijdelijk gevolg.

Je kan niet anders dan toegeven: deze Limburgse punks zijn en blijven goed!
Deze review verscheen tevens op Luminous Dash, neem gerust een kijkje op deze schitterende site!
Manu L DASH
10/11/2015
---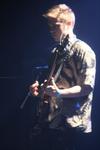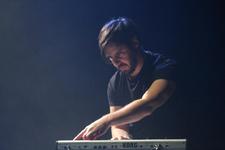 ---