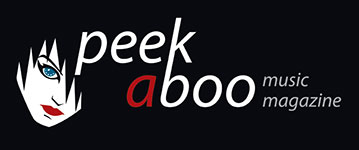 like this concert review
---
DEATH IN JUNE
Review of the concert at Magasin4 in Brussels on 12 December 2013
Concert
Neofolk
[80/100]

14/12/2013, Philippe BLACKMARQUIS
---
A concert of Death In June is always a unique experience. After all, Douglas Pierce, the founder and unique permanent member of the band, is considered as the pioneer of neo-folk, a post-industrial acoustic musical genre he created together with David Tibet (Current 93), Tony Wakeford (Sol Invictus) and Patrick Leagas, back in the first part of the 80s.
The concert at the Magasin4 was organized by Kunst & Opbouwen with Elektrocution Record Shop and
a Thousand Lost Civilizations and was part of a tour to promote "Snow Bunker Tapes", an album including the demo versions of "Peaceful Snow" (2010) as Douglas P. originally created them on the acoustic guitar. I was surprised to see that the venue was completely packed with more than 400 fans, showing that the interest for this English band hasn't diminished even 32 years after its formation.
Before Death In June took the stage, we watched the supporting act, Ensemble Economique, a one-man band consisting of the Californian musician Brian Pyle. The music can be classified as ambient / drone / psychedelic with a touch of witch-house. Pyle was alone on the stage, hiding behind candles. He sang with a high-pitched voice, played guitar and used controllers. He installed a dark and mysterious atmosphere that made me think of Mongolito. But while Mongolito usually has great visual aspects with his mask and his video's, here the show tended to become a bit monotonous. Maybe Pyle should have shown video's of the beautiful landscapes from Humboldt county, a very isolated part of northern California where he lives. A special mention to the song based on a sample from Sinead O'Connor's "Nothing Compares To You". In a nutshell: great music to listen to at home but there is room for improvement in the live show...
While waiting for Death In June, I was secretly hoping that the show would offer more than just Douglas singing and playing alone or with a percussionist... Well, my wish was fulfilled when I saw a man take the stage, dressed in military camouflage clothes. He started to play the piano. I immediately recognized the touch and the harmonies of Miro Snejdr, the Croatian pianist who played on Death In June's album "Peaceful Snow" (2010). Alone on the keyboards, Snejdr played a number of long improvisations in which I recognized Death In June tunes from the cd Lounge Corps (the piano-only CD accompanying the second edition of "Peaceful Snow" in 2012), mixed with melodies from Spitting At Pigeons, his solo project.
The atmosphere in the hall was very quiet. We were a bit hypnotized by the romantic sound of the piano, a bit as if we were in a movie like "The Damned" or in a cabaret expecting Marlene Dietrich's performance. Magical!

After 30 minutes or so of piano instrumentals, Douglas P. joined Snejdr on stage to start the Death In June concert. He was also dressed in camouflage clothes and was wearing his famous white mask. Snejdr stood up, took his accordion and accompanied Douglas P. for wonderful versions of "Life Under Siege" and "Peaceful Snow", but also of the beautiful song "Wolf Rose" with its chorus: "the darkest secret in my heart is you".
After that, there was a short break and at ca. 9:45pm, Douglas P. came back alone without his mask (but with his glasses) and started the third part of the show alone on the percussions for two very experimental DIJ songs:
"Death of a Man", off "The World That Summer" (1986) and "Bring in the Night", off "Thè Wäll Öf Säcrificè" (1989). There were samples of voices and noises playing in the background and I was amazed by Douglas P.'s ability to play complex drums patterns while singing at the same time.
Then, he took a red 12-strings acoustic guitar and it was time for a medley of DIJ's most famous songs, starting with "Ku Ku Ku" off "But What Ends When The Symbols Shatter" (1992). This album was very present in the setlist, as was also the masterpiece LP "Nada!" (1986).
The sound was excellent and Douglas P.'s baritone voice was deep, warm and very clear, evoking at times Brendan Perry. He even allowed the audience to choose the songs and I took the opportunity to request one of my favourite DIJ songs: "She Said Destroy", in which Douglas P. strangely replaced "She Said" by "He Said"... Maybe a clear sign of his sexual preferences? Another great moment was "Black Angel", a song originally inspired by Jim Jone's Peoples Temple Choir's song 'Black Baby'. I also liked "Come Before Christ And Murder Love", the very first song composed by Douglas P. in 1974, but published only in 1986.
As encore, he played "Runes and Men" and an absolute post-punk classic: "Heaven Street", the first song he wrote as Death In June with Tony Wakeford and Patrick Leagas, back in 1980.
In conclusion: a great concert! Of course, the succession of (similar) songs played only on the acoustic guitar (and featuring a majority of chords like Em, G, A, Am,...) could have become a bit monotonous as well but the acoustic medley allowed us to (re)discover how incredible Douglas P. is as a songwriter. I would of course have preferred a complete band with a drummer, a bassist and keyboards but here, it was pure music, in all its nudity and beauty. A very intimate and moving experience. For us, Douglas P. dropped the mask and showed himself as he is deep in his soul: a great poet...
Watch the video of "She Said Destroy" below:
Setlist:
With Miro Snejdr:
Life Under Siege
Wolf Rose
Hail! The White Grain
Leopard Flowers
Peaceful Snow
Douglas P. alone:
Death of a Man
Bring in the Night
Ku Ku Ku
The Maverick Chamber
Good Mourning Sun
Takeyya
She Said Destroy
Giddy Giddy Carousel
Luther's Army
All Pigs Must Die
Torture by Roses
Leper Lord
Come Before Christ And Murder Love
Little Black Angel
Rose Clouds of Holocaust
Fall Apart
Behind the Rose (Fields of Rape)
But What Ends When the Symbols Shatter?

Encore:
Runes and Men
Heaven Street
Organized by Kunst & Opbouwen with Elektrocution Record Shop and a Thousand Lost Civilizations
Watch the pictures by Xavier Marquis: Death In June, Spitting At Pigeons, Ensemble Economique.
Philippe BLACKMARQUIS
14/12/2013
---