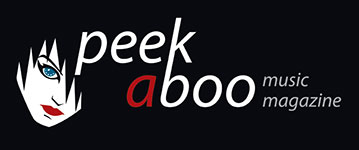 like this concert review
---
DER BLUTHARSCH, POSITION PARALLELE, DEUTSCH NEPAL, JASTREB, MONGOLITO
Review of the concert at Magasin 4 in Brussels on 28th September 2013
Concert
[75/100]

Hau Ruck!
03/10/2013, Philippe BLACKMARQUIS
---
Elektrocution Record Shop and a Thousand Lost Civilizations were presenting an impressive lineup at the Magasin 4 in Brussels: no less than 5 bands, all belonging to Hau Ruck! Records, the Austrian label of Der Blutharsch's leader Albin Julius.
Mongolito, the project of Marc De Backer, a well-known musician from the alternative scene in Brussels (ex-Dog Eat Dog & Mucky Pup), was the first to take the stage in front of a small crowd of fans. After releasing his first album last year, "Acadia", Mongolito has imposed his mainly instrumental 'dark ambient' style. It consists of loops and drones, combined with a drum machine, over which Marc draws melodic lines with his guitars. On stage, Mongolito plays alone, wearing a "Scream" mask, which emphasizes the mysterious side of the act, combined with black and white movie projections. During the show, Mongolito played yet unreleased tracks from his forthcoming album and as a whole, they sounded less ambient and were a bit more powerful than before. Of course, you still think of Pink Floyd or The Durutti Column but some heavier tones were on the verge of metal or shoegaze. An evolution of sound probably influenced by Marc's new guitar, a Gibson imitation that has more sustain and grain than his classical Fender Stratocaster. A great concert, that immersed us in a cinematic universe, with obsessive riffs, ghostly voices and plaintive guitars. Can't wait for the new album!
Watch the new song: "Ten Thousand Midnights Ago", which features magnifiscent samples of Sufi incantations.


Normally, next on the bill, was Jastreb, a side project of Albin Julius but to our biggest surprise, all three following bands, Jastreb, Deutsch Nepal and Der Blutharsch, came together on the stage to form some sort of supergroup, that played a number of songs from each of the separate acts. The formation included members from Der Blutharsch: Julius on keyboards, Marthynna on vocals plus their guitar player, accompanied by Lina Baby Doll (Deutsch Nepal) on vocals and one guitar player + one drummer from Jastreb. The result was a kind of crossover music, which started with Deutsch Nepal's touching cover of Zara Leander's "Regen" and continued with "Yggdrasil", Jastreb's repetitive composition, which sounded much more metal, with heavy guitars and improvised vocals by Lina Baby Doll. Normally, the song lasts 36 minutes; fortunately it was shortened.
Then the supergroup played "Cosmic Trigger", the title track from Der Blutharsch's new album, one of the few song during the set where you were able to recognize the krautrock style of the Austrian project, with Marthynna on vocals. Then, I must admit that I lost touch with the concert because of the exaggerated domination of heavy guitars and heavy drumming, which diluted most of the song in a sonic magma. The setlist included "Like A Horse Unbroken", "North" (Jastreb), "Silent Siege" (Deutsch Nepal), "Black Mountain", "Amygdala", and two additional tracks from "Cosmic Trigger": "Sacred Mountain" and "Hopeless". Like most of the people I talked to after the gig, this supergroup formation was in a way a missed opportunity. We would have preferred to watch each act with its own style instead of this noisy, "cosmic mash-up".
One of the consequences of this supergroup concert was the fact that Position Parallèle played as headliner: great news for all the fans of Geoffroy D., who is also well-known for his other project, more dark-folk oriented: Dernière Volonté. With Position Parallèle, Geoffroy D. has just released a new album, "Néons Blancs" (White Neons), which marks an interesting evolution with a sound that is even more refined, even more stripped than on the first album. The syle is a minimal wave, typically "French Touch" kind of alternative pop, which evokes Kraftwerk in the analog synths but also French synth pop acts like Daho or Lescop.

On stage, we were surprised by the very harsch, dance oriented arrangements, which gave an amazing power to the music. The bass drums, operated by Pierre Pi, were incredibly powerful and Geoffroy's attitude was very energetic: he was moving a lot, in complete contrast with the typical melancholy of Dernière Volonté's concerts. A song like "Passé Par Ici" was very raw, with a pulsating beat, almost EBM. My favorite song was "Si Je te Croise", which was released on the compilation "Circuits d'Actes III". Watch the song played on stage here:


In conclusion: a powerful concert, of a very high quality. The audience was very enthusiastic and was dancing and moving like crazy. I was dazzled by the sound and by the energy displayed on stage. Geoffrey D. revealed an amazing stamina, combined with his usual disarming fragility. A great moment!
A big thank you to Michel Kirby (Elektrocution Records) and his team for the organization and see you in December at the Magasin 4 for Death In June.
Philippe BLACKMARQUIS
03/10/2013
---