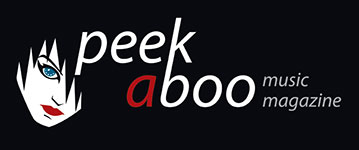 like this concert review
---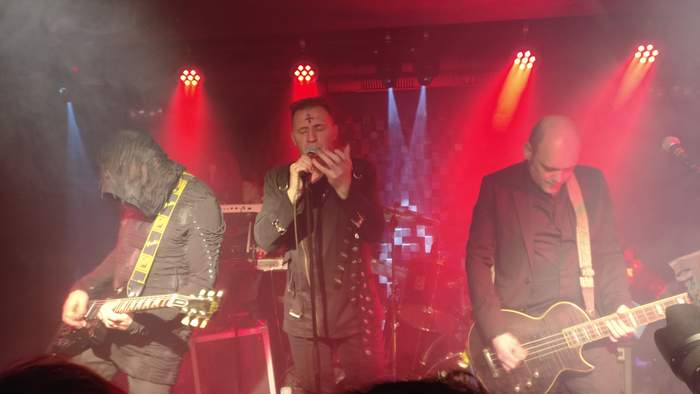 DER KLINKE - STORY OFF
De Kelk, Brugge - 9 maart 2018
Concert
14/03/2018, Jurgen BRAECKEVELT
---
De Kelk (The Chalice) in Bruges, has long been THE dark cave in the centre of Bruges where many black clad people experienced many memorable moments when they were still young (and beautiful?). Today, after being re-opened last year, it was the setting for a double line-up clubshow by Belgian bands Story Off and Der Klinke. Two bands fronted by Chesko Geert Vandekerkhof.
Story Off was present to perform their brand new CD Facing Forward in its entirety. The second full album released by this electro / minimal / synth-pop project. Complete and in the order the tracks appear on the CD, the songs were performed in the almost overcrowded venue. With a very varied mix of minimal synth, dark pop and synth-pop songs, the band managed to get the crowd moving. From quiet hip-wiggling to the more hooky EBM dance moves, it was all there. The album seems to sound more varied than the their first-fruit, which is a nice thing indeed. As an encore we received their version of The Neon Judgment's TV Treated. Thank you for that!
Then it was time for 'established' value: Der Klinke to take the stage. This West-Flemish company of friends already has a very good live reputation and it did more than honour this reputation on this night. The band opted for a very nice mix of 'old' songs and new tunes taken from the latest CD The Unexpected. Der Klinke has already released four solid albums listed on their discography and on each of these there are a couple of classic dance-floor-fillers. It was no surprise the audience thoroughly enjoyed songs like The Doll, Las Fabricas, This Is Where it Ends and Faith Healer.
I've seen this band about 10 times now and after this drizzly Friday night, I can confirm again, this is a true must see live band. It was tight, sharp and in my opinion even firmer and more swirling than all previous ones I've seen. Tight drumming, hooky bass lines, subtle yet still clearly present guitar work, synths that supported every melody, but above all: very enthusiastic, solid and very decent. Therefore it was not a surprise that the venue's temperature rose while the crowd, from the front of the stage to the bar, was in motion. A very good performance indeed by a band that took the stage like a well-oiled machine and added an extra dimension to the selection of great songs taken from their previous released albums. Postpunk, goth-rock, dark-wave in perfect balance and overwhelming. Personally I hope (and wish) this quintet will play many more stages and become more known in the future … because they deserve it!
Setlist Story Off:
Facing Forward
A Dark Romance
The Painted City
Life On Other Planets
World Today
Inducing Oblivion
Humanoid
To Let It Go
Luxuries
Waiting
TV Treated
Setlist Der Klinke
My Frozen Heart
Someone Who Smiles
Our Dance in Darkness
River White
Facts Of Life
The Doll
Second Sun
Liars
Where it Ends
We Are Here
She's Lost control
Square Moon
In Flames
Faith Healer
Las Fabricas
Jurgen BRAECKEVELT
14/03/2018
---
De Kelk in Brugge. Al sedert mensenheugenis een donker hol in centrum Brugge. Menige zwartjas beleefde er vele momenten in even zovele schitterende jeugdjaren. Nu één jaar heropend, was er een tweedelige show van de Belgische bands Story Off en Der Klinke. Allebei bands met als frontman Chesko Geert Vandekerkhof.
Story Off was present om de integrale nieuwe CD Facing Forward ten gehore te brengen. De tweede volwaardige plaat van dit electro/minimal/synthpop-project. Integraal en in de volgorde zoals op de CD, werden de nummers losgelaten op een volledig gevulde club-concertzaal van de Kelk. Met een heel gevarieerde mix van eerder minimal synth, darkpop en synthop-songs wist het gezelschap vlotjes beweging te krijgen in de meute. Van rustig heupwiegend tot gestyleerde EBM-dansmoves, it was all in the game. De schijf klinkt gevarieerder dan de eersteling, wat aardig meegenomen is. Als toemaatje kregen we een versie van The Neon Judgement's TV Treated. Waarvoor dank!
En dan een al 'gevestigde' waarde: Der Klinke. Het West-Vlaamse gezelschap heeft een heel goede live-reputatie, die het deze avond méér dan eer aangedaan heeft. Er werd geopteerd voor een heel mooie mix van 'oude' songs en nieuwe deuntjes van de recentste CD The Unexpected. Intussen heeft Der Klinke al vier goede langspelers op de discografie, met op elk van deze een paar klassieke dancefloorkillers. En die gingen er bij het publiekin als zoete broodjes. The Doll, Las Fabricas, This Is Where it Ends, Faith Healer.
Ik mocht de band al een 10-tal keer aanschouwen en had elke keer het gevoel: jips, dit is een live-band. Dat werd op deze druilerige vrijdagavond weer in overtreffende trap bevestigd. Het was strak, snedig, naar mijn gevoel steviger en kolkender dan alle voorgaande. Strak drumwerk, een snedige baslijn erdoorheen, subtiel maar duidelijk aanwezig gitaarwerk, synths die elke melodie ondersteunden, maar vooral: heel enthousiast, stevig, doorleefd. Het verbaast dan ook niet dat het broeierig heet werd in de zaal, beweging van aan het podium tot aan de bar. Dit was een uitermate sterk optreden van een band die er staat, een goed geoliede machine die live de steengoede songs van de 4 LP's een extra dimensie geeft. Postpunk, goth-rock, darkwave in een perfecte balans en overweldigend zonder weerga. Ik hoop (en wens) dan ook dat het vijftal nog vele podia mag bestijgen en ruimere bekendheid krijgt dan het 'zwarte' publiek. Want ze vérdienen dit !
Setlist Story Off:
Facing Forward
A Dark Romance
The Painted City
Life On Other Planets
World Today
Inducing Oblivion
Humanoid
To Let It Go
Luxuries
Waiting
TV Treated
Setlist Der Klinke
My Frozen Heart
Someone Who Smiles
Our Dance in Darkness
River White
Facts Of Life
The Doll
Second Sun
Liars
Where it Ends
We Are Here
She's Lost control
Square Moon
In Flames
Faith Healer
Las Fabricas
Jurgen BRAECKEVELT
14/03/2018
---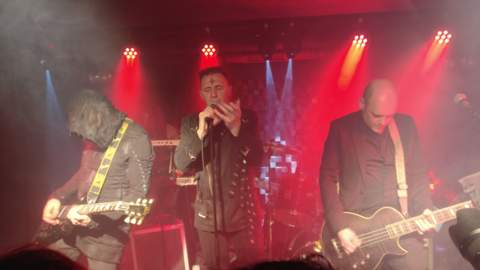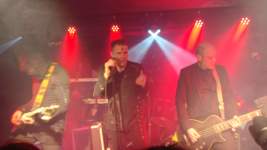 ---