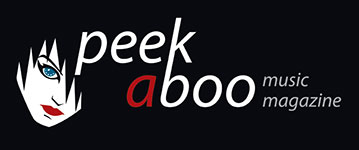 like this concert review
---
DIARY OF DREAMS, STAR INDUSTRY, YOUR LIFE ON HOLD, A SLICE OF LIFE, LA SCALTRA
Summer event - za 3 augustus, Schoten
Concert
07/08/2019, Jurgen BRAECKEVELT
---
In the nice setting of the Park of Schoten (Schoten,B) the second edition of Summer Event took place. A free benefit event, of which the profits are donated to the Belgian Children's Cancer Fund vzw. In addition to a range of children's entertainment and a barbecue, there was also a strong musical line-up on the program. Five bands were invited to give the best of themselves: La Scaltra, A Slice Of Life, Your Life On Hold, Star Industry and Diary Of Dreams. This in a cosy setting with plenty of place to sit down outside while the concerts took place in a big event tent. At exactly 5 pm La Scaltra entered the stage.
La Scaltra has released three albums so far so every fan of guitar-focused cold wave should have already get acquainted with some music from this band. They are signed with Solar Lodge, the label that also houses Your Life On Hold, Merciful Nuns and Near Earth Orbit. On CD they sound incredibly smooth, so I was very curious about their live performance. It was better than I could expect. The combination of beautiful guitar work, supported by nice bass lines and floating synths form a great combination. I think I can state that, in addition to the immensely blissful musical atmosphere, the people of the PA have done great work throughout this entire day. No wall of sound as it often happens, but really sublime, not too loud and bright. Every instrument was audible, as well as the vocal performance of Aeleth Kaven. The set was sometimes rocking, sometimes subdued to fairly minimalist and very cold-wavey. The audience came in the tent in quite large numbers and was immediately invited to progress hip-rocking to the front by the delightful gothic rock presented by this four-member company. If this was only the beginning of the afternoon, we were in for a party!
The Belgian A Slice Of Life was the second band to entertain the already warmed-up audience. With their post-punk with which they have already more than convinced us since their debut album Restless, they played many clubs and only just recently they were invited to play the high mass of wave and gothic: The WGT in Leipzig! And let there be no doubt, they definitely deserved to play there. They sound gray, straightforward, experienced. With opener 'Panic Attack', the audience immediately knew. Bone-dry drums and a nice bass line announce the guitars that started a postpunk blast. Dirk Vreys '(aka singer with The Obscure - The Cure tribute band) voice is made for this music. Experienced, sometimes vibrant, powerful, dark when necessary, moaning with misery when the song demands for it. The band stands firmly on stage and the fun performing splatters from it. At times it also sounds like the early The Cure sounded, still retaining their own sound though. 'Life As It Is' is such a song that makes you move. A love song, but with an angular edge. For me an absolute highlight of their excellent set was their Dutch Liefde Is Oorlog (Love Is War). Not out of love for my own native language, but because it is so honest and true. A sublime song that got the audience even wilder than before, evenmore because it's also the last song of their set. A Slice Of Life stands already super high-quality on CD, and they succeed giving it another dimension when performing live. The recipe? Great musicians and a lot of enthusiasm to bring what they love to do. And that's how it works for a live band!
And then a time and place for Belgian violence from the North Sea coast. Your Life On Hold, the band around John Wulf (aka Jan Dewulf, known for his electro-projects Diskonnekted and Mildreda). But since he is rooted in more guitar-oriented styles he recently returned to it in a extremely strong way. The first two albums followed each other quickly. It was the band's 10th live performance and it was celebrated at the Summer Event with a cake from the organization, some of it was even shared with the audience. It was clear that John Wolf and his colleagues felt like rocking the house down. Their sturdy deep goth rock sound echoed through the tent. The fact Your Life On Hold already has a strong fan base was clearly noticeable by the numerous spectators, dressed in a T-shirt from the band, who happily sang along. To set the place on fire, the set started with Phoenix, which we can already call one of their hit songs. The set was tight, Jan easily took over the entire stage, and they performed with pleasure. It only seemed to sound a bit duller in the tent from time to time. Compared to the previous gigs anyway, but that may be due to my personal hearing position. But it was clear: it was not the band's fault because they put away a very convincing performance.
With Star Industry we then go to again the other side of Belgium. These ever-strong Limburgers are already renowned even far beyond the national borders for their rock-solid and mostly hard gothic rock. Anyone who has already seen them perform (who didn't?) knows these gentlemen do not hesitate to set a hall in flames with only a few notes. Meanwhile, five full-length albums later, although Renegade already dates from 2015, they can easily fill a set with their hits. They did the same with this passage
As they did also this time, with the necessary confidence and bravado. For me personally it was one of their better performances I've seen in recent years. Still strong, but less loud than previous times. This fact, in my opinion, benefits well their overall sound. Anyway, no more technical nagging. The set included an anthology of songs taken from their various albums. 'Eyline', 'New Religion', 'Last Crusades', 'New Millennium', 'Selling Icons' and of course their fantastic 'Nineties'. And although the latter song dates back to 1997, I still get goosebumps when the first notes pop blast from the speakers. Yes, a person can be nostalgic, but it remains a great song. Frontman Peter Beckers mentioned to the audience the band was happy to be invited at this great event. Apparently, he lost both his parents to cancer in one week of time.
A compliment to the organization: the time schedule was kept perfectly. Even though it can beat the expense of a encore, it is always nice for visitors to get home in time. Diary Of Dreams... Adrian Hates saw a few "regular musicians" disappear in the past, such as guitarist Gaun. But does this affect the quality of music that came after? Not at all... Album after album top notch, like their last release Hell in Eden. The stage looked a bit emptier than we are used to: a drummer (but great one!!), a guitarist and Hates himself who also seemed to took up guitar again. They were recently on the Wacken Open Air poster and this could be heard.The first fours songs sounded like a true heavy metal opera. Symphonic metal, in which Hates and his guitarist tortured the strings of their guitars as if it was a sweet delight. I have not heard these gentlemen play so loud. The deep endearing voice of Adrian Hates made way for screams and true grunts. Not the Diary Of Dreams, like we know them from acoustic versions of their great songs and fragile voice of Hates. It took a few songs before they returned to "normal" mode with songs taken form many of their albums. Also a few gems from one of the albums that most people know best: Freak Perfume. Songs such as 'The Curse' and 'Traumtänzer' caused enthusiastic singing along from a crazy and wild audience. Hates was also very talkative this time. Thanking after each song in almost flawless Dutch: thank you so much, thanks, thanks,... Even in French. He also thanked the organization extensively for asking them for an event with the proceeds going to the Children's Cancer Fund. Hates also told us he has two people in his close circle of friends who are currently fighting cancer. It gave him an extra dimension to this performance.
Summer Event had everything: good weather, a great organization, many people who each contributed in their own way to the charity, many black souls who drank more beer to support the cause, bands who, without exception, were all strong and great! Thanks the people from sound / PA who made this perfectly possible. The sound was really sublime. We wish the organization a good return and are happy to be there again next year.
La Scaltra set list
The Spell
Church of b
The Sentinels Lot
Holidays
Diaboli image
Downfall
Good sinner
Chained Hysteria
Toxicated
Setlist A Slice Of Life
Panic Attack
We Fight
Anywhere But Home
Life as it is
Older
Caroline
Matterhorn
Sorrow
Seven Days
Feel Like Crazy
The Marionette
Sweet sin
Love Is War
Restless God`
Setlist Your Life On Hold
Phoenix
Attawapiskat
Cold Fever
Sunflower Sutra
Rome
Bruised
Falling
Already Lost
Exorcism
Star Industry set list
Pray
Ceremonial
Eilyne
Coming down
Selling Icons
Be Real
Last Crusades
Kids
New Religion
Revelation
Nineties
Lost Generation
Diary Of Dreams setlist
Made in Shame
Epicon
Malum
Listen and scream
Poison traum
Traumtänzer
King of Nowhere
The Curse
Charma Sleeper
Endless nights
Decipher me
Kindrom
BIS
Butterfly: Dance!
Undividable
Jurgen BRAECKEVELT
07/08/2019
---
In het kader van het Park van Schoten in Schoten, was er Summer Event. Een gratis benefietgebeuren, waarvan de opbrengst gaat naar het Kinderkankerfonds VZW. Naast een aanbod aan kinderanimatie en een barbecue, stond er een stevige muzikale poot op het programma. 5 bands mochten er het beste van zichzelf geven: La Scaltra, A Slice Of Life, Your Life On Hold, Star Industry en Diary Of Dreams. Een gezellig kader, voldoende ruimte buiten en een kanjer van een feesttent. Klokslag 17 uur betreedt La Scaltra de bühne.
La Scaltra bracht al drie albums uit. Elke liefhebber van gitaargerichte coldwave zou van deze band muziek moeten hebben. Ze zitten gebeiteld bij Solar Lodge, het label waar o.a. ook Your Life On Hold, Merciful Nuns en Near Earth Orbit een onderkomen hebben. Op CD klinken ze ongelooflijk smooth, en ik was dan ook heel erg benieuwd naar hun live performance. En die was meer dan af. De combinatie van mooi gitaarwerk, ondersteund door lekkere baslijnen en heel zweverige synths vormen een geweldige combinatie. Ik denk te mogen stellen dat, naast de immens zalig muzikale sfeer, de mensen van de PA doorheen deze dag geweldig werk hebben geleverd. Geen wall of sound zoals regelmatig wel eens voorvalt, maar echt subliem, niet te luid en geweldig afgesteld. Elk instrument kwam tot zijn recht, de vocale prestaties van Aeleth Kaven evenzeer. De set was soms rockend, soms ingetogen tot vrij minimalistisch en heel erg coldwave bij momenten. Het reeds in vrij groten getale opgekomen publiek werd meteen tot heupwiegend voortschrijden uitgenodigd door de zalige gothic rock die door dit vierkoppige gezelschap werd gepresenteerd. Als hiermee de toon voor de rest van de middag gezet is, dan belooft dat veel goeds.
Het Belgische A Slice Of Life mocht als tweede het al opgewarmde publiek gaan entertainen. Met hun postpunk waarmee ze met hun debuutalbum Restless al meer dan overtuigden, trekken ze doorheen het clublandschap tot zelfs meteen in 2019 een plaatsje op de hoogmis van de wave en gothic: Leipzig – WGT. En dat ze daar hun plaats hebben staat buiten kijf. Het is grauw, rechttoe rechtaan, doorleefd. Met opener Panic Attack kreeg het publiek er meteen zin in. De kurkdroge drums en lekkere baslijn kondigen de gitaren aan die deze postpunkknaller op gang schieten. Dirk Vreys' (aka singer bij The Obscure – The Cure tribute band) stemgeluid is voor deze muziek gemaakt. Doorleefd, soms trillend, krachtig, donker als het moet, kreunend van miserie als de song het vraagt. De band staat er ook echt stevig. En het spelplezier spat ervan af. Bij wijlen klinkt het ook zoals de vroegere Cure klonk, maar het blijft toch hun eigen sound. Life As It Is is zo'n song die je doet mijmeren. Een liefdesliedje, maar dan met een hoekig kantje. Voor mij een absoluut hoogtepunt van een uitmuntende set, was hun Nederlandse Liefde Is Oorlog. Niet uit liefde voor mijn eigen moedertaal, maar omdat het klopt over gans de lijn. Dit is een sublieme song die als voorlaatste nummer in de set het publiek nog wilder dan wild kreeg. A Slice Of Life is kwalitatief super op CD, en ze slagen er in om dat life nog twee dimensies extra te geven. Het recept? Topmuzikanten en veel goesting om wat ze het liefste doen met overgave te brengen. En zo wérkt dat voor een life-band!
En dan tijd en plaats voor Belgisch geweld van aan de Noordzeekust. Your Life On Hold, de band rond John Wulf (aka Jan Dewulf, bekend van zijn electroprojecten Diskonnekted en Mildreda). Maar hij is geworteld in meer gitaargerichte stijlen en keerde daar oersterk naar terug. De twee eerste albums volgden elkaar snel op. Het was het 10de live-optreden van de band en dat werd op Summer Event gevierd met taart waarvan het publiek mocht meesmullen. Dat John Wolf en de zijnen er zin in hadden was duidelijk. Hun potige diepe gothrocksound galmde doorheen de tent. Dat Your Life On Hold al een stevige fanbase heeft, liet zich opmerken door de vele toeschouwers, gehuld in een T-shirt van de band, die vrolijk meezongen. Om de zaak meteen in lichterlaaie te zetten, startte de set met Phoenix, toch al een ferme hit te noemen. De set was strak, Jan palmde met gemak het volledige podium in, er werd gemusiceerd dat het een lust was. Alleen klonk het van in de zaal af en toe wat doffer. In vergelijking met de voorgaande optredens toch, maar dat kan aan mijn gehoor liggen. Eén ding is wél duidelijk: het lag niét aan de band die een zeer overtuigend optreden neerzette.
Met Star Industry trekken we dan naar het andere uiteinde van België. De immer stevige Limburgers hebben tot ver buiten de landsgrenzen al naam en faam gemaakt met hun uit de kluiten gewassen en veelal harde gothic rock. Wie hen al aan het werk zag (wie niét?) weet dat de heren er niet voor terugdeinzen om een zaal in lichterlaaie te zetten met een paar noten. Intussen zijn we 5 volwaardige albums verder, hoewel Renegade al dateert van 2015 en kunnen ze met gemak een set vullen met hits. Dat deden ze ook bij deze passage met de nodige stevigheid en bravoure. Voor mij persoonlijk één van hun betere optredens van de laatste jaren. Nog steeds stevig, maar minder luid dan soms op andere podia. En dat komt hun algemene sound naar mijn mening ten goede. Anyway, geen technisch geleuter. De set bevatte een bloemlezing van songs uit de verschillende albums. Eyline, New Religion, Last Crusades, New Millennium, Selling Icons en natuurlijk het geweldige Nineties. En hoewel de song al dateert van 1997 krijg ik nog steeds kippenvel als de eerste noden door de speakers knallen. Ja, een mens mag nog eens nostalgisch zijn. En het blijft een geweldig nummer. Frontman Peter Beckers gaf ook mee dat de band blij was op dit geweldige event te mogen zijn. Hij verloor immers zelf zijn beide ouders op één week aan kanker.
Nog een pluim voor de organisatie: het tijdsschema werd perfect aangehouden. Ook al gaat dat misschien te koste van een bisnummer, het is als bezoeker toch fijn om tijdig thuis te geraken. Diary Of Dreams… Adrian Hates zag een paar 'vaste lieden' zoals gitarist Gaun:A stuk voor stuk verdwijnen. Maar doet dit afbreuk van het muzikale dat hij al bijeen schreef? Nee… Album na album van niveau, ook de laatste worp van de band Hell in Eden. Het podium zag er wat leger uit dan we gewoon zijn: een drummer (en wat voor één !), een gitarist en Hates zelf die ook terug de gitaar ter hand nam. Ze stonden op de affiche van Wacken Open Air. En dat was hoorbaar. De eerste 4 songs waren een ware heavy metal opera. Symfonische metal, waarbij Hates en zijn gitarist de snaren martelden dat het een lieve lust was. Zo hard heb ik deze heren nog niet gehoord. Het diepe aandoenlijke stemgeluid van Adrian Hates ruimde plaats voor geschreeuw en ware grunts. Niét de Diary Of Dreams, die we ook al met akoestische versies van geweldige songs mochten horen, met de bij wijlen breekbare stem van Hates. Het duurde een paar songs, voor hij terug in 'normale' modus ging. Daarbij putte hij uit de vele albums. Ook een paar beauties uit toch wel één van de albums die de meesten kennen: Freak Perfume. Songs als The Curse en Traumtänzer zorgden voor enthousiast meezingen vanuit een uitzinnig publiek. Hates was voor zijn doen ook heel spraakzaam. Het bedanken na elke song in het vlekkeloos Nederlands: dankuwel, bedankt, dank, … en in het Frans. Hij bedankte ook de organisatie uitvoerig om hen te vragen voor een event waarvan de opbrengst gaat naar het Kinderkankerfonds. Hates heeft in zijn nabije vriendenkring twee mensen die op dit moment strijden tegen kanker. Het gaf voor hem een extra dimensie aan dit optreden.
Summer Event had alles: goed weer, een geweldige organisatie, veel mensen die elk op hun manier een bijdrage leverden aan het goede doel, veel zwart volk dat een pint meer dronk om de zaak te steunen, bands die, zonder enige twijfel, állemaal geweldig sterk voor de dag kwamen. En de mensen van de PA maakten dit perfect mee mogelijk. De klank was echt subliem in orde. Wij wensen de organisatie een mooie opbrengst en zijn volgend jaar graag opnieuw van de partij.
Setlist La Scaltra
The Spell
Church of B.
The Sentinels Lot
Holidays
Imago Diaboli
Downfall
Good Sinner
Chained Hysteria
Toxicated
Setlist A Slice Of Life
Panic Attack
We Fight
Anywhere But Home
Life as it is
Older
Caroline
Matterhorn
Sorrow
Seven Days
Feel Like Crazy
The Marionette
Sweet Sin
Liefde Is Oorlog
Restless God
Setlist Your Life On Hold
Phoenix
Attawapiskat
Cold Fever
Sunflower Sutra
Rome
Bruised
Falling
Already Lost
Exorcism
Setlist Star Industry
Pray
Ceremonial
Eilyne
Coming down
Selling Icons
Be Real
Last Crusades
Kids
New Religion
Revelation
Nineties
Lost Generation
Setlist Diary Of Dreams
Made in Shame
Epicon
Malum
Listen and scream
Giftraum
Traumtänzer
King of Nowhere
The Curse
Charma Sleeper
Endless nights
Decipher me
Kindrom
BIS
Butterfly: Dance!
Undividable
Jurgen BRAECKEVELT
07/08/2019
---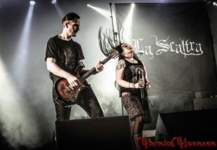 ---