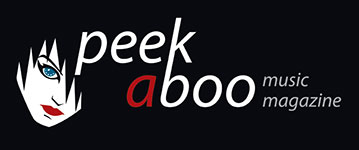 like this concert review
---
DIVE, VOLKOVA, KARL HEFNER & HUGH LAGERFELD
Daft Records Night @ Kavka, Antwerp, 11/09/2015
Concert
17/09/2015, Benny CALUWE
---
Karl Hefner & Hugh Lagerfeld opened the evening. It's the new project of Günter Haegeman, known from Observe Reality. Together with his partner in crime (Dries Devreeze) he delivered nicely built up electronics, combining retro and contemporary sounds. Maybe to much 90's dance elements to be my cup of tea, but I could appreciate it though. And so did the crowd. Hefner & Lagerfeld were accompagnied by two female dancers. Just like the band members they were masked. With some videos on top, they took care of the visual aspect. Quite enjoyable.
Second band to mount the stage was the Argentinian dark wave band Volkova, the project of Cesar Canali and Paula Lazzarino. They started the set with The Call and Trauma And Dreams. Those two mesmerizing tracks were followed by some up beat tracks and the front of the crowd even started to dance. After a while Cesar plugged in a guitar and took over the vocals. Paula took place behind the keyboards. Respect for Volkova that they dared to play some less accesible tracks, but by doing this they somehow lost their momentum. Luckily Cesar took place behind the synths again, giving Paula the opportunity to shine some more with her excellent live vocals. Towards the end of the set Volkova played Criminal, a song especially written for the Deep compilation. An interesting and mostly strong set.
Head of the bill was Dive. Armed with only a mini disc, a strobelight and tons of confidence Dirk Ivens immediately dropped a bomb! Blood money set the crowd on fire right from the start. The power of passion, with its powerfull percussion, how applicable. The crowd reacted passionate as well. After the haunting Broken meat, Dirk surprised us with Nothing's real, a song of his former project Blok 57 (with Mario Varewyck, ex-Vomito Negro). Other surprises followed: a hammering version of Joy Division's Isolation and a harsh remake of The Klinik's Moving Hands! The first rows went nuts on classics such as Final Report, There is no hope and Snakedressed. Simply awesome!
I saw Dirk Ivens perform a multiple times solo as Dive and with his other projects The Klinik, Absolute Body Control and Sonar. It was never dissapointing! On 23rd October he performs with Absolute Body Control in Retie, together with EX-RZ and Simi Nah. On 23rd November ABC he plays at De Casino in St.-Niklaas with EBM pioneers DAF.
Setlist DIVE:
Blood Money
The Power Of Passion (The Klinik)
Broken Meat
Nothing's Real (Blok 57)
Isolation (Joy Division)
Final Report
Machinegun Baby
Waiting And Burning
Burn Baby Burn (Blok 57)
Pain & Pleasure (The Klinik)
Moving Hands (The Klinik)
Sufferhead
There Is No Hope
Rocket USA (Suicide)
Snakedressed
Blindness
Benny CALUWE
17/09/2015
---