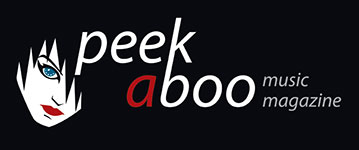 like this concert review
---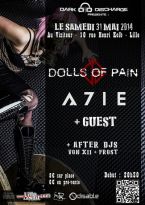 DOLLS OF PAIN
Dolls of Pain + A7IE @ Le Viziteur (Lille, France)
Concert
[80/100]

02/06/2014, Peter DOLPHEN
---
Le Viziteur in Lille: if I have ever been in a (great) venue in a strange place, it must be here. In the afternoon I already drove by the building to see where it was and the large sign in front left no doubt of the situation. When I came back in the evening I saw some black-dressed people in front of the building and without a second look, I entered. To my surprise, I walked straight into a pizzajoint! Inside I saw other scene-people, but with no clear sign of an entry to a party / concert-venue, I walked back out, searching for an other entrance. After a few minutes I heard some sound-checking music coming from the inside of this pizza-thing: hell: in the back, next to the toilets was a door and... well: there was the venue! All hidden... It felt like 'underground' was back in the hidden streets of "you don't know us? You don't find us!". And it felt like home! Everyone was very welcoming and I have noticed that in the past here in France as well as in the French part of Belgium, there is a much more open mind towards 'unknown' people. I even got kissed by some guys I don't know!
I guess I have your attention now, no? Well, let's get to the evening itself than!
First up was A7IE. But before the show started, there was some kind of warm-up with a local DJ (Von XII). After some technical problems with the electricity (shortcut with the smoke machine) he got the first movements on the floor, fired on by 3 of the organisation 'Dark Discharge-girls'. A nice mixture of young and (a bit) older started filling the venue. It was a small venue (I wouldn't go over 150p in there) and I guess it was over half filled, so about 100p where there for this night.
A7IE started and immediately they had a warm welcome of the (small) crowd. For me, it was the first time I saw them live and Gyom surprised me big time! The calm and rather shy person I met, took of his glasses and turned into a stage-animal. In some way, he was blocked by the small stage, as he often stept into the first lines of the crowd to give himself enough space to move. He really gave 200%, going straight into the trip of his own music and draging along every single person who had opened their mind for him. You do not need to hear or understand the lyrics to know what they are about: you see the pain, the anger, the frustration and the tristesse in how Gyom flows through the tracks. This is HIS music, this is HIM... coming from deep inside. And afterward, he puts on his glasses and turns back into his shy shell, smiling and enjoying a short talk from behind his promo-counter.
Setlist:
Intro.
Mort.
Some kind of hate.
Made of wrath.
Malade.
Lullaby of pain.
Neuroleptics.
Taste of sorrow.
The cage.
The blaze.
Bad romance.
Le lapin blanc.
Rise.
Just a few minutes later (fast stage-change!) Dolls of Pain entered stage. It was nice seeing them again, as it was already since the Waregem Gothic Festival in 2008 that I have seen them live. The CD-review of their latest release by collegue Filip already gave me a hint of what to expect on this tour: great beats with a strong guitar. And he had it spot-on: Olivier (who also played the synths during the A7IE-gig) pulled the right strings while C-Drik was blowing the beats through your mind. The father of the band (Notre Guide) was his quiet self: no great gestures, but the hidden anger in his vocals, together with his voice-transformer, made sure that the message came through. Maybe it was the size of the stage, but I feel he could use some more moving on stage to keep attention of the crowd. This changed during the 3 tracks that C-Drik appeared from behind his synths and took center-stage: he reminded me of both of the Front 242-singers (or should I rather say: crowd-managers?): searching for direct contact with his public. Besides this 'minor' point of criticism, the gig was great and I enjoyed every second of it.
Setlist:
Even more
Prophetic signs
Are u blind?
Fetish problem
Drugs on the floor
kalte Wahrheit
Hurt me
Cybersex
Déréliction
Behind the wheel
Why not
Liberate me
more Dolls of Pain:
Immediately after the show I had to leave, as the public carpark closed at 01:00 and I didn't want to take the risk of being stuck there all night. With a surely great afterparty in mind, I first drove around, hoping to find a parkingspot in the streets nearby so I could get back in to enjoy the DJ's. Unfortunately, after more than a half hour circling around, I gave up and hit the road back home. Note to myself: do not park there anymore!
And now an important lesson for all of us: my last 3 concert-reviews have been very, very optimistic and all 3 of them were very close to the Belgian / France border (check the ESN and BAK XIII review on the site): it is a region which still has some organisations with a heart for the scene, organisations which are not afraid of taking risks by putting smaller bands on stage for a reasonable price. And yes, they are not the headliners of big festivals you see here, but the nights are well-organised. Support your scene and check out the pages of these guys. Check the ESN-festival in Tournai, check Dark Discharge, check Dark Circle... And if you have the chance: go and visit their parties and concerts. People often complain that all the best parties are far away abroad... You will see that you do not have to drive all the way to Germany or England to have a great night out!
Peter DOLPHEN
02/06/2014
---