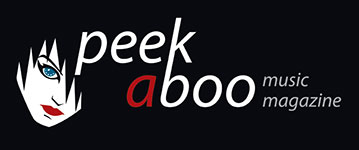 like this cd review
---
DRAB MAJESTY
The Demonstration
Music
•
CD
Dark Wave
•
Post Punk
[90/100]

Dais Records
30/03/2017, Charles "Chuck" MOORHOUSE
---
Perhaps "Scintillating Majesty" would not reverberate as much with fans of this genre; but scintillating is what Drab Majesty's "The Demonstration" (Dais Records) is nonetheless. Put it on in the background and try not to be pulled in by the early melody of "Dot in the Sky." You'll soon forget whatever else it was that you thought you were doing. Make no mistake, this is far from an upbeat pep talk but the languid, stroll-before-dusk musical conversation resonates. As you get to "39 by Design," the flickering early Simple Minds-like guitars and Chameleons vocals might have you thinking, "so this is where the Mighty Lemon Drops have been all these years - hanging out with Clan of Xymox and listening to Cocteau Twins in the Cure's basement." All good company, indeed.
But comparisons can only tell so much. "Too Soon to Tell" is a driving song for which Cold Cave provides a worthy remix, adding more synths and dancing it up a bit. The warped tape sounds on the "Hath no Fury" and "A Spire Points at the Heavens" seem like too much. Contrarily, the slightly warped sound in "Cold Souls" adds to that standout song's distorted mood (with Nicole Estill from True Widow on vocals). So too do lyrics like, "When you were dead I took you by your head." The warble on "A Spire" also accentuates the accelerated pace and strong rhythm of "Kissing the Ground" that follows right after it, followed by "Forget Tomorrow" and the rock sound of "Behind the Wall" that builds to a nice crescendo. So, perhaps the album's structure works just as it was intended.
Overall, sampling this vintage sound evokes new wave and dark wave overtones, while post-punk and indie guitars fill the palate, and ephemeral waves soar over deep electronics that leave a hint of synthpop as an ever so sweet aftertaste. It pairs well with solo listening; and is perfectly suitable for a moody sway across a dance floor; or for standing alone in an even more dimly lit bedroom. Drab Majesty is Deb Demure (aka Andrew Clinco). Deb's live shows inject an air of futuristic performance art that I have not seen since St. Eve at a small bar in New York City. I look forward to hearing and seeing more.
- Chuck
Charles "Chuck" MOORHOUSE
30/03/2017
---