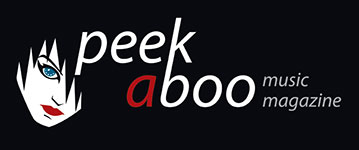 like this concert review
---
DREW MCDOWALL (COIL, PSYCHIC TV)
Antwerpen, Zuiderpershuis (06/02/2016)
Concert
08/02/2016, William LIÉNARD
---
Some say that the Scottish musician Drew McDowall is a notoriously reclusive individual. Therefore it was a godsend that the Antwerp audience got the opportunity to see/hear him at work in the Zuiderpershuis in Antwerp. In the 80s McDowall was a member of Psychic TV. In the 90s he performed regularly with Coil, and from 1994 he even was a long-time member of the band. After 2000 he moved to New York and came in contact with the local noise and electro scene. Meanwhile, he is a member of the bands CSD (formerly Captain Sons and Daughters) and Compound Eye (with Tres Warren of Psychic Ills). In 2015, McDowall was the driving force behind the release of the lost Coil album Backwards, and in the same year his debut album Collapse was released. In Antwerp, Drew McDowall played a 50-minute long set, dominated by dark drones and quite heavy but melodious electro percussion.

The support act was played by the British experimental musician Helm (Luke Younger). He has been active since 2008 and his most recent album Olympic Mess was released in 2015. His set was dominated by the sound of dark drones and thick layers of abrasive noise, loud and emphatic, chaotic and very industrial in tone. The kind of sound that you associate with the German label Antzen. The industrial corpus was complemented with reverberating metallic percussion, whether or not in repetitive sequences, the sound of machinery and other industrial noise. In the second half of the set, he gave way to a quieter soundscape, in which the sound of distant organs created a rare meditative and dreamy atmosphere. A welcome change in a set that predominantly sounded dark, threatening and hermetic. For the final phase Helm opted for a tangle of metallic sounds, industrial wind and repetitive noise. 40 minutes was far too long for this support act, with a quite monotonous first half and an interesting sequel.

Drew McDowall chose a different way. His performance was mesmerizing throughout the 50 minutes long ride. He even managed to get the audience moving. His performance began with the sound of gentle drones over which a soft metallic synth was spread, echoing and hardly emphatic, and after a while, clear industrial accents were added. Unlike Helm, Drew McDowall kept an eye on the volume knob. He put much more emphasis on atmosphere and thus he got more with less. Around the 12th minute, a new theme was introduced with high and low synths against a rumbling background. Over time gong-like effects were added, rhythmic and repetitive, which gave the music a slightly oriental touch. Around the 19th minute McDowall returned to the drones and synths, murmuring and crying, and he developed a theme that was dominated by repetitive metallic percussion and that faded to a dull sound before it was eventually swallowed up by the drones. What remained sounded like noise and buzzing drones, interspersed with a slight whistling tone.

Meanwhile dark organ tones resounded, initially disguised by vibrating noise, but shortly afterwards they broke through the abrasive soundscape, meandering and hardly intrusive, to be replaced in the 32nd minute by a new type of metallic/industrial percussion and complemented by squeaky noise. The soundscape was taken to a climax and the bodies in front of the stage started to move violently. However, McDowall did not go to the extreme and replaced the dark metallic percussion by bell-like drums and circular saw-like synths against a background of dark drones, noisy and chaotic, but indeed controlled and perfectly timed. Around the 42th minute, he introduced a wide range of metallic synths like a distant foghorn, industrial noise and growling drones, threatening and unpredictable, and then again a new sound, mechanical and repetitive, and a loop that sounded like a human voice. 50 minutes and not a second too much.

All in all a nice program: very dark avant-garde by Helm and more accessible electronics by Drew McDowall. A nice crowd showed up at The Zuiderpershuis and that's a success for a genre, aimed at a niche audience.
William LIÉNARD
08/02/2016
---
Over de Schotse muzikant Drew McDowall wordt beweerd dat hij een notoir teruggetrokken individu is en het is dan ook een meevaller dat het Antwerpse publiek hem aan het werk kon zien in het café van het Zuiderpershuis in Antwerpen. In de jaren 80 was McDowall lid van Psychic TV, nadien trad hij regelmatig op met Coil en vanaf 1994 was hij zelfs een tijdlang lid van de band. Omstreeks 2000 trok hij naar New York en leerde er de noise- en elektroscène kennen. Ondertussen is hij lid van de de bands CSD (voormalige Captain Sons and Daughters) en Compound Eye (met Tres Warren of van Psychic Ills). In 2015 was McDowall de drijvende kracht achter de release van het verloren Coil-album Backwards. En nog in 2015 verscheen z'n debuutalbum collapse. In Antwerpen bracht hij een 50 minuten durende elektroset die werd gedomineerd door donkere drones en vrij heftig en welluidend elektroslagwerk.

Het voorprogramma was voorbehouden voor de Engelse experimentele muzikant Helm (Luke Younger). Hij is sinds 2008 actief en van zijn hand verscheen in 2015 het album Olympic Mess. Zijn set werd gedomineerd door het geluid van donkere drones en dikke lagen schurende noise, luid en nadrukkelijk, chaotisch en zeer industrial van toon. Het soort geluid dat je met het Duitse label Antzen associeert. Door het industriële corpus weerklonk metaalachtige percussie, al dan niet in repetitieve sequenties, het geluid van machines en andere industriële herrie. In de tweede helft van de set was plaats gemaakt voor een rustige sequentie, met het geluid van verre orgels die voor een zeldzame meditatieve en wat dromerige sfeer zorgden. Een welkome afwisseling in een set die vooral donker en hermetisch klonk. Voor de eindfase koos Helm opnieuw voor een wirwar van metaalachtige geluiden, industriële wind en repetitieve noise. Met 40 minuten beslist te lang, met een te monotone eerste helft en een interessant vervolg.

Drew McDowall pakte het heel anders aan, want zijn optreden bleef 50 minutenlang boeiend en hij slaagde erin om het publiek af en toe in beweging te krijgen. Z'n optreden begon met zeer rustig dronesgeluid waarover voorzichtig een metaalachtige synth werd gelegd, galmend en nauwelijks nadrukkelijk, en dat pas na verloop van tijd duidelijke industriële accenten kreeg. In tegenstelling tot Helm, hield Drew McDowall de volumeknop onder controle. Hij zette in op sfeer en bereikte op die manier met minder meer. Omstreeks de 12de minuut werd een nieuw thema ingezet met hoge en lage synths die zich iets nadrukkelijker tegen de brommende achtergrond bewogen. Na verloop van tijd aangevuld met gongachtige effecten, ritmisch en repetitief, waardoor de muziek lichtjes oosters ging klinken. Omstreeks de 19de minuut keerde McDowall terug naar de drones en synths, ruisend en huilend, en ontwikkelde hij een thema dat werd gedomineerd door repetitieve metaalachtige percussie, die nadien doffer ging klinken en uiteindelijk door de drones werd verzwolgen. Wat overbleef klonk als ruis en zoemende drones met een licht fluittoon tussendoor.

Ondertussen staken donkere orgeltonen de kop op, aanvankelijk nog gecamoufleerd door vibrerende noise, maar kort nadien braken ze door het schurende soundscape, meanderend en nauwelijks opdringerig, om in de 32ste minuut plaats te maken voor een nieuw soort metaalachtige percussie van industriële oorsprong, aangevuld met piepende noise, die het soundscape ging domineren en het hoogtepunt van de performance inleidde, wat goed was af te lezen aan de steeds heftiger bewegende lichamen voor het podium. McDowall ging evenwel niet echt tot het uiterste en haalde de donkere metaalachtige percussie weg, verving ze door belachtige en kort nadien door een ander soort metaalachtige percussie, liet het geluid wegsterven en begon aan een nieuwe opbouw, met cirkelzaagachtige synths tegen een achtergrond van donkere dronespercussie, lawaaierig en chaotisch, maar wél gecontroleerd en perfect getimed. Omstreeks de 42ste minuut koos de muzikant voor een nieuwe invalshoek met een brede waaier van metaalachtige synths als een verre misthoorn, industriële noise en grommende drones, dreigend en onvoorspelbaar, met kort nadien weer ander geluid, mechanisch en repetitief, en wat leek op de loop van een menselijke stem. 50 minuten en geen seconde te veel.

Al bij al een mooi programma, met zeer donkere avant-garde van Helm en nadien een flinke brok toegankelijke elektronica van Drew McDowall. Het Zuiderpershuis was net niet uitverkocht en dat is uiteraard een succes voor een genre dat zich tot een nichepubliek richt.
William LIÉNARD
08/02/2016
---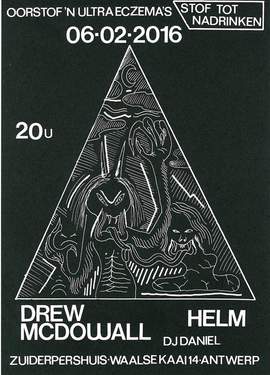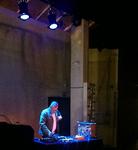 ---