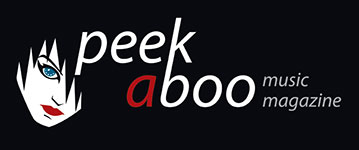 like this concert review
---
DURBUY ROCK
New Model Army loves a hopeless cause...

Durbuy, Belgium

08.04.2017
Concert
15/04/2017, Kris TIECK
---
Every year early in the season, metalheads and lovers of hard rock music gather for two days in Bomal-sur-Ourthe, Belgium. Their Durbuy Rock is a small but cosy festival that luckily is holding on in Tomorrowland times thanks to a segment in the rock genre and the desire of the (young) people of 'les Ardennes' to have a metal party. The main reason of our visit was the presence of New Model Army at the second day of the festival. The Brits have not only become the troubadours but also a bit the chameleons of rock which put them on the bill for a second time. With their gig in Bomal they also closed the second part of their European 'Winter'-tour just before the arrival of the summer festivals. We also had a look at some of the bands that played before them.
The popular Finntroll doesn't need any introduction in the metal genre. The lyrics of this band are based on dark, folky myths of Scandinavia wherein there's regularly some blood shedding. Musically these gentlemen can be considered 'black metal' with an occasional element of folk During the concert the guitar rhythms did not weaken much altogether and still the music had its best moments when the guy on keys threw in some Finnish folk tunes. It's not really the style we prefer but this band certainly is highly digestible. Okay, troll ears and black mascara is not everyones style but it's part of the act and in the end it's just a nice gimmick. Also Finntrolls energetic sound was perfectly mastered in the hall of Bomal.
The Black Tartan Clan originating from the Brussels region gave the audience a mix of celtic punkrock and fun. Never before have we seen punkrock combined with the high tunes of bagpipes under an almost full moon. The outdoor stage was a perfect match for this gang of Scottish Belgians. In 2014 BTC was already at Durbuy Rock and again they proved why they should come back: this is a real festival band! Highlights of the set were All For One, Proud To be Kelt, Don't Walk Alone while finishing off with Blitzkrieg Bop.
Next on the bill were the veterans of hardcore Sick Of It All. From New York City, where else…? These guys still play at a scorching pace mostly initiated by bass player Craig Setari. Sometimes they scream too loud but the band has not lost any of its edge. It's not really melodic music but there's lots of dynamics in it and quite often a beat. And that was more than sufficient for the moshers at the front. While Justin Sullivan and Ceri Monger of NMA studied the spectacle for a while out of the adjacent bar, singer Lou Koller brought up his ode to society with a "Shut The Fuck Up" call and Step Down. After thirty years he now knows that love is better than hate… Merci beaucoup!
Then it was time for New Model Army to enter the stage. Generally the indoor acts with the larger stage were more crowded. This creates the danger that the last band at the outdoor stage literally and figuratively freezes out. We saw that in 2009 with Crematory, in no means an inferior band. But nevermind, the Bradford rockers always stand firm although this had something of an intimate garden concert. New Model Army was playing right in front of our noses, inspired as always, with a perfect sound quality and the speakers partly faced inside so the ears of the people at the front didn't suffer too much. These five absolutely deserve a bigger audience but for a fan this was in fact quite a lovely encounter. Okay?! NMA made it clear from the very start: they were in excellent form. At the beginning of the tour there was still some searching, sometimes songs had a hesitation. None of that in Bomal where we saw a well attuned combo at the end of more than a month of playing live almost every day. Above all this remains a very strong live band. Somewhat surprisingly but impactful they opened with R&R from their eighth album. "Wake me in a thousand years!" Sullivan often can not stand what's going on, we know that, now more than ever. Further highlights of the gig were the fine Eyes Get Used To The Darkness, Born Feral with Marshall on bass and Ceri doing the tribal percussion, 51st State with dub-ending and the 'lovesong' Between Dog And Wolf that had Marshall on slide performing as the bluesman he is. The only regrettable thing about this concert was the absence of the instigating Burn The Castle but as such the castle of Durbuy may have been saved. Perception is often that NMA is an older band. Firstly that is not true as a fact. Secondly, old or young, what matters is the quality you bring as a band and the attitude and spirit you bring it with. In that regard you can only conclude these guys are top of the bill. We will not go further on this, leaving the love of hopeless causes entirely to Justin and his band. But we are most sure that Belgium figures in it! Not forgetting that on top of that the good man had his birthday at the day of this concert. So he admitted reaching the tender age of fourty …
Setlist: R&R/Winter/Here Comes The War/Part The Waters/The Charge/Angry Planet/Born Feral/Eyes Get Used To The Darkness/Devil/Stormclouds/51st State/Get Me Out/Between Dog And Wolf/Wonderful Way To Go
Kris TIECK
15/04/2017
---
Het is ieder jaar vroeg in het seizoen verzamelen geblazen voor alle metalheads en liefhebbers van stevige muziek in Bomal-sur-Ourthe. Durbuy Rock is een klein maar gezellig festival dat gelukkig standhoudt in Tomorrowland-tijden dankzij een niche in het rockgenre én het verlangen van veel (jonge) Ardennezen om metalgewijs eens uit de bol te gaan. Hoofddoel van ons bezoek was de komst van New Model Army op de tweede dag van het festival. De Engelsen zijn naast troubadours ook een beetje de kameleons van de rock geworden wat ze toch al voor de tweede maal op deze affiche bracht. Met hun optreden in Bomal sloot NMA ook het tweede deel van hun Europese 'Winter'-tournee af vlak voor de zomerfestivals eraan komen. We bekeken ook enkele bands die het optreden voorafgingen.
Het populaire Finntroll hoeft geen aankondiging meer in het metalgenre. De teksten van deze Finse band worden gekenmerkt door volkse, duistere sagen waar het er wel eens bloederig aan toe gaat. Muzikaal kunnen de heren omschreven worden als 'black metal' met een toegevoegd folkelement. Tijdens dit optreden zat er alleszins weinig versaging in de gitaarritmes en er zitten leuke intermezzos in de muziek als de toetsenist er een Finse folkriedel tussen gooit. Het is niet echt het genre dat we verkiezen maar deze band valt wel te pruimen. Trollenoren opsteken of wat zwarte schmink aanbrengen voor een optreden is evenmin iedereen zijn dada maar het hoort bij de act en uiteindelijk is dat wel leuk. Finntrolls energieke sound stond daarbij perfect afgesteld in de zaal van Bomal.
Het Brusselse The Black Tartan Clan brengt keltische punkrock en vooral ambiance. Nooit eerder zagen we punkrock met de hoge tonen van een doedelzak onder een bijna volle maan. Op het podium buiten stond deze bende Schotse Belgen perfect op hun plaats. In 2014 stond BTC al eerder op het festival en ook nu bewezen ze waarom ze mochten terugkeren want dit is een echte festivalband! Hoogtepunten van de set waren All For One, Proud To be Kelt, Don't Walk Alone en afsluiter Blitzkrieg Bop.
Vervolgens stonden de veteranen van de hardcore Sick Of It All geprogrammeerd. Uit New York City, of wat dacht u… Ook nu nog spelen deze mannen in een verschroeiend tempo, vaak in gang gezet door bassist Craig Setari. Het gaat er soms wat schreeuwerig aan toe maar de band heeft weinig van zijn snedigheid verloren. Het is niet echt melodieuze muziek maar er zit wel genoeg dynamiek en geregeld een beat in. Dat volstond alleszins voor de moshers vooraan. Terwijl Justin Sullivan en Ceri Monger van NMA het schouwspel even vanuit het kijkraam in de aangrenzende cafetaria bestudeerden, bracht zanger Lou Koller zijn ode aan de maatschappij met een "Shut The Fuck Up"-roep en 'Step Down'.. Na dertig jaar weet ook hij nu dat liefde beter is dan haat… Merci beaucoup!
Daarna was het de beurt aan New Model Army. Algemeen was er meer publiek voor de indoor acts met het grotere podium. Het gevaar is dan dat de laatste band op het outdoor podium letterlijk en figuurlijk wat vervriest. Dat zagen we eerder in 2009 bij Crematory, nochtans geen onaardige band. Maar goed, de rockers uit Bradford staan er altijd, al had dit iets van een intiem tuinconcert. New Model Army stond vlak voor onze neus te spelen, gedreven als altijd, met een prima geluidskwaliteit en de luidsprekers gedeeltelijk naar binnen gericht zodat ook de oren van de mensen vooraan er niet onder hoefden te lijden. Dit vijftal verdient absoluut een groter publiek maar voor een fan was dit eigenlijk best smullen. Okay?! Het was meteen duidelijk: NMA etaleerde een excellente vorm. Bij de start van de tour was het nog wat zoeken, zat er hier en daar nog een hapering in. Maar in Bomal zagen we vooral een goed gerodeerd combo aan het eind van meer dan een maand lang bijna elke dag spelen. Bovenal blijft dit een ijzersterke live band. Ietwat verrassend maar wel impactvol werd er geopend met R&R van hun achtste album. "Wake me in a thousand years!" Sullivan kan het geregeld niet meer aanzien, het is geweten, nu meer dan ooit. Verder onthielden we het fijne Eyes Get Used To The Darkness, Born Feral met Marshall op bass en Ceri die de trom aansloeg, 51st State met dub-einde én het 'liefdeslied' Between Dog And Wolf waarbij Marshall ook hier toonde dat hij als bluesman de slide meer dan machtig is. Het enige jammere aan dit concert vonden we de afwezigheid van het opzwepende Burn The Castle maar zodoende werd mogelijk het kasteel van Durbuy gespaard. De perceptie is vaak dat NMA een oudere band is. Ten eerste is dat feitelijk niet waar. Ten tweede, oud of jong, gaat het om de kwaliteit die je brengt als band, de beleving en de spirit waarmee je speelt en dan kan je niks anders besluiten dan dat deze heren top zijn. We gaan er geen verder betoog over houden, de liefde voor hopeloze zaken moeten we aan Justin en zijn band laten. Maar dat België erin figureert daar zijn we zeker van! Oh ja, de goede man was daarbovenop ook nog jarig op de dag van het concert. Naar eigen zeggen werd hij veertig...
Setlist: R&R/Winter/Here Comes The War/Part The Waters/The Charge/Angry Planet/Born Feral/Eyes Get Used To The Darkness/Devil/Stormclouds/51st State/Get Me Out/Between Dog And Wolf/Wonderful Way To Go
Kris TIECK
15/04/2017
---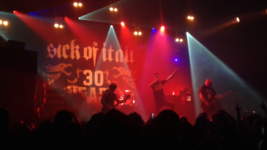 ---