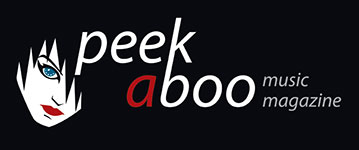 like this cult movies review
---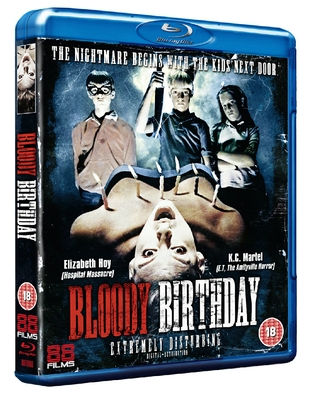 ED HUNT
Bloody Birthday
Movie
•
Cult movies
[68/100]

88 Films
14/07/2014, Didier BECU
---
Bloody Birthday is not as known as Friday the 13th or Halloween, nonetheless this movie by Ed Hunt is one of the classics in the slasher genre. The movie even would become an inspiration for many other works.


The subject itself is quite controversial. In 1970 three kids Curtis (Billy Jayne), Steven (Andy Freeman) and Debby (Elizabeth Hoy) are born during a moon eclipse. Ten years later it seems like those three darlings are in fact cruel monsters. They look like an angel, but once they're alone they murder everyone who is in sight. It doesn't matter to them if the victim is their own dad.


Don't expect an explanation in where the director unfolds why a moon eclipse evokes disturbing behaviour. The only thing Hunt cares about is looking for a right excuse to bomb the viewer with a fantastic slasher film. With success! The kids transform everything into a murder weapon: from a skateboard to a toy arrow!


The kids are acting quite decent and Lori Lethin is a perfect scream queen. Her role as brave victim Joyce Russel is of course quite similar to the one from Jamie Lee Curtis in the Carpenter-masterpiece. The most famous scene from the movie is probably the striptease act from Julie Brown: a B-actress who would gather some fame and even made some hilarious songs like I Like 'em Big and Stupid.


Bloody Birthday is a movie that was once on various wish lists, but so far only available on VHS. Today 88 Films has released this classic in a perfect restored version on Blu-ray.


As a bonus you can find an audio commentary (if everything goes as planned he soon will release Halloween Hell with Eric Roberts), Don't Eat that Cake (an interview with Lori Lethin) and a very interesting mini documentary A Brief History of Slasher Movies.
Didier BECU
14/07/2014
---
Bloody Birthday heeft wel niet meteen de bekendheid van Friday the 13th of Halloween, toch is deze prent van Ed Hunt één van de klassiekers uit het slashergenre. De film zou zelfs een inspiratie voor vele andere werken worden.
Het onderwerp is eigenlijk ongelooflijk fout. In 1970 werden drie kinderen Curtis (Billy Jayne), Steven (Andy Freeman) en Debby (Elizabeth Hoy) tijdens een zonsverduistering geboren. Tien jaar na datum komt men tot de vaststelling dat de lieve kindertjes wreedaardige monsters zijn. Ze hebben het gezicht van een engel, maar eens ze alleen zijn slaan ze aan het moorden. Het laat hun ijskoud dat het slachtoffer bijv. hun bloedeigen pa is. Je moet niet verwachten dat de regisseur ook maar enig woordje uitleg geeft waarom een zonsverduistering voor zo'n moorddadige agressie kan zorgen. Neen, het enige wat de filmmaker wil is een eenvoudig excuus om met een fantastische slasherfilm voor de dag te komen. Een missie die meer dan geslaagd is. De kinderen hebben trouwens een ongelooflijke rijke fantasie wat moordwapens betreft: van een skateboard tot pijl en boog!
De kinderen acteren meer dan behoorlijk en Lori Lethin is als Joyce Russel de geknipte scream queen. Een rol die trouwens verschrikkelijk veel aan die van Jamie Lee Curtis als Laurie Strode uit het Carpenter-meesterwerk doet denken. De beroemdste scène is wellicht de striptease-act van Julie Brown: een B-actrice die later heel wat furore heeft gemaakt in leuke producties en als zangeres zelfs hilarische singles als I Like 'em Big and Stupid heeft uitgebracht.
Bloody Birthday is een hele tijd een hebbeding op VHS geweest, maar 88 Films heeft deze cultklassieker nu in een prachtig opgepoetste versie in haar catalogus zitten.
Als bonus vind je op de uitgave een audio-interview met Ed Hunt (als alles goed gaat zou hij binnenkort zijn nieuwste film Halloween Hell met Eric Roberts afhebben), Don't Eat that Cake (een interview met Lori Lethin) en een razend interessante minidocumentaire A Brief History of Slasher Movies.
Didier BECU
14/07/2014
---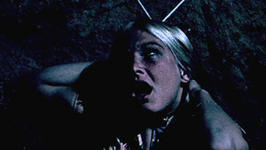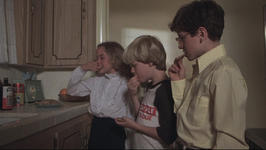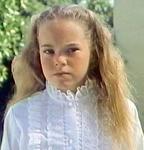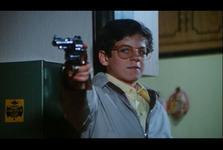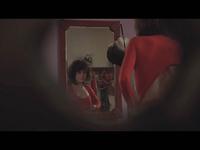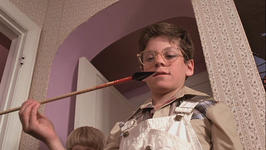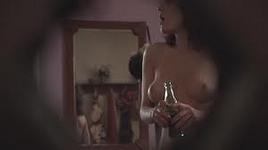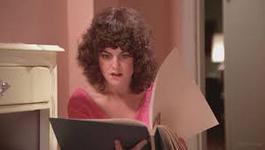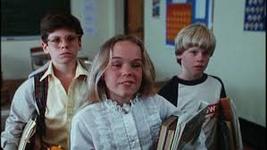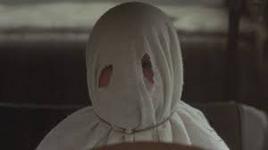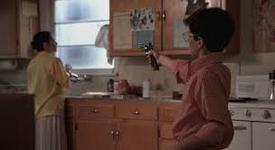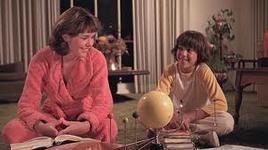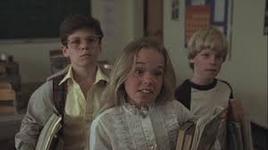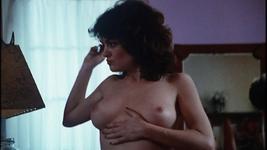 ---