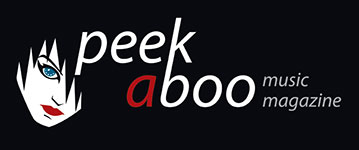 like this cd review
---
EDOUARD MOLINARO
MOVIE CLASSICS : La Cage Aux Folles
Music
•
CD
Comedy
04/09/2014, Didier BECU
---
1978. A year in where everything still seemed innocent. Amanda Lear was the ruling disco queen, children were whistling songs by Boney M. when they were on their way to school (well, I guess they did!) and in movie land a French comedy blew the whole world away!
La Cage Aux Folles was not only an enormous hit in the film theatres, the movie was also nominated for three (!) Oscars (Best Directing, Best Screenplay and Best Costumes). In the end the picture won none. But good, even if the names of Renato (Ugo Tognazzi) and Albin (Michel Serrault) will always be on our lips, La Cage Aux Folles has been a bit forgotten.
This year's Filmfestival from Ghent will put French cinema in the spotlight, just to show that moving pictures that have been directed in the land of Molière always are a bit better. A perfect opportunity for Peek-A-Boo to pick up some French classics, not? And yes, before you start shooting us, we can easily indeed come up with hundreds of examples that are better than this one, but this comedy deserves nonetheless its place in the league of immortal French "classiques".
La Cage Aux Folles is a popular nightclub in Saint Tropez that is owned by Renato and Albin. At night Albin stars on stage drag queen Zaza Napoli. One day Renato's son (from his previous marriage) Laurent (Remi Laurent) comes around as he wants to marry his fiancée. The only problem though is that his future father-in-law (Michel Galabru) is a politician from a very conservative party that doesn't have transsexuals on their agenda!
As said in the 70's times were different. Making a picture like La Cage Aux Folles now would equal a suicide as these days you just can't joke with gays without being crucified. There are indeed many ways to judge this movie. You can be prudish and say that Edouard Molinaro (who previously worked with both Jacques Brel and Louis De Funès) was just making the gay movement ridiculous, but that would be a very narrow minded view. At contrary! In a way you can even say that the comedy that is based on a script by Francis Veber introduced transsexuals to the "common people", even if some jokes (well, almost all of them) are based on clichés.
The acting is just superb, especially Michel Serrault played perhaps the funniest transsexual ever! Later two sequels were made (one by Moulinaro and another by Georges Lautner) and in 1996 there was even an inferior US-remake with the late Robin Williams (The Birdcage). But no, this was the real one!
Didier BECU
04/09/2014
---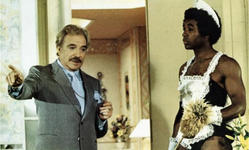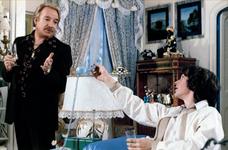 ---